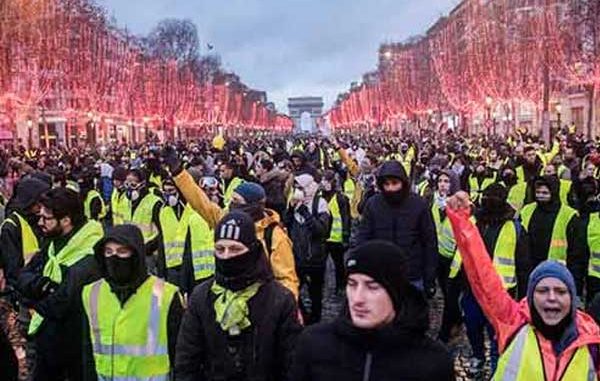 Aunque desde el día siguiente al 17 de noviembre* Macron, junto a su ministro Philippe, no se cansaba de repetir que "mantenemos el rumbo", finalmente ha tenido que retroceder. Es cierto que no mucho. Sobre ciertas tasas, sobre los combustibles y sobre un bonus para los que cobran el Salario Mínimo, pero básicamente financiado con dinero público, o sea, ¡por nosotros mismos! En modo alguno son los ricos los obligados a contribuir, aunque esta demanda está en el corazón del movimiento de los chalecos amarillos.
El movimiento, iniciado por trabajadores que han participado poco en las recientes luchas, critica el conjunto de las injusticias de esta sociedad. Los bajos salarios, las pensiones mediocres, los jóvenes que solo encuentran trabajos temporales y precarios… pero también el sentimiento de que todo se decide por un puñado de servidores de los ricos, sin escuchar jamás a la población, y con un único criterio: qué rentabilidad para los más ricos, como robar a los trabajadores y a los jubilados. Porque la supresión de cotizaciones sociales (falsamente denominadas "cargas"), la destrucción de los servicios públicos y de miles de empleos en este sector, son una porción de nuestro salario colectivo que nos están robando.
Para los jóvenes, la cuestión de su futuro y de su educación encaja completamente con el movimiento de los chalecos amarillos. El rechazo a la selectividad en la Universidad, que priva a decenas de miles de jóvenes de estudios superiores, a la reforma del bachillerato, que va a agravar las desigualdades entre los centros de secundaria, a la reforma del Bachillerato Profesional que destruye la enseñanza profesional… todo esto es el rechazo a una educación que Macron quiere reservar a una élite.
Lucha de clases
Se puede entender que en los inicios del movimiento haya podido existir una cierta desconfianza por parte de sindicatos y de organizaciones de izquierda. Pero es asombroso haber visto a toda una izquierda, con un lamentable desprecio hacia trabajadores sobreexplotados, hacer suyos los grandes titulares de los medios de comunicación capitalistas para hacer una campaña contra los chalecos amarillos. Sí, ha habido actos racistas, homófobos, en algunos lugares entre los miles de barricadas organizadas. Sí, la extrema derecha ha intentado apoderarse del movimiento, y todavía tiene peso en ciertos lugares, pero eso es lógico cuando un movimiento es tan grande. Y no es insultando a la gente como se les hace avanzar.
No es serio por parte de los sindicatos no haber llamado a sus militantes a participar en el movimiento o a interesarse por él. Afortunadamente, Mélenchon y la Francia Insumisa han apoyado el movimiento y muchos militantes sindicales han participado, han discutido, y se ha podido ver que la extrema derecha es minoritaria. Cuando cientos de miles de trabajadores levantan la cabeza y se rebelan, no hace falta esperar a una carta de invitación o a una alfombra roja, hay que ir al movimiento sin necesidad de disolverse en él, sino que hay que intentar hacerlo progresar en la dirección correcta. Manteniendo la prudencia, las y los militantes de la Gauche Révolutionnaire (Izquierda Revolucionaria) han ido desde el primer día a las rotondas y a las acciones, formando parte de este movimiento que denuncia la injusticia social y fiscal.
Necesidad de una huelga general
Lo que hoy popularizan los chalecos amarillos es el conjunto de las reivindicaciones de los jóvenes, de los trabajadores y de los pensionistas. Porque la cuestión fundamental es el crecimiento de las desigualdades en la sociedad, la voracidad de los capitalistas, que solo buscan beneficios con la ayuda de las leyes y de las medidas del gobierno. Es esto lo que prevalece en todos los conflictos sociales en Francia y en el mundo, sobre todo tras el inicio de la crisis en 2008. Es la ofensiva de la clase capitalista contra los trabajadores lo que empuja a la lucha, y es por ello por lo que la lucha se convierte en lucha contra los capitalistas, con Macron como objetivo central
Los propios chalecos amarillos han ido en numerosas localidades a hablar con los sindicatos para organizar acciones comunes. Pero es necesario aún más, es necesario que los sindicatos llamen a la lucha y a la huelga, es necesario un claro llamamiento por parte de la CGT, Solidaires, etc. a una jornada de huelga total y general.
Un gobierno de los trabajadores y de la mayoría de la población
Poniendo sobre la mesa la cuestión del referéndum y del referéndum de iniciativa popular, los chalecos amarillos plantean una verdadera cuestión de fondo: la política del país no puede estar en manos de políticos que, como los de la derecha, de En Marche, o del PS, solo están controlados por los lobbies financieros y no por la población.
La obligatoriedad de referéndums sería un primer paso, pero no estaremos en una democracia mientras que los gobiernos sean gobiernos de los ricos y mientras que estemos obligados a trabajar para capitalistas que consiguen sus beneficios explotándonos.
Al movimiento le faltan todavía estructuras, asambleas generales de debate. Hacen falta más comités de lucha, más asambleas generales, que debatan y decidan, controlando a los portavoces. Es así como podríamos discutir a la vez sobre cómo hacer avanzar la lucha, pero también sobre qué tipo de gobierno podríamos establecer, controlado por la base, por los trabajadores y la mayoría de la población en lucha.
Por la revolución
Macron y los capitalistas van a querer continuar, pero la rebelión está en marcha. Nuestro movimiento ha venido a recordarnos que nada se cambia sin lucha de masas y que una revolución es necesaria… y posible. Millones estamos diciendo que no ya no queremos más esta sociedad injusta y anti-democrática, que solo sirve a los ricos, los banqueros, los inversores….
No se trata sólo de tener un trozo más grande del pastel, sino de que cada uno tenga el pastel que necesita. Y para esto hace falta que la pastelería, el conjunto de la economía, esté en manos de los trabajadores y de la población. Gravar con impuestos a los grandes grupos industriales y comerciales no es suficiente, lo que hace falta es convertirlos en propiedad pública, nacionalizarlos bajo la gestión y el control de los trabajadores y la población, para poder así planificar democráticamente y ecológicamente la economía para satisfacer las necesidades de todas y todos y no los beneficios de unos pocos.
Es luchando por un derrocamiento del capitalismo y su sustitución por el socialismo como una revolución permitirá realmente cambiar las cosas y construir una sociedad realmente democrática, fraternal y tolerante, libre de guerras, de miseria, de racismo, de sexismo…
Es por esto por lo que lucha la Gauche Révolutionnaire (Izquierda Revolucionaria), construyendo un partido para la revolución socialista, al tiempo que participando en todo lo que hace avanzar la lucha contra Macron y su política al servicio de los ultra-ricos.
¡Únete a nosotros!
* El 17 de noviembre de 2018 se inició el movimiento de los "chalecos amarillos".
Special financial appeal to all readers of socialistworld.net

Support building alternative socialist media

---

Socialistworld.net provides a unique analysis and perspective of world events. Socialistworld.net also plays a crucial role in building the struggle for socialism across all continents. Capitalism has failed! Assist us to build the fight-back and prepare for the stormy period of class struggles ahead. Please make a donation to help us reach more readers and to widen our socialist campaigning work across the world.

Donate via Paypal

CWI- Please inform us if you are reproducing any material from this site.