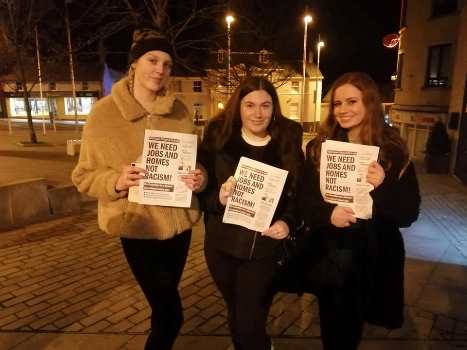 The general election in Ireland, on 8 February, is a chance for the working class to give their verdict on four years of misrule by this big business government – Fine Gael supported by Fianna Fail. The last four years have been one of continual misery over wages, housing, health, and unending inequality.
Recovery for the rich
The incessant claim of an 'economic recovery' by the capitalist establishment and their political mouthpieces is a joke. The establishment, with the assistance of a compliant media, will ruthlessly push this 'success story' to elect a government offering more of the same.
Most workers see no recovery at the end of each week or month. More people are working but they are working harder for less and paying much more to keep a roof over their heads. The average rent in Dublin, at €2,044, is now higher than at the height of the Celtic Tiger 'boom' years.
This contrasts with a recent Oxfam report which shows that Ireland is home to 17 billionaires: the fifth-highest concentration of billionaires in the world.
Many workers, especially young workers, are pushed into precarious work and are unclear how much wages or how many hours work they will have from week to week. Work and pay maybe precarious but rent and bills are not. Many of the taxes and charges levied following the bank crash of 2008 remain in place.
Pay remains low: the average wage is about €29,000 a year with many earning well below that. Living costs are high. Food prices are the fourth highest in the EU. Low quality public service provision often forces workers to pay for things like health insurance. Housing is completely unaffordable either to buy or to rent. Childcare costs an average of €214 a week per child in South Dublin Council area.  Meanwhile, in 2017, corporate profits stood at €159 billion.  In comparison, total wages paid in the same year was €52 billion.
Housing and homelessness
For most working-class people, the housing crisis sums up the failure of capitalism. Our most vulnerable are being denied the basic right to shelter. In February 2016, according to Government figures, there were 3,930 adults and 1,881 dependents homeless in the country. After four years of this right wing government, and a recovery for the rich, there are now 6,696 adults with 3,752 dependents homeless – double the figure in 2016!
This is just the tip of the iceberg. There are many hidden homeless who are forced to live in inadequate housing, hubs, couch surf, adults who have no choice but to live with their parents. In a recent survey of 20-year olds, 44% indicated access to housing as their main concern followed by poverty and climate change at 31%.
The first week of the election campaign demonstrated that the lives of homeless people hold no value for the capitalist establishment. In three days, two homeless people died on the streets of Dublin, and a homeless man was very seriously injured when his tent was "cleared" with heavy machinery.
Healthcare for the wealthy
The health service in some sectors is in a state of collapse, with yet another record broken for the number of people left on trolleys in A&E this month. In one emergency department, a patient died after falling from a trolley. Waiting times of days are common and the suffering of older and vulnerable people in A&E departments has intensified. Heroic efforts by medical, nursing and support staff – all of whom have taken recent industrial action, with more to follow – are just about keeping the system afloat. That is not sustainable in the long term and the establishment's determination to introduce for-profit private medical care is clear to all.
The Greens
The 2019 local elections saw a swing to the Green party in the hope of something different. The Greens are clearly benefitting from mounting concerns about climate change. Greta Thunberg's 'Climate Strike' movement and the apocalyptic scenes of bush fires in Australia and the burning of the Amazon have pushed consciousness radically forward. However, the Green Party is no solution. They are another establishment big business party. The Green Party leader has repeatedly made it clear that if they win enough seats, they will prop up right wing parties to get into government. The environmental crisis is a crisis of capitalism. Only socialism offers hope that we can democratically plan and organise society to both face the challenge of climate change and allow people to have decent living standards.
Sinn Fein 
Likewise, Sinn Fein, which is increasing in support in the polls, will not deliver real change for working class people despite its promise to be radical. Sinn Fein's leadership is determined to go into coalition with right wing parties, which means colluding in making cuts.
Sinn Fein claims they will act on public housing, insurance rip-offs, and public healthcare. Many of their voters will hope they can bring radical change. But in government, with right-wing parties, they will compromise on these issues, as Labour did in the past, betraying their electoral support in this election.
The Left
CWI Ireland calls for a vote for Left and socialist candidates with a proven track record of fighting for working class people. All the indications are that the Left TDs [members of the Dail – the Irish Parliament] face a struggle to hold onto their seats. It is therefore unacceptable that Solidarity [in which the dominant political force is the Socialist Party] decided to field a candidate at this election in direct competition with Paul Murphy, a left TD in the Dublin South West constituency. Paul Murphy and his co-accused faced repression by the forces of the state in the high profile Jobstown frame-up trial, while Paul was still with the CWI. They were accused of false imprisonment and faced lengthy prison sentences simply because they participated in a protest against the introduction of water charges.
Build a new working-class party
Voting for Left candidates is not enough to deliver the change we need. We need to build a new mass party of the working-class, with working-class politics and working-class values. Such a party will be rooted in vibrant community-led campaigns, will work diligently to convert the trade unions into fighting organisations, and seek to bring together workers, youth and the unemployed to fight for a socialist future.
A new party of the working class needs to put forward a clear socialist programme, based on the unique ability of working people – who produce all the wealth – to collectively change society.
Build a mass working-class movement for socialist change:
Tax the rich and big business. For public ownership of the major sectors of the economy under democratic workers' control and management
For a massive investment to build affordable public homes to end the housing crisis
For a fully-funded health service, free at the point of need for all
Oppose all forms of oppression and discrimination, including on the basis of gender, sexuality, race and religion
Build a new mass working-class party to challenge the big-business political elite
Fight for socialist change to end the climate-destroying rule of the billionaires