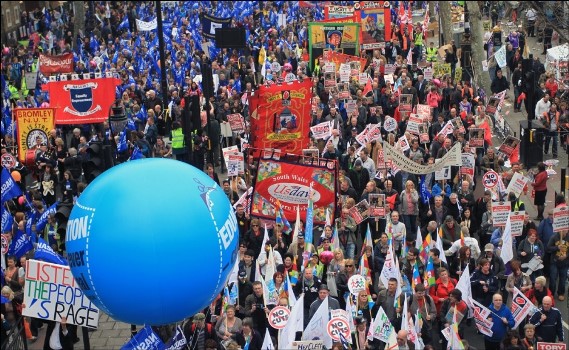 The nomination stage of the Labour leadership contest is in full swing, but without the enthusiasm within and beyond the party's rank and file that marked the surge behind Jeremy Corbyn when he stood for the leader position.
Only 14,700 people paid £25 to vote as registered supporters during the 48-hour period giving that option, whereas in 2016 the figure was 183,541. A certain upturn has been reported in the number signing up to become a full party member – another route to gaining a vote in the contest – but is not yet clear who most of them will vote for as leader and deputy leader, or how the hundreds of thousands of already existing members will vote.
All the candidates say at least some of what they think members who supported Corbyn want to hear – that they will continue and develop Corbyn's pledges for measures in the interests of the working class. However, for a real choice in the potential direction of the party to be seen, clear boundaries need to be exposed between candidates who will fundamentally serve capitalist interests and those who genuinely want to resist them.
No false 'unity'
All the candidates argue for 'unity'. But it can, in reality, only be a false unity, because the class interests involved can't be reconciled except on the basis of a disastrous turning away from socialist policies by the left.
Keir Starmer, a former Director of Public Prosecutions, who has been declared the best candidate by former Tory chancellor George Osborne, was evasive when challenged to explain his 'socialist' ideology by a local newspaper in his constituency area. He spoke of the need to "shift power and wealth" and "do things more radically than we had envisaged in the past". These phrases show his accommodation with the rotten capitalist system and lack of intention of breaking with it.
The Unite union is supporting the two candidates with the best record of backing Unite's policies and Corbyn: Rebecca Long-Bailey for leader and Richard Burgon for deputy. But whether those two will succeed in attracting enough support to secure victory is far from certain, at this point in time.
Both have made clear one important difference with the other candidates, by expressing support for open (mandatory) reselection of parliamentary candidates. This is a measure that would contribute to democratising and transforming the party in the right direction.
But on a number of other issues, Long-Bailey has succumbed to the agenda of Labour's right and the capitalist press, partly blaming 'anti-semitism' for Labour's election defeat, for example. Her preferred deputy is Angela Raynor, who is not a member of the left-wing Socialist Campaign Group, rather than Burgon, who is.
Whatever the contest's outcome, the anti-establishment anger in Britain and burning need for improved living standards – which Tory prime minister Boris Johnson temporarily leant on – won't go away. Whoever is elected will come under great pressure from workers and youth to deliver policies in their interests, as well as pressure from capitalist circles to satisfy theirs.
This will be against a background of ongoing volatility across the globe and fast-moving events, including more mass movements demanding deep-rooted change. No Labour leader will be static or isolated from influences around them. They will either accommodate to capitalist interests and – if that becomes their main trajectory – further lose their working-class electoral base, or they can help with the task of building mass working-class political representation on an anti-capitalist, socialist basis.
Before the general election, an all too common sentiment in the workers' movement was to wait for the election, hoping for a Corbyn-led government. Now the type of unity that is needed is the building of trade union-led workers' unity in the struggle against the Tory government, along with demands on Labour's leaders to support that struggle against cuts in services and in defence of workers' and democratic rights. There should be no blank cheque of support given to any of these candidates; only support and pressure for concrete measures to democratise Labour and arm it with socialist policies.
Unite union nominates Long-Bailey and Burgon
Suzanne Muna, Unite the Union executive council (personal capacity)
The Unite union executive council overwhelmingly agreed to nominate Rebecca Long-Bailey and Richard Burgon as Labour Party leader and deputy leader respectively at its special meeting on Friday 24 January.
All the candidates' campaign statements, widely circulated ahead of the hustings, show remarkable uniformity. They emphasise the centrality of the trade unions, the need to oppose austerity, a commitment to the radical 2017 and 2019 manifestos, and call for unity among Labour MPs. The need to respect the referendum decision on leaving the EU is now widely accepted.
The statements, however, mask very real differences between the candidates. Keir Starmer, for example, spoke on the need for public sector cuts as recently as July 2019. But his statements to Unite audiences were peppered with promises to fight austerity and promote common ownership – priorities that play directly to central planks in Unite's policy book.
Commitments to both socialism and unity were abundant in the material from all candidates, and unity, which was particularly emphasised by candidates for the deputy post.
Avoid repeats
Any new leadership may seek to avoid a repeat of Labour Party deputy leader Tom Watson's regular and carefully timed briefings against his leader. Nonetheless, the history of some candidates suggests that loyalty is a loose concept. Both Kier Starmer and Lisa Nandy took part in the 2016 'chicken coup', when an orchestrated series of resignations were arranged to grab the news headlines and inflict maximum damage on Jeremy Corbyn's leadership.
The question for any leader, however, is 'unity at what cost?' Recent history should leave no doubt that if internal peace is contingent on pacifying the Blairite wing, the cost is too high. The policies must be defended and not bartered.
Among Long-Baileys advantages were her track record in the Corbyn cabinet, close alignment to Unite policies, and lack of taint from attempted coups.
If elected leader, Long-Bailey would need to demonstrate great strength and determination to resist attempts at derailment. The 2017 and 2019 manifestos offered the first serious challenge to some powerful vested capitalist interests in at least a generation. Inevitably, any leader aligned to this suite of manifesto pledges will attract sustained, personalised and dirty attacks from those seeking to maintain the balance of wealth and power in their favour.
However, Long-Bailey's rapid acceptance of the Jewish Board of Deputies' 'ten pledges', including its unqualified support for the International Holocaust Remembrance Alliance definition of anti-semitism and all its examples, however, is a disappointing sign. Both Richard Burgon and Dawn Butler, by contrast, refused to sign, although they pledged to fight racism in all its manifestations.
One of the most interesting concepts in Unite's leadership deliberations over the last couple of weeks has been the idea that Labour councils should showcase the benefits of a future Labour government for the working class in Britain. Trade unionists, community campaigners, and constituents of Labour boroughs would indeed welcome changes aimed at drawing a clear red line between the Labour councils and the rest; it has been so lacking, to date.
The new Labour leader must place demands on Labour councillors: stop passing on cuts; set legal needs-based budgets; fight collectively alongside trade unions and communities for public services to be properly funded. Crucially, they must be willing to withdraw party support from those who do not fulfil these aims.