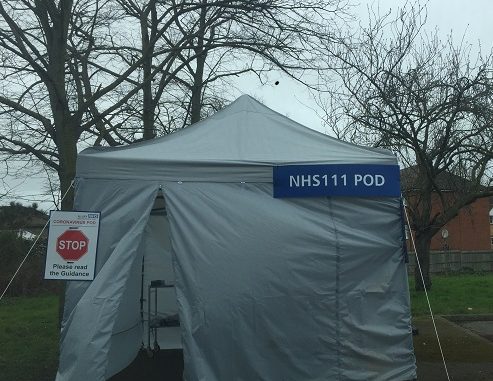 Nine weeks after the first Covid-19 coronavirus patient was identified in Wuhan it had spread to 98 countries.
This is much faster than the 2003 Sars coronavirus outbreak, which eventually spread to 37 countries. However, so far Covid-19 is less lethal in relative terms, killing 1-2% of those who catch it – compared to nearly 10% for Sars.
Covid-19's rapid spread is because China is much bigger in the global economy than in 2003. Many workers, students and tourists now travel within China, and between China and other countries.
No single country can tackle an outbreak like this alone. International cooperation is vital to control virus spread and to research, test and manufacture treatments and vaccines.
There have been many previous attempts at international cooperation to deal with global pandemics. They often failed due to capitalists' competing interests.
Six cholera pandemics during the 19th century spread from India across the world (over several years rather than a few weeks). In response, delegates from 12 countries attended the first International Sanitary Conference in 1851.
Six months of negotiations failed to produce any substantial result. Governments wanting to maintain and increase trade conflicted with those wanting to maintain and strengthen quarantine.
The first International Sanitary Convention was not signed until 1892. It aimed to create a "semi-permeable" border between East and West "open for commercial enterprises but closed for microbes and other suspicious elements."
Similarly, the World Health Organisation in 1951 declared the need to "ensure the maximum security against the international spread of disease with the minimum interference with world traffic."
After the 2006 H5N1 bird flu outbreak, the European Union developed plans for a central stockpile of anti-viral drugs for rapid distribution according to need in the event of a future pandemic. But the plan failed – the various national health ministers wouldn't agree.
Now France and Germany have banned the export of masks and gloves, with other EU countries expected to follow suit. In a crisis, the capitalist EU quickly becomes just a set of competing nation-states, each reflecting the interests of its own capitalist class.
The Indian government is limiting the export of dozens of medicines and 26 chemicals used by the pharmaceutical industry worldwide. India is one of the world's largest drug manufacturers, but sources 70% of its ingredients from Chinese factories, many of which have been shut down during the crisis.
Market v planning
Other countries are also rushing to limit medical exports in the crisis, but risk paralysing production of those same products due to the globalised economy.
It could take 18 months to discover, test and manufacture vaccines and treatments. Viruses rapidly change, so research and development is always needed.
The world's pharmaceutical industry needs to be under public ownership so resources can be democratically planned, without curtailment by short-term profit interests. Treatments and vaccination must be made available to everyone who needs them, not only those who can afford to pay.
Small numbers of cases identified so far in Africa, Indonesia and other countries may be due to fewer tests done by less developed health systems.
There are half a million African migrants in China, often with limited access to local health services. Refugees from wars, poverty and violence in the Middle East, Africa and Latin America are also at high risk of uncontrolled Covid-19 outbreaks, with no health care.
Instead of spending huge sums on weapons and private profit, socialist planning would urgently direct resources to developing testing facilities and health services worldwide.
Britain's NHS crisis and coronavirus
Britain has almost the fewest intensive care beds per person, and hospital beds overall per person, of any country in Europe. How is our NHS going to cope with an influx from Covid-19?
It's not just vulnerable coronavirus sufferers who are at risk if there are no critical care facilities for them. Patients suffering other serious illnesses and injuries during an epidemic could have nowhere to go.
Some estimates for how much of Britain's population could contract Covid-19 during an epidemic range from 30% to 60%. While the vast majority will not need hospitalisation, those who do will put even more strain on time and space because of the need for isolation, special protective equipment and extra cleaning.
The government must immediately reverse its decades-long policies of cuts and privatisation. It should also allow the NHS to requisition private sector resources, in particular private healthcare facilities, if needed, to guarantee extra capacity during the crisis.
The NHS had just 4,100 intensive care and high-dependency beds in 2018. Germany has around four times as many per head. Even the US system, unprepared and riddled with private sector inefficiencies, has around ten times as many per head!
The Tories want to use trade talks to Americanise the NHS. But the world's most powerful economy is showing us the dangerous limits of that system.
Donald Trump's blinkered understanding of how the virus spreads has worsened its impact. By 1 March South Korea had run 100,000 tests, but the US under 500. By 8 March over 500 US cases had been reported, with many more certainly undetected.
The US Centers for Disease Control announced tests would be free – but hospitals have nonetheless billed patients thousands for staff time in administering them! Alex Azar, US health secretary, has been unable to report how many have been tested because competing private companies, and the public sector, have created and distributed different tests!
Twenty-eight million people in the US have no health insurance. Many more are 'underinsured' so may have to pay huge bills for testing and treatment. Thirty per cent of workers have no entitlement to sick pay.
With a market shortage of diagnostic kits, and Trump's dismissal in February of the viral threat as a Democratic Party "hoax", the US could see one of the worst epidemics of the advanced economies.
Health officials have now had to promise four million tests in a week. And under pressure, Trump has been forced to promise support for workers so that they are "not going to miss a paycheque" and "don't get penalised for something that's not their fault."
What help the US capitalists will grant is yet to be seen. But the lesson is simple: the state is having to intervene because the market is incapable of running public services and protecting workers.
Meanwhile, even former UK Tory health secretary, Jeremy Hunt, admitted, "the NHS has centralised structures, bureaucracy that it's sometimes criticised for, but it does mean it can react in a very coordinated and integrated way in a crisis like this."
What a hypocrite! Thirty years of privatisation by Tory, New Labour and coalition governments have not yet destroyed the NHS, thanks to resistance from workers and patients.
But their direction has been relentlessly towards the US system, including in the post-Brexit trade talks (and beforehand under the EU as well). Socialist policies to save the NHS are vital.
A workers charter for the coronavirus crisis 
Public services
Emergency funding to provide resources to protect workers, patients, students and service users in the NHS, education, transport and public services
Requisition private healthcare facilities to supplement NHS treatment and quarantine if needed
The government must ensure that schools and health services are adequately funded to meet needs. This should include additional budgets in schools to provide supply staff to cover absence arising from the coronavirus, and to make sure that both staff and parents are fully compensated for any loss of earnings arising from the crisis
Education workload demands on staff must be reduced, and time made available to prioritise protecting the health and safety of staff and students
No to any removal of statutory class size limits as a response to managing teacher absences arising from novel coronavirus. Schools should not be treated as if they were just child-minding services. Increasing class sizes would damage education and heighten the risk of infection being spread further, as well as further increasing staff workload. Public health advice to education workers to hand-wash regularly throughout the day will only be possible if time is provided within the school day for this to take place
Vaccines, when available, for free – nationalise the big pharmaceutical companies to guarantee research, production and supply
Reverse privatisation in the NHS, remove the privateers, and fund a massive increase in health spending
Pay and benefits
No worker to pay the price for controlling the spread of the virus. Any worker who is required not to attend work, or is unable to do so because of childcare or transport closures, should receive full pay and not be forced to take annual leave. This should include workers in receipt of in-work benefits such as Universal Credit, who should be paid their full benefits and receive no sanction. Workers who follow health advice to be absent from work to avoid potential spread should be excluded from any attendance-management procedures
All workers should be entitled to full pay from day one of isolation or sickness for as long as it is needed
Self-employed, agency, zero-hour-contract and gig economy workers required to self-isolate to be granted emergency benefits by the Department for Work and Pensions, at full pay, for the equivalent of at least a full working week of 37.5 hours, or more if they usually work longer
Benefit claimants should be believed, excused signing on and attending mandatory interviews, and have their benefit payment advanced. Claimants should not be penalised for not being able to leave their homes and not being able to undertake labour-market activities because of lack of access to transport, internet, postal services, and so on
No redundancies, lay-offs or loss of pay in manufacturing, logistics or service industries because of supply issues
Stop abuses by the bosses
Any companies who claim they cannot comply with the necessary protections for workers must open their books to inspection by the workforce and trade unions. Small firms which genuinely cannot afford these measures to be underwritten by the government. Big firms which refuse to comply to be nationalised – with compensation only for proven need, not for super-rich bosses – to defend workers' jobs and incomes
Democratic trade union oversight over any government or private sector emergency measures taken to contain the virus, such as restrictions on public assemblies or strikes, or supermarket supply rationing
For the Trade Union Congress and the unions, the biggest voluntary national organisation with over six million members across the country, to prepare to lead nationally coordinated strike action to protect people should necessary measures not be taken