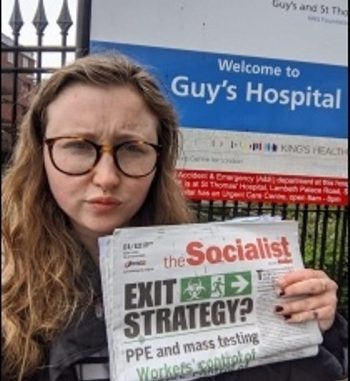 In the space of one week, the trade union movement is marking two of its most important annual days – International Workers' Memorial Day, on 28 April, and May Day on 1 May. Coming as they do during the coronavirus pandemic, they are particularly poignant and relevant.
Tragically, too many workers have died already. Over 120 workers in the NHS and the social care sector have died: killed in many cases by a scandalous lack of PPE, the result of years of austerity and privatisation carried out by successive Tory and New Labour governments.
All frontline and essential workers must have the PPE they need to do their work as safely as possible. They should not be left to individually decide whether or not it is safe to work, but have the collective support of their union behind them.
And now this government, and their friends in big business, are trying to build momentum to push other 'non-essential' workers back to work.
But we have no confidence that the bosses and their political representatives can be trusted with our safety. Profit is their number one priority – in normal times and during emergencies, such as this.
Look at the construction companies forcing workers back to the sites. Building luxury apartments is not 'essential work'!
We have to decide when it is safe to return to work. We need workers' and trade union control over workplace safety. If a workplace is not safe, it must be closed, and workers sent home on full pay until it is.
If management tells workers that they want us to come back to work, we must only return when we and our unions are convinced it is safe to do so.
A union and workers' risk assessment must be carried out. There must be adequate PPE available; sufficient hand sanitisers and washroom facilities; thorough workplace cleaning carried out on a regular basis; a workplace layout and staff capacity that allows for safe social distancing; regular testing; and any other measures considered necessary to guarantee workers' safety.
If management doe not accept these demands, workers must discuss what to do next, including deciding collectively to refuse to work in an unsafe workplace. Section 44 of the Employment Rights Act 1996 (UK) provides for the protection of workers if they decide not to work in an unsafe environment.
But we also know that Tory anti-union laws can be used against us. So the best protection, as always, is for workers and their unions to act together. This is what postal workers, firefighters and now Jobcentre staff have done to defend their safety.
Workers have won historic victories on the back of collective struggle. Our pay, pensions and conditions, and the very right to be organised in a trade union, were secured as a result of our struggles and those of workers who came before us.
May Day this year must be a platform to send out a clear message: collective workers' and trade union action is our life-saver.
PPE and testing for all
No return to work unless safety can be guaranteed
Workers' and trade union control of workplace safety
Socialist planning, not capitalist market chaos