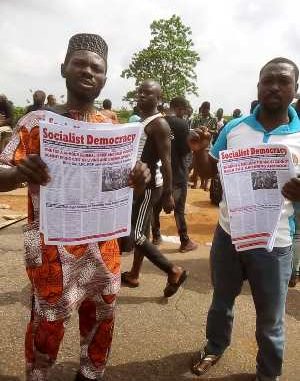 In the absence of a genuine mass workers' political alternative, it is now beyond doubt that the 2023 general elections in Nigeria will be dominated by two old, virulently anti-worker, anti-poor, and incurably corrupt presidential candidates from the two major political parties.
After a night of high-stake horse-trading and inducement of delegates with tens of thousands of dollars, the ruling All Progressive Congress (APC) has just elected Bola Ahmed Tinubu as its presidential flag bearer at its Special National Convention which was held from Monday 6 to Wednesday 8 June 2022. This is following on the heels of the main pro-capitalist opposition party, the Peoples' Democratic Party (PDP), which on 28 May 2022 elected Alhaji Atiku Abubakar its presidential flagbearer.
For us in the Democratic Socialist Movement (DSM), whoever wins the 2023 general elections between these two incurably corrupt candidates will spell doom for Nigeria, as a whole, and the long-suffering working masses and youth, in particular. This is because, in addition to their commitment to an anti-poor, and ruinous capitalist programme, both of these elements are part and parcel of the architects of Nigeria's political and socio-economic travails.
The character of the primaries of both parties already shows that there is no fundamental difference between the two candidates. For instance, it is on record that Atiku Abubakar got the PDP's ticket by outspending other contenders through the alleged inducement of delegates with as much as 40, 000 dollars each. This in a country where the legal, but often unpaid, minimum wage is equivalent to 72 dollars a month. Bola Ahmed Tinubu reportedly spent between 10, 000 dollars and 25, 000 dollars to buy each delegate at the APC convention. Such was the political leaders' scramble for dollars that the naira's value slumped. An editorial in The Nation, a paper reportedly close to Tinubu, reported that "manufacturers have complained that the new cycle of politicking is damaging the value of the Naira because the politicians are mopping up foreign currencies" (June 2, 2022).
This chase for dollars was after both candidates, Atiku Abubakar and Bola Ahmed Tinubu, bought the presidential nomination forms of their political parties for N40 million ($96, 500) and N100 million ($241, 000), respectively. This is at a time when public universities have been shut for over 100 days due to a nationwide strike of ASUU, SSANU, NASU and NAAT over issues of underfunding of public education and refusal to fulfil collective bargaining agreements. The lavish spending by these two candidates and other capitalist politicians in both the PDP and APC over the course of the past two months in order to clinch the tickets of their respective political parties must come across to students and education workers who have been idle at home as a gross sign of the ruling elite's irresponsibility and insensitivity to their plight.
We hereby warn against any illusion in either Atiku or Tinubu and any pro-capitalist candidate whatsoever. This includes Peter Obi, now the presidential candidate of the Labour Party (LP) after suddenly leaving the PDP. Understandably, a layer of young people has illusions in Peter Obi due to his alleged frugality, efficient management acumen and incorruptibility. But this is not the first time a capitalist politician will claim to be incorruptible only to run an insidiously corrupt and anti-poor government. President Buhari ran on a similar platform in 2014 and again in 2019 and, despite this, Nigeria became both a cesspit of corruption and the poverty capital of the world under his administration.
Consequently, we call on the labour movement, civil society organizations and the mass of the people to begin to gird their loins and prepare to resist four years of rapacious looting of the treasury, imposition of anti-poor policies, assaults on the living standards of workers and the poor and a race to the bottom for the mass majority of Nigerians. Only the readiness of the working masses and youth to fight back will guarantee the future under a government formed by either of these pro-rich elements.
For instance, Atiku Abubakar, a member of the semi-feudal Northern oligarchy, was Nigeria's Vice President under President Olusegun Obasanjo between 1999 and 2007. As Chairman of the National Council on Privatisation (NCP), Atiku was an evangel of the anti-poor and pro-rich IMF/World Bank supported policy of privatization. He oversaw the auction at rock bottom prices to friends and cronies of Nigeria's collective patrimony and assets, effectively enriching himself, at the same time, under the guise of economic reforms and privatization. These include NITEL, Nigerian Airways, Aluminum Smelting Company, Delta Steel Company etc. Atiku Abubakar has also been fingered in several high-level cases of corruption and looting of the treasury. Additionally, under the Obasanjo administration to which Atiku was Vice President, the labour movement had to organize a series of national strikes and mass protests against the regime's anti-poor policies which included increases in fuel prices, and non-payment of minimum wage, downsizing etc.
Vicious elite
In the same vein, Bola Ahmed Tinubu is a vicious anti-poor and obdurately corrupt member of Nigeria's ruling elite who got most of his wealth from his brutal control and domination of the treasury of Lagos state – a state he governed between 1999 and 2007. Bola Tinubu hides his real anti-people character behind a dubious pro-democracy facade due to his role in the National Democratic Coalition (NADECO) during the anti-military struggle of the 90s. , Bola Tinubu's stint as Lagos state governor was filled with attacks on workers and trade union leaders most especially the late Ayodele Akele, who as chairman of Council of Industrial Unions (COIU), led tumultuous workers' struggle to demand payment of the then N7, 500 minimum wage to Lagos state workers. He was summarily sacked and his entitlement remained unpaid until his death.
Another example of the dismal record of Bola Ahmed Tinubu and his successors in the administration of Lagos state is in the area of public education. For over two decades, the Lagos State University (LASU) was the only public university Lagos had yet the Lagos state government, starting from the regime of Bola Ahmed Tinubu, could not fund this university adequately. This meant that tuition was astronomically increased from N25, 000 to over N350,000 under Tinubu's successor, Governor Babatunde Raji Fashola. It took enormous struggle by students, staff unions and civil society for the fee to be reversed. This indicates what would be the true character of Tinubu's education policy if he becomes Nigeria's president. Though Tinubu in his policy document titled: 'My Vision for Nigeria' (Vanguard May 27, 2022) pledges to increase budgetary allocation to education to 25 per cent, the generally poor state of public education, with many overcrowded classrooms, the inadequate training of many teachers, etc., in Lagos State, where he has called the shots since 1999, shows that this will turn into an empty promise.
Bola Tinubu claimed to have performed creditably well as Lagos state governor and he often cites this as an example of what he would do as Nigeria's president. The truth, however, is that following over two decades of the rule of APC's predecessors AD, AC, ACN and now the APC, Lagos state today has become an example of how not to build a nation. Despite the enormous resources and wealth that Lagos State command as the 7th largest economy in Africa, the state continues to parade very terrible socio-economic statistics. It has some of the worst road networks and a backward and an antediluvian transportation system. This leaves the bulk of Lagos population to rely on private vehicles, inadequate BRTs, old tattered, and environmentally-polluting yellow buses, Keke and Okadas for the daily commute. According to a 2021 report by a Lagos-based Danne Institute for Research, entitled "Connectivity and Productivity Report", Lagos loses over four trillion hours annually, while Lagosians waste 14.12 million hours daily while commuting to work and back due to traffic congestion. The monies that should have been made available to provide a modern integrated public transportation system often end up looted by Bola Ahmed Tinubu and the iron clad political machinery under his leadership in Lago state.
A progressive in words but a reactionary and vicious anti-people politician in practice, there is no doubt that a potential Tinubu Presidency will spell disaster for workers, students, youth and the poor masses. Many of Nigeria's youth cannot forget in a hurry Tinubu's role in the #EndSARS struggle in October 2020, especially his famous public denial of the army's shooting and killing of protesters at the Lekki tollgate. Similarly, there is no doubt that Atiku would be no better if he emerges as the winner of the 2023 presidential elections. In fact, an Atiku presidency will be nightmarish for the vast majority of workers, youth and poor.
Unfortunately, we are where we are today due to the refusal of the leadership of the Nigeria Labour Congress (NLC) and the Trade Union Congress (TUC) to build a genuine mass workers' political party to serve as an alternative to the mainstream pro-capitalist parties. Despite mouthing slogans of wanting to reclaim the Labour Party (LP), it has now become clear that the real agenda of the labour bureaucracy is not to build the LP as a party of struggle that can serve as a platform to put in power a workers' and poor people's government but remain a dumping ground for corrupt capitalist politicians unable to clinch their party's tickets. This explains how and why the LP's presidential nomination fee was N30 million ($72, 300) thereby effectively disqualifying hardworking working-class elements and principled activists from running on the party's platform. Consequently and in spite of the illusions in Peter Obi, the LP will not serve as a genuine political alternative in 2023 elections. Now the LP is riven by a split with another faction springing up which has produced another presidential candidate.
In fact, and we warn in advance, it is not impossible for the LP to enter into an electoral alliance with either the PDP or APC by supporting the presidential candidate of either of these parties in exchange for a vice-presidential slot or any other promise. This is not new; the LP supported the PDP both in the 2015 and 2019 general elections despite the anti-worker and pro-rich character of the party and its candidate, former President Jonathan. This, should it happen, will disappoint and disorient many who currently genuinely support the LP and Peter Obi because they think he is different.
Suffice to stress that neither Atiku nor Tinubu has the solution to Nigeria's problems. The only way out of the socio-economic and political crises, as well as the insecurity crisis facing Nigeria today, is for the working class and poor masses to take political power, end capitalism and build a workers' and poor people's government armed with a socialist programme.
Consequently, the DSM calls on radical trade unionists, genuine working class, youth and left activists to immediately commence urgent discussions about how to prepare politically for the inevitable socio-economic attacks that would come regardless of who wins the 2023 general elections between these two frontline pro-capitalist presidential candidates. And urgent preparations are needed to build a genuine mass workers' political alternative with a socialist programme so that in future there is a real choice to reject the representatives of capitalist failure.