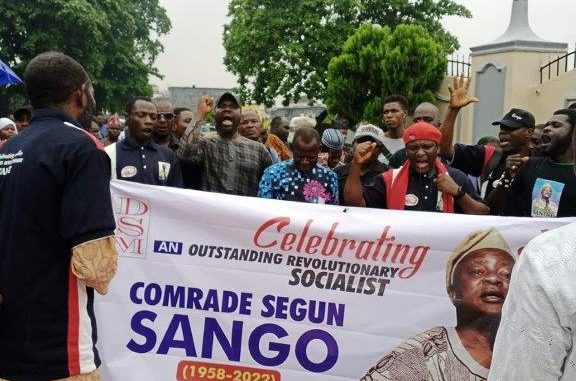 "A nation that is well endowed with human and material resources but perpetually held down in a state of coma is an absurdity that cannot be rationally justified unless you believe in the irrationality of the capitalist system". A quotation from Segun Sango carried on many memorial banners.
On Friday June 24, the body of Segun Sango, SS, General Secretary of the DSM and founding National Chair of the Socialist Party of Nigeria (SPN), was laid to rest at Atan Cemetery in Lagos with a graveyard oration by his longtime comrade and friend, Lanre Arogundade. This was the culmination of two days of activities put together by comrades and the family to celebrate his revolutionary life.
By Omole Ibukun
Born Segun Aderemi on May 7, 1958, Sango died on May 23, 2022, aged 64 and after a prolonged illness which had made him politically inactive for about 6 years.
Memorial Meeting
With an outpouring of tributes by comrades from Nigeria and internationally, the burial program commenced on Thursday June 23 at the International Press Centre (IPC) Lagos together with a Zoom link. A special memorial meeting, open to members of the DSM and Committee for a Workers' International, was held to give testimonies of a life committed to the struggle of working class people and the building of revolutionary forces for socialist transformation, both in Nigeria and internationally. Segun was for many years a member of the International Executive Committee of the CWI – international socialist organisation to which DSM is affiliated.
Also in attendance were the wife and children. Altogether about 80 comrades were at the meeting.
The meeting started with the reading out of the written tribute from Peter Taaffe, former General Secretary of Socialist Party (CWI in England and Wales) and member of the International Secretariat of the CWI, who emphasized how SS was an inspiration not just in Nigeria but internationally. For instance, he stressed how Segun had impact on South African comrades of the CWI, though Segun never visited the country. He concluded that his death is a great loss to the Nigerian working class movement and he will be greatly missed.
Next was Olumide Fusika who described the life of SS as one which was lived joyfully in the cause of securing a glorious future for the wretched of the earth. He explained how Sango helped establish an inroad to Trotskyist ideas and build a nucleus for genuine idea of Marxism when he dug up Trotsky's book on the struggle against Nazism in Germany and got other comrades to read it. This helped the comrades come across the perspective to help understand fascism and bankruptcy of Stalinism. Olumide also mentioned how the idea of becoming professional revolutionary was something he first heard from SS, and how it became a model of organization led by SS and how he chose being a professional revolutionary over legal practice. He specifically commended Tinu, Segun's wife, for the uncommon care she rendered throughout his period of illness. Many other speakers also extolled her contribution.
This tribute was followed by that of Robert Bechert from the International Secretariat who commended SS for building the largest Trotskyist organization in Nigerian history, by size and by influence. He recalled how SS's clarity was always very crucial at political conjunctures and how that clarity made him capable of reacting correctly every time he was faced with complex political situations. He described SS as a determined revolutionary who would not spare anything to argue and fight for the best possible revolutionary outcomes that could be achieved at all times.
Sascha Staničić from the German section of the CWI described SS as a committed internationalist, who simultaneously combined the building of the DSM in Nigeria with the consistent participation in all of the political discussions of the International. He described him as someone who led by example and was grounded in praxis and not just a talker. While emphasizing for the comrades to take no heroes, he expressed the need to see SS and his life as an inspiration to stay committed to the revolutionary cause.
The Organising Secretary of the DSM in Nigeria, Peluola Adewale (Pelad). described SS as a man who took care of both his family and the organisation with commitment, simultaneously. He expressed how he did everything with a single mind as a go-getter towards actualising the objective of the organisation. He stressed how he was able to assemble and build a formidable team of comrades who are able to pilot the affairs of the organisation such that his ill health and eventual demise did not fundamentally affect the continued running and building of the organisation.
Hannah Sell, General Secretary of Socialist Party CWI in England, reminisced how SS was a fiery orator with a deep Marxist understanding of how to build a revolutionary organisation. She described his ability for foresight as true factor that led to the formation of the Socialist Party of Nigeria. She further applauded his courage to live his convictions.
A Gauche Révolutionnaire comrade sent the warm greetings of the French CWI comrades, while Comrade Lanre Arogundade of the DSM Nigeria explained the material roots of the sharp understanding of the National Question by SS. He explained that SS hailed from the Modakeke people, a minority Yoruba tribe from ancient Oyo and made up mostly of farmers which have had to wage war almost all their lives for survival among hostile neighbors, the most recent being their wars against the rent-taking and tribute-collecting Ile-Ife Empire. He explained that his work on the National Question will soon be published.
Comrade Pelacious described how he was not just a revolutionary leader but also a father figure who was committed to his comrades both politically and personally. Comrade Phillip from Scotland described him as the voice of the working class in Nigeria. Comrade Siri of the Sri Lankan section of the CWI, the United Socialist Party, described his respect for him as someone who was able to build a powerful socialist party in Nigeria. Comrade Weizmann from South Africa gave an insight into the life and times of SS, especially how they worked together when he was in exile during the Apartheid regime of South Africa.
More tributes poured in from Keye Ewebiyi who described SS as a father to him when he lost his dad (Comrade Rotimi Ewebiyi), Ayo Arogundade who described SS in tears as the friend and Comrade who encouraged him to look at the bigger picture beyond Black Nationalism towards Socialism. Micheal Lenin of the Youth Rights Campaign (YRC) described SS as someone with a foresight that was close to prophetic despite the little he was able to know about him. Other tributes by Titi Salaam, Mojeed Ibrahim, Alfred Adegoke testified to all of the great comments that had been made about SS. Abiodun Bamigboye, a DSM member and Acting National Chairperson of the SPN, thanked SS's family, especially his wife who stood by him, and also described how SS influenced his personal life, and initiated the SPN based on his farsightedness.
Tunde Aderemi (the first son of Comrade SS) talked about how he was an open person who was more than a father but also a friend whom you could talk to about anything.
In his closing remarks, HT Soweto of the DSM thanked the family, especially his wife, for his revolutionary love, while Tony Saunois of the CWI International Secretariat described how Segun's revolutionary loyalty to the struggle for socialism would be a lasting legacy and an inspiration to many.
Final Burial
Friday June 24 saw the final journey of Sango begin with the collection of his body at the mortuary of Lagos State University Teaching Hospital. The body was ushered in with solidarity songs into Jelili Adebisi Multipurpose Hall A of the University of Lagos for the Lying-in-State and tribute session. The hall, which was secured by ASUU UNILAG in solidarity with the DSM, was filled with family friends, trade unionists and comrades across decades in their hundreds, who came, despite heavy rain, to pay their last respect to Comrade SS.
Comrade Lanre Arogundade gave the opening remarks to flag off the tribute session. Then followed by tributes from other speakers including Femi Falana, Kayode Komolafe, Biodun Aremu, Abiodun Owonikoko, Abiodun Bamigboye, Dagga Tolar, Goke Akinrogunde, Rasheedat Adesina, Dele Ashiru who delivered a tribute on behalf of the ASUU President and a host of others. The immediate brother of SS, Prof Benjamin Aderemi and a childhood friend Mr. Toriola also paid tribute to his memory.
By and large, speakers after speakers in their tributes extolled the steadfastness and sacrifice of SS to the Marxist ideas, revolutionary cause and defence of the oppressed. Some old associates underscored the commitment of SS to revolutionary ideal from which they opted out when the road was too rough for them to continue.
However, it was not all about speeches, people were treated to good music including radical songs from the rich trove of Fela by comrade Maberu Fagunwa.
The tribute session ended with Vote of thanks on behalf of the family by Tola, the first child.
Then, there was an energetic funeral procession to Atan Cementery where Segun Sango's remains were interred after a graveside oration was delivered by Lanre Arogundade.
In attendance were trade unions such as Trade Union Congress (TUC) Lagos Council, Nigeria Labour Congress (NLC) Lagos Council, ASUU, National Union of Electricity Employees, all staff unions from Lagos Polytechnic, etc. Significantly, representatives of ASUU came from Lagos zone (UNILAG, UNAAB, OOU and LASU) and University of Ibadan.
The left and civil society organizations present include JAF, NCP, CDHR, CWA and MSA together with many individual activists numerous to mention.
The burial ceremony was covered by at least 10 media organizations from TV, print and online.
SaharaTV report: Farewell to a Worthy Comrade,Comrade Segun Sango Laid to Rest in Lagos