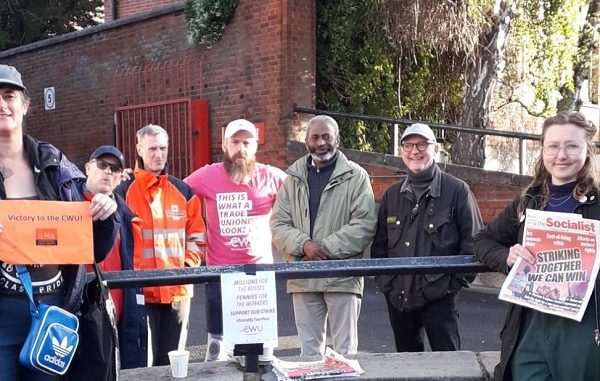 On Saturday, 1st October, the biggest strike coordination yet in 2022 in Britain took place in the struggle against the cost-of-living crisis, Socialist Party (CWI England & Wales) reports.  Around 170,000 workers in the unions CWU (including in N Ireland), RMT, Alsef, TSSA, and Unite took action.
The Socialist Party (CWI England & Wales) says:
 All strike together for a real pay rise! The TUC must step up and organise to coordinate action
 If the Tories try to implement their new anti-trade union plans, they must be met with a 24-hour general strike
The TUC should launch an appeal to build a massive strike fund to assist those unions on the front line
 Kick out the Tories
 Starmer's New Labour doesn't speak for us;  Fight for a new working-class party
 Nationalise rail, mail, energy and utilities under democratic working-class control and management, with compensation only on the basis of proven need
Take the wealth off the super-rich. For a socialist alternative to capitalism's poverty and crisis
Click on the link to see a gallery of photos of strike action across Britain on 1 October: Saturday 1st October – Picket photos – Socialist Party
Special financial appeal to all readers of socialistworld.net

Support building alternative socialist media

---

Socialistworld.net provides a unique analysis and perspective of world events. Socialistworld.net also plays a crucial role in building the struggle for socialism across all continents. Capitalism has failed! Assist us to build the fight-back and prepare for the stormy period of class struggles ahead. Please make a donation to help us reach more readers and to widen our socialist campaigning work across the world.

Donate via Paypal

CWI- Please inform us if you are reproducing any material from this site.