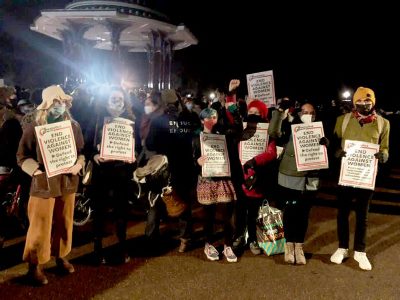 Below, we publish the text of a Socialist Students' (England & Wales) leaflet for 'International Day for the Elimination of Violence against Women' on 25 November.
socialistworld.net
A recent National Union of Students (NUS) study showed at least 75% of female students have had an unwanted sexual experience while at university. One in four women in their lifetimes will be raped or sexually assaulted.
Huge gains have been won for women's rights in recent decades, and all have had to be hard fought for. But these gains are not reflected in our experiences on campus at university, on nights out, or at work.
There is still a gender pay gap, including among university staff, which is one of the reasons for the recent strikes by the University and College Union (UCU). Women are more likely to be lower paid and in insecure employment.
During the pandemic, domestic violence was on the rise. Two women a week are still killed by a current or ex-partner.
Despite all the gains and struggles for better living conditions, against gender discrimination and for equality, sexist and misogynist attitudes still persist.
Discrimination, sexism and abuse are rooted in inequality and associated ideas about gender roles. The capitalist system we live in is based on inequalities of wealth and power that reinforces these ideas. Therefore, we can't trust capitalism, its political representatives or its institutions to end sexism.
On campus, it's university management, intent on cutting costs, who make the decisions around procedures dealing with sexual harassment. We say its students and staff who make the university – not management. We demand a democratic say over how our universities are run, to make sure that all procedures are fit for purpose and under democratic oversight.
On nights out, Tory MPs suggest we should moderate our behaviour. Police suggest there should be more of them undercover in nightclubs. As if that would make anyone feel safe, given the recent WhatsApp messages between police officers which have been uncovered.
Whereas a safer night out is possible if there is minimum staffing levels and proper training for staff to deal with different situations. But we can't trust night club owners, looking to profit out of young people to protect us. We need a democratic say in safety and stewarding though trade unions, local communities and young people.
Also, hospitality staff should feel safe and secure at work. They too shouldn't experience sexism and should feel able to stand up to sexism at work, backed up by a trade union. We need a fully funded, free public transport network, so that people can get home safely.
We are campaigning to win these demands. Huge gains can still be made to make our lives easier and safer.
But to end sexism, gender violence and abuse means challenging the unequal and violent capitalist system. That means fighting all the forms of exploitation which exist today. From low-paid work to the beauty industry, to care in the family and sexism.
Such a struggle will need to unite the mass of working-class people for a socialist alternative to capitalism. Huge wealth exists in society, in the hands of a tiny few. That wealth could be used to save the planet, liberate people from the daily struggles and offer a decent future for all.