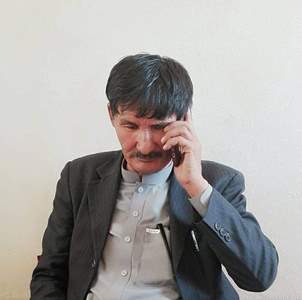 Since the victory of the Taliban last year and its coming to power again, a vicious wave of repression has swept over Afghanistan, along with a widespread collapse of the economy and many aspects of society. The oppression of women is well known, as the Taliban seek to consolidate their rule and shut down any resistance.
The long history of imperialist interventions in Afghanistan, including British imperialism's three Afghan wars in the nineteenth century, Western imperialism's support for the reactionary Mujahedeen in the 1980s and early 1990s, and the US and Nato's nearly 20-year war that ended in defeat last year, have helped create a disastrous, nightmare situation for the Afghan people.
Despite the brutal Taliban rule there are small numbers of Afghan socialists striving to resist Taliban reaction and build a movement that strives to both win democratic rights and to break with capitalism.
This is dangerous activity, and last week an Afghan socialist, Aminullah Mali, was amongst those killed by the Taliban in Daikundi province, in central Afghanistan.
socialistworld.net
Statement from the Afghan Socialist Assembly:
"The Taliban fighters of this army of ignorance and superstitions have unfortunately taken away from us another revolutionary child, Aminullah Mali.
"May his path be full of paths and may his dear memories be cherished and eternal.
"We ask for patience and endurance to the families of the deceased, and for the murderers and criminals who committed this heinous and inhumane act to wait for a revolutionary trial in the peoples' court.
"According to local sources, on November 24, the Taliban carried out a military operation on the village of 'Siwak-Shiber' in the centre of Daikundi province. They killed and wounded 12 people, all of whom were civilian victims from this village.
"As a result of this operation, 9 civilians were killed, 3 were wounded and 6 others were arrested. One of the relatives of the victims of this incident, on the condition that his name remains protected, told the Farsi Independent that the Taliban attacked their village with about 250 armed fighters and targeted their houses with heavy weapons, on the charge that the members of two families had formed an armed resistance front against this group.
"The Afghan Socialist Assembly condemns this action of reactionaries and fundamentalists, and we ask all comrades and socialists of the world to pay serious attention to the socialists of Afghanistan in order to prevent our genocide and destruction."
The CWI sends its condolences to the comrades of the Afghan Socialist Assembly and all other socialists in Afghanistan and will strive for socialist and workers' organizations' internationally to give support to these courageous comrades.
Link to Farsi Independent report: Taliban shoot nine people in Daikundi| Persian Independent (طالبان ۹ نفر را در دایکندی تیرباران کردند | ایندیپندنت فارسی (independentpersian.com))