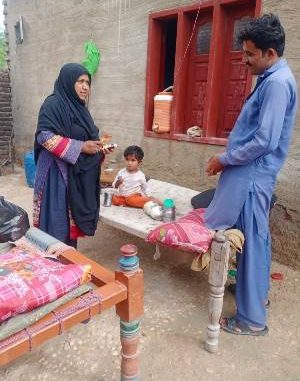 The floods caused by the monsoon rains since mid-June 2022 have affected Sindh, Baluchistan, Gilgit-Baltistan, Punjab, Azad Jammu and Kashmir, and Khyber Pakhtunkhwa (KPK) provinces of Pakistan. According to official figures, the massive floods have, so far, claimed 1,033 lives and injured 1,527 people. The estimated number of affected people is around 30 million. Around one million houses are totally or partially damaged, leaving behind millions in need of urgent shelter. Having said that, reliable sources are different than official data.
The Sindh province was hit hardest by the heavy torrential rainfall and flash floods in the month of July and August 2022, claiming lives and destroying homes, putting millions of people at risk of disease and widespread malnutrition. Crops were damaged and small traders were badly affected. With no pathway for the water to drain, hundreds of thousands of people have been forced to leave their homes and set up temporary make-shift tents on roads. Thousands whose homes were swept away now live in tents, miles away from their inundated villages and towns.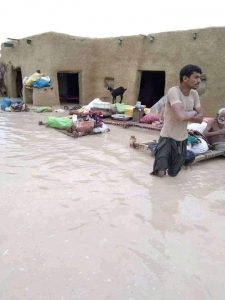 The continuous and heavy rainfall triggered flash floods in Sindh province in the second week of August and wreaked havoc across the province. Among 23 calamity-affected districts, a total of 682 casualties were reported, along with 2,468 people injured, and 406,928 livestock deaths. An estimated 11,665 mud-thatched houses were destroyed, nearly one million houses were partially damaged and 1,108,264 households are internally displaced (IDPs). Over 15,500 people lost everything and were displaced. In Sindh, as many as 0.3 million people are homeless, crops covering 1.4 million acres were destroyed, more than 386,039 houses were submerged and over 30, 000 villages were inundated by the floods. The full scale of the devastation in the province is yet to be fully collated but the people described it as the worst disaster they survived.
The Provincial Government of Sindh declared 23 districts as 'calamity-Hit areas', of which Sindh Mazdoor Itehad (Sindh Workers Alliance) is present in two districts; Mirpurkhas and Dadu. In these districts, the loss of crops and livelihoods caused a shortage of food and clean drinking water. The populations, which had moved from the affected areas that were in dire straits and had no humanitarian agencies, have gone to far-flung areas to get basics, such as food medicines, and safe water. Still, there is a dire need for tents, medical aid, and clothes.
The Sindh Workers Alliance (SWA), in coordination with the local philanthropic peoples, is engaged in relief activities. SWA is using the resources that we have available at hand but it's not nearly enough for what we need. SWA launched an immediate appeal to provide aid to the families affected by this disaster. The Committee for a Workers' International (CWI) was asked to support the response by helping to cover areas where the needs inevitably exceeded the SWA's response capacity. Significant funding, planning, and combined efforts are required to provide sustainable long-term rehabilitation for those people affected. The flood-affected areas need funds for the construction of shelters and to help create livelihoods.
SWA is now appealing for assistance in the priority areas of dry rations and clean drinking water and tents, and concerning non-food items, we need mosquito nets, fodder for livestock, and medical supplies. Please donate generously at this time of need!
During the last weeks, flood water continued to recede in many areas of Sindh, although standing water remains in some districts. In Sindh, the most affected districts, such as Dadu, Khairpur, and Mirpurkhas, have remained underwater for nearly two months. The winter season is fast approaching, and the affected population will be severely affected by the harsh weather conditions in a few weeks, requiring adequate shelter and non-food items, such as tents and blankets.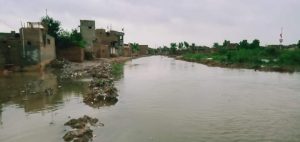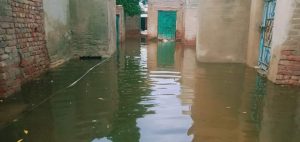 Public health concerns are high due to damaged infrastructure, stagnating water, and inadequate sanitation facilities. According to the latest data, as of 25th October, in Sindh, 59 health facilities are fully damaged, and 461 are partially damaged, further limiting access to primary health care. Stagnating water has provided breeding sites for mosquitoes, resulting in an ongoing malaria outbreak in 32 districts. In Sindh, between July and early October, nearly 350,000 people were suspected of having malaria, more than 700,000 had some form of diarrhea, and over 770,000 people reported a skin-related disease, according to the Directorate General of Health Services. Access to safe water and sanitation remains limited, with people using contaminated water for household consumption and suffering from waterborne diseases. The practice of open defecation has increased from one-fifth before the floods to over one-third of the affected population, with six million people no longer having home sanitation facilities.
The ongoing economic crisis due to rising inflation, low productivity growth, and climate change-induced floods, continues to present challenges to food security and basic nutrition in flood-affected areas. As of 21st October, the latest National Nutrition Survey estimates that close to 1.6 million children could suffer from severe acute malnutrition and require treatment in Sindh and Baluchistan flood-affected areas. In addition, the rate of stunting among children, which was already high before the floods, will further compound children's cognitive development. Malnourished pregnant women are also at risk of low-birth-weight babies who will be malnourished. According to UNFPA, as of 19th October, more than 1.6 million women are of reproductive age, and nearly 130,000 are pregnant. For these women, the risk is high of displacement, injury, and death due to the flooding compounded with that of gender-based violence and the possibility of dangerous disruptions to reproductive health care.
The floods have severely affected the education sector disrupting the school year and children's access to learning. As of 20th October 2022, at least 26,632 schools have been damaged or destroyed in Sindh, Baluchistan, Punjab, and Khyber Pakhtunkhwa due to floods, with data collection still ongoing. In addition, 7,062 schools became relief camps to provide shelter to the flood-affected population, disrupting schooling and the ongoing academic years. Based on current estimations, more than 3.5 million children's education has been interrupted due to floods all over Pakistan, according to UNICEF.
The floods are expected to have a detrimental impact on Pakistan's economy. The post-disaster needs assessment is essential for the time being. The assessment estimated total damages to exceed US$14.9 billion, total economic losses to about US$15.2 billion, and needs for rehabilitation and reconstruction at US$16.3 billion. In addition, the PDMA human impact assessment indicates that the national poverty rate may increase by 3.7 to 4.0 percentage points, potentially pushing between 8.4 and 9.1 million more people below the poverty line. Even before the floods, the country was already facing macroeconomic pressures and low economic growth due to challenging global economic conditions. According to the PDMA, the immediate impact on lives and livelihoods will come through the loss of household income and assets, shortages of food, and loss of human capital due to the ongoing public health situation.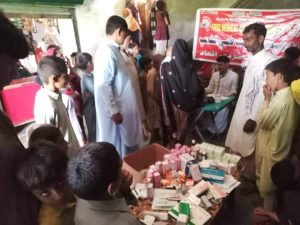 Medical relief 
The Sindh Workers' Alliance has established centers and medical camps to provide medical assistance and food to affected workers and is appealing for further help from the supporters and allies of the Committee for Workers' International (CWI).
In Dadu District, the Sindh Workers Alliance committee organized medical camps in several needy villages. More than 170 to 200 males, females, and children were treated in each medical camp. In the camp, most of the complained diseases were malaria, skin problems, and eye diseases. The stock of medicines and expenses for the camp were collected with the help of friends and organizational support. Doctors and medical staff have provided their services for the camp.
More than fifty homes of our organizing members have been displaced during this disaster and their families have been moved to safe places with the help and support of organizational resources. Our offices provided them with resources to live safely until they recovered.  Comrade Sughra's house is surrounded by flooded flowing water, as are all her neighbours. With the help of Comrade Nasreen, she went door to door and helped them in moving to safe places. With the help of comrades, Sughra collected funds for their medical assistance. Most of her neighbors were ill with fever, vomiting, and dysentery.
Food insecurity 
Around 50% of households lost all food stock as a result of the floods. The assessment indicated an absence of food stock was most critical in GB where 80% of households and in Sindh, where 74% of households report having no food stock.
The Sindh Workers Alliance raised funds from local resources and provided organizational support for the distribution of food bags. More than 170 ration bags for one week, and one month ration per family, were distributed in Mirpurkhas district. At Dadu district, a committee for flood response arranged a fund-raising campaign for food. They distributed 180 ration bags to those hit by floods.
In the districts of Dadu and Mirpurkhas, our workers were affected while they were working. In this situation, comrades Sugran Khaskheli, Nasreen Awan, Lareeb Qambrani were members of the Rescue Committee for Women Workers. Comrade Hameed Channa, comrade Essa Balouch and comrade Ihsan Magsi were members of the Rescue Committee for Male Workers in Mirpurkhas district. In Dadu district, comrades Allahjurio Lashari, Barkat Kalhoro, and Inam Khoso were members of the Rescue Committee. More than 50 members of the Sindh Workers Alliance have played an active role in responding to the flood disaster.