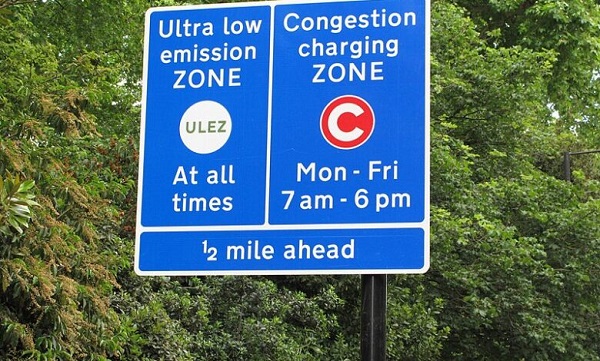 June 2023 saw the roll-out of a Low Emission Zone (LEZ) in Glasgow city centre. Any vehicle entering the LEZ zone now has to meet certain emissions criteria or face a penalty.
Many workers have had to change older vehicles for newer cars – at great expense – or are now unable to travel to the city centre without facing large fines. Without question, the LEZ is penalising the working class and the poorest. Disabled blue badge holders, emergency vehicles, motorbikes and mopeds are currently exempt.
Residents living in the zone have an extra year to comply. This is a key policy of the SNP/Green government, supported by the SNP-led local council. Aberdeen, Edinburgh, and Dundee are to follow suit with their own city centre LEZ's in 2024.
There have been protests of residents, small businesses and trade union organised black cab drivers in Glasgow and the surrounding area against the LEZ. Many of them have been hit economically during a downturn and a cost of living crisis. The Scottish Government's "retrofitting fund" hasn't met the sheer demand of taxi drivers and has been quickly depleted leaving many vulnerable to job losses.
The LEZ is also subject to a judicial review. Glasgow Labour called for it to be delayed for a year. But Labour in Greater London have suffered electorally in by-elections due to their ULEZ policy.
The council's main argument for introducing the scheme is to reduce air pollution, a critical issue in Glasgow with the city centre bordered by the M8 motorway. Its estimated that air pollution causes hundreds of deaths a year in a city blighted by social problems and high levels of respiratory illness.
In 2022, four areas of the city centre were above excess pollution levels, according to the European standards.
However, Socialist Party Scotland is opposed to what is in effect a "Green Tax" on working people that – like the SNP policies on increasing parking charges, cuts to waste collections and increased cycle lane provision, will not decisively improve the city's air quality and environment.
We argue for decisive action to take place on a local and national level to reduce emissions and combat climate change. That has to be based on fully funded, publicly owned and integrated transport system under the control of the working class.
It makes no sense in Glasgow for Scotrail and the SPT subway to be under state ownership alongside a privatised bus network. All are subject to cuts and fare increases and are in effect in competition with each other while workers and communities pay the cost.
Public ownership 
Through socialist public ownership under workers' control, a fully integrated free public transport system in Glasgow and across Scotland would be much more effective in tackling city centre pollution.
Rather than those who are struggling to pay the cost of the climate crisis, thousands of motorists have already been fined in Glasgow since the LEZ was introduced, the rich and big business must pay.
Those parties who have introduced these schemes are also universally silent on the multinational car and van manufacturers who have produced vehicles whose emissions add to the environmental crisis.
That's why we call for the nationalisation under workers' control and management of the major producers to allow a rapid transition to non-polluting cars and vans etc. Glasgow's infrastructure and transport network, geared towards private profit, needs to be overhauled, re-integrated and run by the working class for the city's needs.
The first emission measures were rolled out on the local bus network with a transition to electric vehicles from 2018, but Glasgow's residents have been subsidising this with year-on-year fare increases.
The main franchise First Bus have also cut services and have been in dispute with their own staff who have now balloted for strike action. If the SNP council really want to cut emissions from road vehicles, why do they oppose calls from campaigners to renationalise the bus network? This would allow a reduction in fares rather than private profiteering?
International examples 
The SNP/ Green coalition is following the example of capitalist governments and Green parties in power across the European Union who, rather than taking on the biggest polluters, force workers to pay through carbon and green taxes.
In the Republic of Ireland, the Fine Gael, Fianna Fail, Green coalition has a range of environmental taxes. Accor ing to Social Justice Ireland, of the 4.8 billion Euros collected by the state from such taxes it was ordinary households who were the highest contributors, rather than big business.
In the midst of a cost-of-living crisis, there are forthcoming yearly increases in Ireland's Carbon Tax, fuel costs for home heating and taxes on transport fuels.
These rises outstrip cuts in public transport fares and fuel allowances. Despite a range of environmental taxes, including the hated Bin Tax, which saw a mass movement against it in the early 2000s, Ireland's carbon emissions are still increasing.
The Republic of Ireland's economy is dominated by multinationals profiteering while the social crisis, particularly in housing, continues to escalate.
Green Parties are now also in capitalist coalition governments in Austria, Belgium, Finland, Germany and Luxembourg. Often they pick up a radical youth vote and those who reject the pro-big business record of the main parties, as well as being concerned about the climate crisis.
In power, however, they quickly inflict the cost of the environmental crisis on their own voters and the working class with higher taxes and austerity rather than threatening the interests of big business.
This has been seen in Germany as youth protests have taken place against the government policy of allowing mining projects to go ahead and using the riot police against protestors. In Austria the Greens argued for the use of coal burning when Russian gas wasn't available due to the geopolitical situation.
Even the European Commission October Energy report shows that carbon emissions, even with many member state governments implementing Green Taxes, are not falling fast enough to meet the 2030 target and need to treble the rate of decrease.
The bosses EU, who oppose nationalisation and public ownership, is incapable of solving rising emissions. The SNP/ Green government, who want to rejoin the EU and the single market, merely copycat these policies.
Socialist Party Scotland fights for socialist nationalisation of the main levers of the economy, including the biggest polluters, to transition away from carbon-based production and fossil fuels, guaranteeing jobs, higher wages and better conditions for workers and communities.