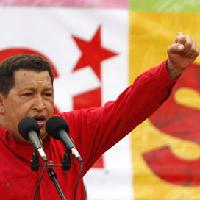 "¡Una vez más se pone sobre la espalda de los trabajadores y el pueblo el peso de la crisis económica e ineficiencia de la burocracia roja!"
Termina el año 2010, año de profundas contradicciones políticas, sociales y económicas; y para el inicio de este nuevo año se anuncian nuevas medidas económicas para enfrentar la recesión, es decir la caída de la economía. Aunque el gobierno declaro a mediados de septiembre que "la recuperación económica del país para el cuarto trimestre del año era un hecho", pero eso no paso.
Según, el informe anual del Banco Central de Venezuela (BCV), indica que el último trimestre del año 2010, el país tuvo una contracción económica, señalando que el Producto Interno Bruto (PIB: Variable económica con la que se mide o valora los niveles de desarrollo y crecimiento de la economía real de un país), experimentó un descenso del -1,9% con una inflación en diciembre del +1,6%, totalizando en este particular un alza anual de los precios al consumidor en el 2010 de 26,9%, la más alta tasa de inflación en América Latina. A excepción de la situación especifica de Haití, y por encima del 25,1% del año 2009 y de las estimaciones previas hechas a comienzo del año por el equipo económico del gobierno.
Devaluación de la Moneda "Unificación del cambio dual".
Con todo este escenario el gobierno anuncio el pasado 30 diciembre la devaluación del Bolívar (segunda en menos de tres años) para eliminar el cambio de 2,60 bolívares por dólar, para productos preferenciales como alimentos: medicinas, materia prima y los productos agrícolas; y llevarlo a 4,30Bs por dólar. Recordemos que fue al inicio del 2010 que el gobierno hizo su primera devaluación y creando dos valores de cambio por dólar. 2,60 y otro lo fijo a 4,30bs por dólar para productos de tipo suntuario.
Claramente esta devaluación, es un duro golpe para los pobres y la clase trabajadora del país. Donde gran parte de los alimentos (60% de lo que se consume) y la materia prima, específicamente para las medicinas, son importados y por eso los precios de muchos productos tendrán un nuevo aumento. El ministro de finanzas Jorge Giordani aseguro que "con esta devaluación se cumplirán las metas planteadas en el Presupuesto Nacional para 2011, de un crecimiento de 2%, con una inflación de entre 23% y 25%, con un precio del barril de petróleo estimado en 40 dólares. Aunque el gobierno dice que "atacara la especulación", pero lo más seguro es que ceda a la presión y deje que algunos productos aumenten, bajo el argumento de que no son de primera necesidad, antes de que dejen de estar en los anaqueles.
Financiamiento del Gasto Público se hará por la vía de Impuestos y del endeudamiento.
El gobierno esta contemplando el aumento de Impuesto como el IVA (Impuesto al Valor Agregado) que aplicaría a los consumidores a través de la nueva ley Habilitante. Aunque después de semanas de anunciar tal medida, el presidente Chávez descarto esta posibilidad de aplicarla porque los precios del petróleo estaban recuperándose casi el doble de lo estimado en el presupuesto. Algo que no se podría descartar, ya que el alza de los precios del petróleo en estos momentos es gracias a los recortes en la producción de algunos países y por el duro invierno que ha azotado a Europa y Estados Unidos, pero una nueva caída de los precios obligaría al gobierno a tomar las medidas antes mencionada.
De igual forma el presupuesto publico planteado por el gobierno central tanto para el año pasado como este fue en base a 40 dólares el precio del petróleo. ¿Como se explica esta medida con un barril de petróleo a 72,69 dólares? Valor promedio al cierre de 2010, según el Ministerio de Energía y Petróleo. ¿Como se explica que con una diferencia promedio de 30 dólares por barril en todo el año tengamos que pagar los pobres y la clase trabajadora el déficit que tiene el estado este año? ¿A donde se fue todo el dinero extra por venta de petróleo en este año?
Adicionalmente hay una caída de las reservas internacionales, que según el BCV al cierre del año 2010, están en 27.911 millones de dólares, el 2009 había cerrado en 35.830 millones de dólares, de 45 mil que había al inicio de ese año. Han provocado un fuerte endeudamiento por parte del estado de casi 20% del PIB, es decir unos 69mil millones de dólares solo en los primeros 9 meses del año pasado y que seguirá creciendo este año con la colocación de acciones de PDVSA en el Mercado Bursátil.
Estas Medidas de incremento de los impuestos y devaluación de la moneda y de endeudamiento, se traduce en reducción del gasto público en algunas áreas, creando despidos y mayor inflación (Perdida del poder adquisitivo) al colocar dinero en la calle, liquidez, sin ningún respaldo económico u orgánico de la economía real.
Las Perspectivas para el 2011
El año 2011 no parece ser el año de la recuperación económica, con este cuadro que se avecina se puede concluir lo que siempre hemos dicho; "No se puede seguir manteniendo un estado burgués con unos medios de producción en manos de una burguesía parasita que vive de importar y comercializar; y no invierte en crear un estado industrializado". El gobierno, mucho menos el pueblo y los trabajadores, no tiene control de la economía; y como se dice: "no podemos controlar lo que no es tuyo". Por esta razón el gobierno es forzado a tomar medidas de carácter neo-liberales que afectan al pueblo e intenta manejar una economía capitalista, cuyo sistema no puede responder a las necesidades y demandas de la mayoría.
Las reformas sociales del gobierno como aumento del salario mínimo, subsidios y precios regulados no es suficiente para enfrentar el capitalismo y presentarse en un forma un poco mejor, menos en época de crisis económica. Tampoco el conjunto de las contradicciones inherente al gobierno; por ejemplo, el Ministro de Finanzas Jorge Giordani, quien anuncio, en vísperas de año nuevo, el despido de 1500 trabajadores producto de la "Restructuración del aparato burocrático del Estado", fusión entre los Ministerios de Finanzas y Planificación.
Este año será de lucha y es nuestra labor como revolucionarios estar de la mano de los más necesitados y estar a la cabeza de sus demandas y protesta; y denunciar tanto a la burocracia roja boliburguesa que se ha enriquecido bajo la sombra del estado e intenta enmascararse con políticas reformistas y populistas, como también desenmascarar a esta burguesía representada en la MUD (Mesa de la Unidad Democrática) que quieren ser el salvador del pueblo, pero es cómplice de todo el desastre del país, y que solo quiere el poder para volver a privatizar todo y abandonar al pueblo como en los años 90.
"El socialismo no se construye sobre la base de la explotación de los trabajadores y el pueblo, se hace expropiando a los grandes capitales-burgueses, poniendo los medios de producción bajo el control democrático de los trabajadores y el pueblo; quienes lo desarrollaran en función de las necesidades básicas de la sociedad bajo un esquema de economía planificada y centralizada, dirigida por comités de delegados electos en asambleas populares de trabajadores y el pueblo organizado".
Solo con una consciente lucha de la clase trabajadora, los pobres, campesinos, unidos, con su propio programa de lucha y su partido democrático y revolucionario decidido a tomar el poder, seremos capaces de romper con este sistema de crisis y transformar la sociedad. El único camino para mejorar nuestras vidas es a través del Socialismo Democrático y Revolucionario. Levantemos las demandas para nosotros los trabajadores y pobres, no paguemos por esta crisis del capitalismo.
Special financial appeal to all readers of socialistworld.net

Support building alternative socialist media

---

Socialistworld.net provides a unique analysis and perspective of world events. Socialistworld.net also plays a crucial role in building the struggle for socialism across all continents. Capitalism has failed! Assist us to build the fight-back and prepare for the stormy period of class struggles ahead. Please make a donation to help us reach more readers and to widen our socialist campaigning work across the world.

Donate via Paypal

CWI- Please inform us if you are reproducing any material from this site.