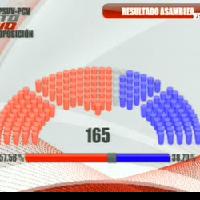 Solo con leyes sin derrumbar el sistema capitalista, será imposible el camino al Socialismo Democrático y Revolucionario
Este año empezamos con una nueva Asamblea Nacional – Parlamento (AN) después de cuatro años de una AN "roja rojita", (La oposición de derecha no participo en las elecciones parlamentarias del 2004 dejando al parlamento bajo el control total de las fuerzas Chavistas) la derecha regresa, dejando a los "rojos" sin mayoría calificada.
Ante la ausencia de una mayoría calificada el parlamento saliente le otorga al presidente Chávez "poderes especiales" para legislar.
A pesar de su propia explicación de "necesidad" por cuestiones de emergencia nacional el Presidente Chávez tiene poderes especiales para legislar, a través de una nueva Ley Habilitante, con la que podrá aprobar leyes por 18 meses sin el veto de la AN, en efecto, limitando el poder del nuevo Parlamento-AN. Aunque en su presentación de gestión del año pasado ante el parlamento, el pasado 15 de Enero, afirmo que no necesita una habilitación para legislar por tanto tiempo, por lo que pidió que los poderes especiales que le fue otorgado por el parlamento saliente se le redujera su vigencia hasta mayo de este año, es decir el presidente Chávez aprobó la ley habilitante por 5 meses en vez de 18.
Chavez – nuevos "poderes especiales"
Aunque el presidente también dijo que este poder va a ayudar en el camino al socialismo a través de la aprobación de "leyes socialistas". Tenemos que ver el rol de estas leyes en estos últimos 12 años de la Revolución Bolivariana y preguntar si tales leyes, realmente, ¿pueden y están ayudándonos a lograr el socialismo?
Cierto que las leyes, bajo el capitalismo, tienen su lugar y son necesarias para luchar por, y para proteger, los derechos democráticos y para elevar las demandas del sufrimiento que afectan al pueblo (la clase trabajadora, los indígenas, los campesinos y los pobres) bajo un sistema lleno de contradicciones y desigualdades. Pero en si mismo no es suficiente, también necesitamos luchar en contra del sistema el cual es responsable de tal situación.
¿Es posible, como hasta ahora supuestamente es la táctica principal de los Chavistas, cambiar la sociedad capitalista a través de un órgano del mismo sistema, como lo es, en este caso, el parlamento burgués?¿Y en algún momento, en el futuro, lograr el socialismo?
Como revolucionarios no creemos que podemos lograr el socialismo a través del parlamento burgués, no podemos cambiar o introducir leyes para que en algún momento cambie el sistema. Cambiando el sistema poco a poco, es darle tiempo a la clase dominante para recuperarse, para planificar y para derrotar las fuerzas revolucionarias y progresistas, como nos encontramos aquí actualmente. Este parlamento tiene sus limitaciones, no menos que el sistema capitalista en si mismo, para transformarse como representación popular.
En la Revolución Rusa, los Bolcheviques (Trabajadores, Soldados y Campesinos Rusos) durante su participación en la Duma (parlamento de Rusia) en los primero años del siglo 20, bajo el liderazgo de Lenin no creyeron que el parlamento burgués pudiera representarlos, "representación popular" de verdad, mientras el sistema para elegir a los dirigentes quedara en las manos de la clase dominante.
Además de falsas ilusiones en el parlamento burgués, están las limitaciones de "participación democrática" fuera de los grupos-partidos dominantes.
En EEUU, por ejemplo, una persona pobre no tiene ninguna posibilidad de ser elegido al parlamento, sin dinero para realizar una campaña electoral e igualar las campañas de los partidos de la clase dominante, como los demócratas y republicanos.
Aquí en Venezuela, bajo el Gobierno del Presidente Chávez, es verdad que más personas tienen mayores oportunidades de ser candidatos a cualquier cargo de elección popular, pero solo llegaran a ganar si ellos son parte del Partido Socialista Unido de Venezuela (PSUV). Casi no hay candidatos de la izquierda revolucionaria independiente del PSUV o de la oposición, que tengan tal posibilidad. Y si existe, un candidato del PSUV, tiene que someterte a la línea-posición del partido. ¡Para que una persona sea candidato de un partido, primero necesita miles de firmas para registrar el partido! y una vez efectuada las elecciones, si no logra una cantidad del 5% del total de los voto, el partido es ilegalizado!. Esto no es una base para que el "poder popular" tome el poder. Son las reglas "democrática-burguesas" que dominaron, y aun dominan, y limitan la participación política del pueblo y de los trabajadores.
Ninguna mayoría calificada
Dentro del parlamento burgués hay limitaciones enormes para un dirigente independiente o de un partido, pequeño y en minoría. No solo para manejar las leyes y la burocracia del parlamento, sino también para manejarse en la telaraña organizada por los movimientos políticos, y por los corruptos y burócratas de estos partidos. Vemos en muchos parlamentos del mundo como los diputados independientes, quienes tienen en su contra la balanza del poder, siempre estarán forzados a "negociar" con los partidos grandes, muchas veces lo harán solo para ganar una o dos concesiones para su propia posición en algunas leyes.
El Rol de los Diputados Revolucionarios dentro del parlamento Burgués.
Es fácil para muchos diputados ser seducidos por otros partidos de la burguesía, y perder sus principios y morales revolucionarios. Por eso creemos que todos los diputados revolucionarios, una vez electos, no pueden recibir más que un sueldo promedio de un trabajador calificado y el resto del dinero percibido, será aportado para el fortalecimiento del movimiento obrero y popular.
Este es el caso del Comité por una Internacional de los Trabajadores (CIT), a la cual estamos afiliados como sección, donde tenemos diputados elegidos. Igualmente todos los diputados electos tienen que ser responsable ante el partido y por eso sujeto a expulsión y sanciones disciplinarias por el partido, y no cuando nos obligue el parlamento o sistema. No es democrático ni revolucionario que solo podemos elegir a los diputados cada 4 o 5 años!
Entonces, ante este escenario y con este análisis, creemos necesario que vale la pena participar en elecciones; y elegir, y ser electos en un parlamento burgués. No creemos que el parlamento burgués sea una herramienta de cambio social en si mismo, pero puede servir, con funciones diferentes, para los revolucionarios y para la clase trabajadora.
Primero, el parlamento puede ser un foro para la agitación dentro de la clase trabajadora, y en términos generales, la gente. Es un deber presentar ante el parlamento los asuntos que afectan a la clase pero más que eso, es agitar las demandas revolucionarias para ayudar a organizar a la clase. Como Lenin dijo: "el rol de los diputados revolucionarios es para desarrollar la consciencia de las masas y la necesidad por la revolución". Además de la consigna de "critica, propaganda, agitación y organización", para ejemplificar el rol de los revolucionarios en el parlamento.
En este sentido es importante que siempre un diputado(a) revolucionario(a) exponga el rol del capitalismo y las contradicciones del mismo, también para exponer públicamente ante todos que los partidos reformista como el PSUV y la alianza burgués de la derecha, la mesa de unidad (MUD), trabajan dentro del sistema capitalista para mantenerlo y no para romper con el capitalismo. En el caso del PSUV solo para introducir leyes, que supuestamente cambiaran el sistema, pero en algún momento futuro.
En fin, tenemos que decir que si hay momentos donde los(as) revolucionarios(as) de verdad, fuesen la mayoría en el parlamento burgués, como ocurrió con el chavismo desde el 2005-2010, es el momento mas oportuno para que el parlamento y el sistema capitalista cambien! .
Pero en dicho escenario mas importante, que el número de diputados, es el movimiento y organización de la clase afuera del parlamento, en las calles, en las fabricas, en los centros de trabajo, de estudio, del campo, y donde los revolucionarios convertirán al parlamento solo en un medio para trabajar en la organización y agitación para una nueva sociedad, una sociedad socialista y democrática basada en las mayorías y sus necesidades.
Special financial appeal to all readers of socialistworld.net

Support building alternative socialist media

---

Socialistworld.net provides a unique analysis and perspective of world events. Socialistworld.net also plays a crucial role in building the struggle for socialism across all continents. Capitalism has failed! Assist us to build the fight-back and prepare for the stormy period of class struggles ahead. Please make a donation to help us reach more readers and to widen our socialist campaigning work across the world.

Donate via Paypal

CWI- Please inform us if you are reproducing any material from this site.