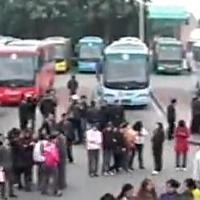 More than 400 bus drivers and conductors in strike action and sit-in over wages in China's southern metropolis of Shenzhen
Deregulation and privatisation of urban public transport systems has created a chaotic maze of competing companies and bus routes. This was the background to a two-day strike and sit-in in Shenzhen last month. The action which began at 5am on Monday 10 January saw violent clashes when management of the Shenzhen Western Bus Group called police and anti-riot forces instead of agreeing to meet and negotiate with workers at the suburban bus depot in the city's Bao'an district. At least three people were injured according to the South China Morning Post.
The news was reported by Shenzhen Satellite Television.
The strike began when conductors on the Nos. 337 and 338 bus routes in Shenzhen's Bao'an district called for talks with management over a new wage structure. Scuffles broke out and several workers were injured when police moved in to clear the depot entrance.
Workers complain that since the bus depot was taken over by another company, the new wage structure is completely incomprehensible. "Nobody knows how their individual wage is calculated. If you do more shifts it is like that, fewer shifts it is the same. If they give us 1,000 yuan, we have to accept 1,000. If they give us 2,000 yuan we get 2,000," one worker told China Labour Bulletin.
Workers explained the background to the strike, with repeated attempts to gain a hearing with company bosses. "Each time before we get paid we want a meeting. They let us meet but they don't let us speak. They pound the table and prevent us from talking. It is always like that," another worker said.
This and other recent workers' struggles underlines the need for independent and fully democratic grassroots unions in China, not just on a workplace basis but linking up across industrial sectors and nationwide. With workers restricted to acts of protest on a plant-by-plant and depot-by-depot basis, managers can employ a range of measures including threats of discipline and sackings and drawing upon the forces of state repression to silence workers' demand.
This lesson must be learned and the struggle for genuine workers' organisation stepped up.