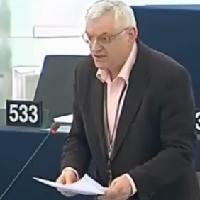 Joe Higgins questions the EU commission on a possible 'renegotiation' of EU/IMF austerity programme for Ireland
---
EU Commission fails to answer direct questions on renegotiation of the EU / IMF austerity programme
Joe Higgins, 16/2/2011
The failure of the EU Commission today to answer direct questions I posed to them on the floor of the European Parliament in Strasbourg today allows the Fine Gael and Labour Parties to continue to posture on the issue of the renegotiation of the EU/IMF austerity programme.
Both parties have attempted to use renegotiation as a smokescredeen to cover their willingness to continure the savage cuts began by Fianna Fail and the Greens.
They want the Irish people to form the impression that their talk of renegotiation means a significant change in the cuts in incomes and services involved in the austerity programme while no such commitments have been made by either the EU Commission or the European central bank.
I posed four clear questions for the President of the Commission, Mr. Barosso, who unfortunately left the meeting midway. The Commission Vice President, Maros Sefcovic, replied instead.
The questions were:
1. Whether renegotiation of the EU/IMF deal would be possible immediately a new government took office in Ireland and before the inaugration of the new Stability Mechanism due to come into being in 2013?
2. Whether renegotiation would involve sharp reduction in the brutal level of interest rates charged?
3. Whether the financial speculators and bondholders would be forced to take their losses rather than crucify the Irish people with them?
4. Whether the Commission understood that only a renegotiation that reverses cuts and provides substantial public investment in jobs will resolve our crisis in Ireland while more cuts and austerity will wreck our society?
Commission Vice President Sefcovic failed to give any information that would shed light on the Commission intentions reagarding the savagery of the cuts in Ireland apart from hollow words about the Commission being "sympathetic" to the difficulties of the Irish people.
I will continue to seek clarification for the benefit of all those who are being hammered to pay for the bad gambling debts of the bankers and speculators. The EU leadership must be obliged to give clarity on this issue.