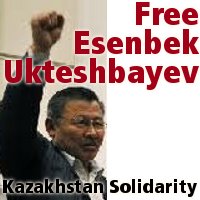 Picket in Central Almaty in support of Esenbek Ukteshbayev
On 25 March in the central square of Almaty, in Kazakhstan, a picket was held in support of the arrested leader of the 'Leave peoples' homes alone!' campaign, Esenbek Ukteshbayev. More than 50 people from this organization, as well as supporters from 'Youth 2012' and Socialist Resistance Kazakhstan, demanded Esenbek's release. In response to this peaceful protest, more than 100 police and riot police turned up, with 10 buses ready to hold the arrested.
The protesters unfurled their banners – 'Boycott the election', 'Free Esen' and 'Instead of a meeting with the candidate, the riot police, arrests and a fight' and shouted. "Free Esenbek Ukteshbaev". The protest lasted 10 minutes before a squad of armored riot police made a half-hearted attempt to arrest protesters. As a result, one of the activist of Youth 2012 was detained and bundled into the mobile "jail" but the rest managed to struggle free.
On of the protesters said: "We are carrying out this action in support of our comrade and leader Esenbek Ukteshbayev, who has been arrested and illegally deprived of his basic constitutional rights. We want to show people how President Nazarbayev acts, by organizing a real military operation by the riot police against the people. We therefore call for a boycott [of a forthcoming presidential election]".
After a short negotiation with the police, the detained activist was released, but the "guardians of law and order" promised that the participants, to the last person, would be called to account for the protest.