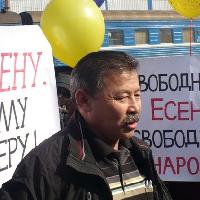 Opposition activist released after international protest campaign
On the morning of April 1st, activists from the 'Leave peoples' homes alone' campaign and 'Kazakhstan 2012' met their leader with smiles, and some with tears, as he arrived back to Almaty by train from the Northern capital, Astana. After 15 days, he was released from prison.
As they met Esen, his comrades unfurled placards, shouted slogans and cried "Hurrah!" They literally rushed to hug their comrade and the rest of the delegation returning from Astana. Esen was overjoyed to see such support from his comrades and promised to carry on the struggle, with redoubled energy, for the liberation of the people of Kazakhstan from the bankers' system.
Over 70 people turned up, including activists from opposition parties, from the independent trade unions and the independent media to meet the leader of the trade unions and 'Leave peoples' homes alone' campaign. Notwithstanding the attempts of the KNB and police, the authorities did not manage to organize any provocations and did not even try their usual trick of seizing the placards and multicolored balloons. After a few attempts to stop them by the railway police, the independent journalists were allowed to take photos.
Having done his round of hugs of all his comrades, Esen declared that "this meeting once again demonstrates that our activists are all united and that we have formed a real guard of people, prepared to go to the end in the fight to defend their homes and their rights". He said that he had left prison strengthened and even more convinced he was correct to struggle for his rights. The events of 15 March, when a peaceful meeting was broken up by riot police, once again demonstrated that there should be no confidence in the President. Those that still harboured any illusions saw them broken. On the station platform, 'Leave peoples' homes alone' activists unfurled a banner – 'Boycott the election' – referring to imminent rigged presidential 'elections'.
As Esen left prison in Astana he was met by a delegation of activists from Kazakhstan 2012, his partner, and also activists for the local opposition parties who had helped him while he was in prison. In Astana, on the 30-31 March, meetings took place leading to the setting up of a 'Leave peoples' homes alone' campaign in the northern capital.
On behalf of Kazakhstan 2012, the trade union 'Zhanartu' and Socialist Resistance (Kazakhstan), we would like to thank all the parties and organisations in the Committee for a Workers' International that showed their solidarity with Esenbek, and also trade union organisations in England and Scotland for their support. The fight continues comrades and we move on to further struggle!
Special financial appeal to all readers of socialistworld.net

Support building alternative socialist media

---

Socialistworld.net provides a unique analysis and perspective of world events. Socialistworld.net also plays a crucial role in building the struggle for socialism across all continents. Capitalism has failed! Assist us to build the fight-back and prepare for the stormy period of class struggles ahead. Please make a donation to help us reach more readers and to widen our socialist campaigning work across the world.

Donate via Paypal

CWI- Please inform us if you are reproducing any material from this site.