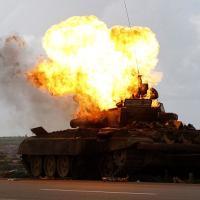 ¡Por la construcción de una fuerza independiente de los trabajadores y los pobres
La revolución libia está en una encrucijada. Pero el punto de inflexión no son simplemente los rápidos cambios en las líneas de batalla alrededor del golfo de Sirte. No, estamos presenciando un esfuerzo decidido de los poderes occidentales para tomar control de una revolución y explotarla para sus propios fines.
Esto es algo que posiblemente podría fortalecer al régimen de Gadafi, si no ha agotado aún su capital político en el país, particularmente en las muy pobladas áreas que controlan él y sus partidarios.
Está absolutamente claro que la intervención militar liderada por la OTAN no se hace simplemente para "salvar" a su población civil. Estados Unidos, Francia y Reino Unido han dejado claro que quieren, o les gustaría, el derrocamiento de Gadafi. Están actuando de facto como una fuerza área de los rebeldes y, por ejemplo, no hicieron nada para detener el bombardeo de las fuerzas rebeldes sobre civiles en Sirte. Sin embargo, por el momento, a pesar de los ataques aéreos, las fuerzas de Gadafi están conservando su terreno y avanzando de nuevo.
Temiendo verse envuelto en otro Iraq o Afganistán, Obama ha descartado enviar tropas terrestres, al contrario que Cameron que ya ha enviado pequeñas unidades SAS (Servicio Especial Aéreo) al país. Pero ésta es una estrategia peligrosa, no solamente para Libia sino también en casa, ya que las encuestas en Gran Bretaña y EEUU están mostrando cada vez más dudas o directamente oposición a cualquier intervención terrestre. Sin embargo, con las fuerzas de Gadafi de nuevo a la ofensiva hay una discusión abierta acerca de suministrar armas a los rebeldes, o al menos a los pro-occidentales en los que confía la OTAN; pero esto no les garantizaría automáticamente la victoria.
La conferencia del 29 de marzo en Londres sobre Libia se apartó del camino marcado por Sarkozy y el reconocimiento inmediato del auto-proclamado Consejo Nacional Interino como el núcleo de un nuevo gobierno. Este no fue posible ya que, en el momento de la conferencia, solo tenía control de una parte del país con una minoría de la población y unas fuerzas en retirada. La propia conferencia estuvo llena de hipocresía. Su declaración de cierre proclama que "el pueblo de Libia debe ser libre para decidir su propio futuro", pero, como mucho, han criticado solo tibiamente la opresión y la falta de derechos democráticos en Baréin, Arabia Saudí, Siria y Yemen.
La verdad es que los poderes occidentales se están moviendo para robar los frutos del levantamiento popular que empezó en febrero. Este proceso tiene algunas similitudes con la forma en que, hace 20 años, los movimientos de masas por derechos democráticos y para acabar con los privilegios en la antigua Unión Soviética y Europa del Este fueron encauzados hacia la restauración capitalista en estos países, con resultados catastróficos para la gran mayoría de la población.
En la Libia de hoy, la ausencia de un movimiento independiente de la clase trabajadora que pueda empezar a construir una genuina alternativa democrática al poder de Gadafi está permitiendo la combinación de reciente desertores del régimen y de elementos pro-occidentales para intentar construir su propio poder con la ayuda de la OTAN.
El último líder de los rebeldes, Khalifa Hifter, es un antiguo aliado de Gadafi al que, hasta hace unas pocas semanas, el gobierno de EEUU le ha permitido vivir cómodamente cerca de Washington durante casi 20 años. Hifter utilizó este tiempo en intentar construir una fuerza militar para combatir el régimen. Supuestamente, las administraciones de Clinton y Bush lo vieron como a un aliado.
Pero ni los EEUU ni los otros gobiernos occidentales tienen ninguna preocupación sincera por los intereses reales de la mayoría del pueblo libio; por el contrario, están tratando de recobrar un mayor control sobre el petróleo y el gas libio mientras muestran su poder en Oriente Medio. Esta es la razón por la que, justo desde el principio, ha habido una rivalidad abierta entre los diferentes poderes. Los poderes occidentales no tienen ningún interés en la democracia. Solamente hay que mirar a cómo apoyan al corrupto régimen saudí y a los gobiernos dictatoriales de los estados del golfo. En estos estados los derechos democráticos no existen en absoluto o están muy limitados, y aún así están armados hasta los dientes por los EEUU, Reino Unido y otros países.
El programa del Consejo Nacional Interino (CNI), "Una visión de una Libia democrática", fue transmitido a los medios por el ministerio de exteriores británico mientras se estaba celebrando la conferencia de Londres. Está lleno de generalidades sobre "libertad", "democracia" y otros objetivos loables. Pero con muy poco respeto a la democracia, el auto-proclamando CNI se dio a sí mismo, en este programa, la potestad para escribir el borrador de una nueva constitución, aunque éste será después "aprobado en referéndum". Significativamente, en un gesto dirigido al imperialismo, el CNI declaró: "Los intereses y derechos de los individuos y empresas extranjeros serán protegidos".
No se puede dar por cierto que el programa del CNI gane el apoyo de las dos terceras partes de la población que viven en el oeste del país. Simplemente está apoyándose en una combinación del poder aéreo de la OTAN y el deseo de las masas de cambio para asegurarse la victoria. Pero esto está haciendo que el régimen de Gadafi pueda seguir en el poder más fácilmente. Gadafi puede correctamente pintar al CNI como a la merced de los poderes occidentales a los que les gustaría explotar aún más Libia. Al mismo tiempo incluso los periodistas occidentales están informando sobre los temores de muchos en el oeste de Libia sobre lo que podría pasar si Gadafi es derrocado: ¿Tenderá Libia a romperse como Somalia? ¿Crecerá el fundamentalismo? ¿Qué pasará con los grandes avances que ha habido en salud, educación, etc. en los últimos 40 años? La declaración al senado estadounidense del comandante supremo de la OTAN, el almirante James Stavridis, que indicó que las fuerzas Libia muestran "destellos" de una posible presencia de Al Qaeda podría ayudar a Gadafi aparecer, al menos para algunos libios, como la menos malas de la soluciones frente a una alianza de los poderes occidentales y los fundamentalistas.
La clave para salvar la revolución está en las manos de las masas trabajadoras
Es por esto que la llave para salvar la revolución libia se encuentra en las manos de las masas trabajadoras. Túnez y Egipto ya han mostrado que una lucha decidida puede derrocar dictaduras. Sin embargo, los eventos de este año en estos países muestran que la disposición para la lucha no es por sí misma suficiente. Las masas de trabajadores necesitan tener sindicatos independientes y democráticamente organizados y un partido masivo de los trabajadores y los pobres con un programa claro, para poder luchar y prevenir que las victorias de sus revoluciones les sean arrebatadas por elementos de la vieja élite o de una nueva élite en formación, en colaboración con el imperialismo.
Las masas de Libia se están enfrentando a graves peligros mientras la lucha continúa y se incrementa la intervención extranjera. Concretamente, las verdaderas fuerzas revolucionarias de Libia necesitan rechazar cualquier confianza en las Naciones Unidas o la OTAN y exigir el final inmediato de esta intervención. Para vencer al régimen de Gadafi, los trabajadores y los jóvenes necesitan construir su propia fuerza que pueda llevar la revolución a la victoria, una victoria que no solamente signifique ganar derechos democráticos, sino que también asegure que la riqueza de Libia es la propiedad y está democráticamente controlada y dirigida en interés de las masas.
Esto sentaría las bases para la liberación y para un verdadero socialismo, no la versión falsa de Gadafi, que puede apelar a las masas de trabajadores en Oriente Medio, África, y más allá.
Special financial appeal to all readers of socialistworld.net

Support building alternative socialist media

---

Socialistworld.net provides a unique analysis and perspective of world events. Socialistworld.net also plays a crucial role in building the struggle for socialism across all continents. Capitalism has failed! Assist us to build the fight-back and prepare for the stormy period of class struggles ahead. Please make a donation to help us reach more readers and to widen our socialist campaigning work across the world.

Donate via Paypal

CWI- Please inform us if you are reproducing any material from this site.