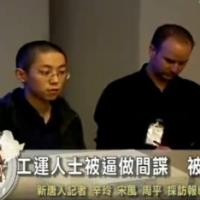 TV news report highlights the case of CWI supporter Zhang Shujie
New Tang Dynasty Television (NTDTV) carried this report on the case of CWI supporter Zhang Shujie, who fled China in October 2011 with the help of CWI comrades and others. Zhang is currently fighting for the right to stay in Sweden, as he is threatened with many years imprisonment in China on the grounds of his political convictions and support for workers' rights. Zhang escaped from China and from the clutches of the state security by leading them to believe he would attend and gather information at a CWI meeting in Hong Kong last autumn.
NTDTV is a banned TV network with links to the Falun Gong religious group, outlawed in China since 1998. While the CWI does not agree with the political views of Falun Gong, the NTDTV news report casts a welcome light upon the problem of state repression in China and the plight of left activists like Zhang who are increasingly targets of this repression.
For more information about Zhang Shujie and the situation of CWI supporters in China (in English and Chinese), visit the chinaworker.info website.