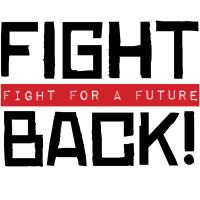 Socialist Party members are involved in establishing a new campaign to fight against the increasing cost of living.
The campaign, called 'Fightback!', will kick off this month and aims to grow into a dynamic force that can win real changes.
While Australia has so far averted the worst of the economic crisis, there has already been an impact on people's living conditions. Young people in particular have been hit hard. The future looks bleak unless people begin to fight back to change things for the better.
Fightback! will address six main themes, all related to the cost of living and the need to fight for a decent, sustainable future. They are employment, education, housing, transport, the environment and wealth inequality. On all these themes, Fightback! will outline an alternative to the status quo and point a way forward towards winning improvements.
For example, at 18%, youth unemployment remains much higher than the national average. Those who are able to find work are usually locked in insecure low paid jobs. There is clearly frustration at the lack of work opportunities.
For many people education is also becoming less and less accessible. While tertiary education used to be free, this is no longer the case. Even if you are able to get into TAFE or University you will likely be lumped with a huge loan to pay off on completion.
On top of increasing education costs and the lack of jobs, young people are also suffering from the housing affordability crisis. The average rental property is often out of reach for low income earners and those in full-time study.
A further burden on young people is the high cost and poor performance of the public transport system. While most people would prefer to use public transport as a more environmentally friendly way to travel, the network is of a poor quality and in desperate need of expansion.
On every issue the problem is an economic system that puts profits before all else. Every level of government is currently dominated by parties who represent the interests of the rich rather than the majority of the population. The future for young people will be determined by whether or not we are prepared to continue to put up with this situation.
If we are to have any hope of a future, we need to challenge the current system that puts profits before people and the environment. It is in the interests of ordinary people to have a stake in the way society is run. Under capitalism, most of the important decisions about how we live our lives are left in the hands of profiteers.
At the moment ordinary people do not get to decide what is produced, how it is produced or by whom. It is clear that we should not leave our fate in their hands, whether on the question of education, housing, jobs, transport or the environment they are making things much worse.
The alternative to the chaos of capitalism is a system that is based on human need and not private profit. On the basis of public ownership, democratic control and a sustainable plan of production a socialist economy could easily provide jobs, homes and services to all while at the same time protecting the environment. This is the type of future Fightback! is campaigning for.