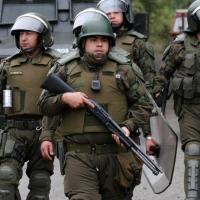 La criminal política represiva del gobierno de Piñera.
El brutal operativo de carabineros en la comunidad Wente Winkul Mapu dejo siete comuneros heridos, entre ellos dos niños, un anciano y otros cuatro personas, uno de ellos gravemente herido, con claras muestras de torturas, como ha quedado demostrado en varios reportes gráficos, que carabineros intento impedir, con más represión contra los familiares y miembros de la comunidad.
Fue tan descarado el nivel de represión y brutalidad en contra de esta comunidad, que el defensor nacional Georgy Schubert tuvo que salir a denunciar la situación, criticando duramente tanto al fiscal Luis Chamorro, como al actuar de la policía, entre otras cosas planteo que fue "desproporcionada, en la medida que afectó por igual no solo a los imputados que el procedimiento buscaba detener, sino que a miembros inocentes de la comunidad, incluidos niños y ancianos que resultaron gravemente heridos". El defensor nacional también fue enfático en denunciar el actuar de carabineros acusándolos de realizar "agresiones ilegitimas e, incluso, disparos por la espalda contra varios de los heridos", junto con plantear que "es el momento que se evalué el comportamiento del Fiscal Luis Chamorro"
La impunidad de la policía esta garantizada por el Estado.
Hace bastante tiempo que el movimiento mapuche viene denunciando la brutalidad de carabineros y la parcialidad del Fiscal Luis Chamorro, que claramente tiene un comportamiento racista y anti-mapuche, actuando con absoluto desprecio por los derechos más elementales de la comunidades allanadas por este fiscal, sin obtener jamás una respuesta a las reiteradas denuncias realizadas por las comunidades, esperemos que ante estos hechos brutales de represión, esta sea la ocasión de escucharlas.
Todas las declaraciones de la jefatura de carabineros y de personeros de gobierno apuntan a asegurar la impunidad de los miembros de las Fuerzas Especiales para la represión en territorio mapuche y conociendo a los Tribunales de Justicia chilenos, que son totalmente racistas, especialmente en la novena región, lo más seguro es que terminaran avalando todas estas irregularidades, para continuar con la impunidad, al fin y al cabo los mapuche siguen siendo considerados ciudadanos de segunda categoría en este país.
La permanente violencia contra los mapuche.
La violencia empleada por el Estado chileno es la norma desde que la nación mapuche fue anexada por la fuerza a Chile. Pero el actual clima de violencia extrema que emplea este gobierno, sobrepasa todos los límites, el abuso de poder y la brutalidad policial no tiene límites, existe un permanente hostigamiento y provocación a las comunidades, que va junto con la ocupación militar del territorio mapuche.
Sin temor a equivocarse esta situación puede ser definida como una guerra de baja intensidad contra los mapuche, donde no existe un respeto mínimo por los derechos humanos más elementales de los habitantes de este territorio.
La necesaria coordinación de la luchas.
Pero los mapuche también debemos tener claro que no todos los "chilenos" comparten la política represiva contra los mapuche, hay sectores importantes de los trabajadores, los jóvenes y pobladores que apoyan y comparten las demandas del movimiento mapuche y es con estos sectores con los que se deben coordinar las luchas contra el enemigo común que tenemos, que son los empresarios y el 1% más rico de la población que se han apropiado de todas las tierras y riquezas de este país.
Los mapuche no pueden esperar que bajo el actual sistema obtendrán justicia, porque en lo esencial este es el mismo Estado que avalo el despojo de nuestro territorio y los que hoy están en el poder son los herederos de los que se robaron nuestras tierras.
The CWI relies on the donations from working class people around the world to fund our campaigns.Please donate towards building the CWI.