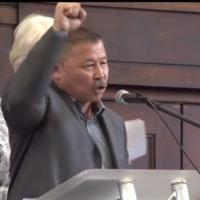 Campaign Kazakhstan blog post
Here we republish a blog entry which was posted earlier this morning by 'Campaign Kazakhstan'. The original posting can be viewed here.
Socialistworld.net
___________________
Last Saturday, Esenbek Ukteshbayev, president of the fighting independent trade union in Kazakhstan, Zhanartu, spoke in London. He brought home to an audience of more than 500 UK workers' representatives and activists the atrocities carried out by the Nazarbayev regime against striking workers and their representatives. His address brought the sixth National Shop Stewards' Network conference to its feet out of respect for the tremendous struggle being waged against the murderous dictatorship in his country.
Part 1:
Part 2: