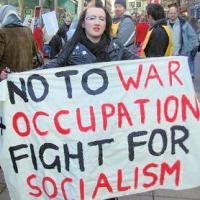 The large Nato force has been unable to defeat a vastly poorer force of Taliban-led fighters estimated at less than 25,000.
The Afghanistan war has been a "pointless waste of lives and not worth the billions of pounds it has cost since it started eleven years ago" think 78% of the people in a new poll by the Mirror.
Only 30% thought that the British prime minister should stick with his plan to bring home the British troops by the end of 2014 rather than earlier.
This poll follows the 14 September Taliban attack on Camp Bastion in Helmand and the 15 September killing of two British soldiers by an Afghan policeman, also in Helmand.
Camp Bastion is Nato's main base in Afghanistan, considered one of the most impregnable military bases in the world, containing 30,000 troops and civilians.
Yet just 15 Taliban fighters, dressed in US army uniforms, humiliated Nato by moving through radar, CCTV, an anti-blast wall and other defences to enter the camp, kill two personnel, wound nine and destroy £123 million worth of military aircraft.
As for the two 'insider' killings by the Afghan policeman, these were the latest in a steady stream of 'green on blue' attacks, now causing one in six Nato deaths.
They are jeopardising Nato's entire strategy – to train Afghan forces to take over security when most of the foreign combat troops are withdrawn by 2015.
Many joint training operations were suspended this month following the two insider killings.
432 UK troops have now been killed in Afghanistan since 2001 and a total of 3,187 across all the countries involved in Nato's International Security and Assistance Force (Isaf).
For Afghan people the tragic death toll is much higher, tens of thousands of civilians and 'insurgents' are estimated to have died at the hands of the Isaf forces or from other consequences of the war.
At least eight civilian women were slaughtered on 16 September by a Nato air strike in Afghanistan's eastern province of Laghman when they were simply collecting wood and nuts in a forest.
In Logar province on 6 June, a Nato air attack killed up to 18 civilians who were celebrating a wedding.
On that same day in June, two suicide bombers struck a market near the gates of a large military airbase in Kandahar killing 22 civilians and injuring dozens more.
Nato failure
Clearly, the Taliban are not being defeated. The large Nato force (presently 130,000-strong), over more than a decade – with the US alone spending $100 billion a year on high-tech military weaponry and other Afghanistan war costs – has been unable to defeat a vastly poorer force of Taliban-led fighters estimated at less than 25,000.
The Taliban-led militias have a steady influx of new recruits outraged by Nato's destruction and the devastating US drone strikes that rain down over the border in Pakistan.
They also gain from widespread condemnation from ordinary people of the weak, corrupt Afghan government led by Hamid Karzai.
Recently the wave of anger among Muslims globally, fuelled by the provocative anti-Islam film made in the US, has also in Afghanistan added to the desire to fight the occupation.
The Guardian reported that a British officer in Helmand has expressed surprise at the Taliban's resilience: "I am constantly amazed by them", he said. "They are completely over-matched by us and the Afghan army. We keep killing them, but they keep coming back for more".
Realising that they're in an unwinnable war, last year the intervening imperialist powers felt compelled to lose some face by seeking negotiations with the Taliban.
The Taliban leaders suspended the talks in March this year, demanding the release of five Afghan men held in Guantanamo Bay.
But US representatives have recently met with counterparts from the Afghan and Pakistan governments to look at how to resume the talks.
Nominally, 75% of the Afghan population now lives in areas under Afghan government 'control'. But the fledgling Afghan army lacks equipment, resources and training.
Furthermore, it is potentially unstable, as it is drawn from different ethnic sections of the population which are headed by rival tribal leaders and warlords.
The Taliban already control some areas, so given the weakness of the Kabul government, they are likely to expand on this when Nato withdraws – their main base being among Pashtuns who are 40% of the Afghan population.
The British commander of Task Force Helmand, Doug Chalmers, recognised this when he said that the local security forces were 'already reaching out to the insurgents' and 'local accommodations and agreements could follow'. "Our job is to enable the Afghans to enter the conversation from a position of strength", said Chalmers, indicating the extent of the failure of Nato's mission.
Imperialism's war aims
Many anti-war figureheads have pointed out that at no time since Tony Blair sent British troops into Helmand in 2006 have government ministers given a 'coherent explanation' of why they were sent.
Britain's intelligence agencies had by then said there was no danger to Britain from any al-Qaida presence there.
As the Socialist has always argued, much of the answer lies in Afghanistan's geo-strategic importance for the imperialist powers, as it links the surrounding blocks of countries.
Also, Afghanistan has untapped natural resources, estimated by the US government to be worth over $1 trillion.
A number of western oil and mining companies are presently hovering in anticipation of the Afghan government passing legislation allowing them to exploit the oil, iron, copper and other resources.
The western powers viewed the reactionary Taliban regime then in power as an obstacle to their interests in the region, ironically, as its very existence was a product of US imperialism's sponsoring of Afghan mujahedeen groups in the 1980s that were fighting Soviet forces.
Brutality
Having gone in and imposed their brutality for eleven years, it's now near impossible for the Nato powers to withdraw while at the same time safeguarding their interests.
The Guardian reported "senior Tory MPs" as openly predicting that "British withdrawal will be followed by a civil war".
A civil war could quickly escalate, involving the neighbouring countries as well. But the government knows that keeping the 9,500 British troops in Afghanistan is not preventing the present war and is increasingly untenable because of the level of opposition from ordinary people in Britain. The US government faces the same dilemma.
The recent shenanigans in parliament reflect the blind alley for British imperialism in this war. Defence secretary Philip Hammond struggled to explain changes in policy in response to the 'green on blue' attacks by Afghan forces.
Dennis Skinner taunted him with: "Now that it has been revealed that the allies are unreliable, Karzai is useless and the Afghan forces are treacherous, it is time to get out!" Paul Flynn was suspended from parliament for a few days for declaring that ministers were lying about Afghanistan; "Lives have been lost to protect politicians' reputations", he justifiably asserted.
Cameron has felt compelled to promise a "review", but only after the US presidential election in November.
The troops should be withdrawn immediately! Workers in Britain need investment into jobs and decent services, not war and occupation and the terrible loss of life it brings.
For the Afghan people, the interventions of the imperialist powers have been a very long nightmare. They must be allowed to determine their own future! Getting rid of foreign occupation is an urgent step for them, and then so is the task of building workers' organisations that can demand democratic rights, women's rights and an end to bloodshed and poverty.
This would mean rejecting all the pro-capitalist leaders, whether Pashtun, Hazara, Tajik, Uzbek, Turkman or other, in order to build unity around a socialist programme that calls for a workers' and peasants' government.
Such a government could take the country's natural resources and the major industries into public ownership for the benefit of all.