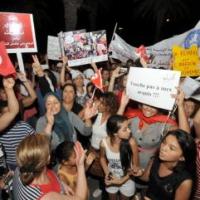 Mass outrage across the country as victim accused of 'public immorality' in police rape case
Rape Is No Joke (campaign initiated by Socialist Students England and Wales) sends solidarity to those protesting in Tunisia today against the outrageous charging of a young woman and her fiancé, both accused of 'indecency', and facing the threat of a six-month jail sentence.
This charge is a clear act of retribution for the woman's bravery in speaking out about being raped by two policemen. The subsequent claim by the Interior Ministry that this young woman and her fiancé were found in an 'immoral position' in their car before the attack is a pathetic attempt to suggest that the victim deserved what happened.
Unfortunately women in Tunisia as well as across the Middle East and the world face this sort of victim-blaming every day. Rape Is No Joke campaigns against the trivialisation of rape and supports the growing international movement of women demanding genuine equality for women and an end to sexism in all its forms.
See at http://rapeisnojoke.com/ for more info about the campaign.