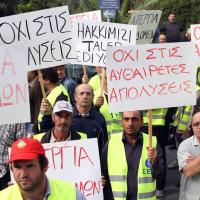 Police attack strikers with teargas – International solidarity action needed!
Construction workers in Cyprus have been on an indefinite strike since 24 January 2013.
The Federation of Building Contractor Associations of Cyprus opposed, for the third time, mediation proposals submitted by the Minister of Labour.
Many contractors are exploiting thousands of cheap labour workers in order to destroy working conditions and pay and to crush unions.
Many contractors are sacking workers daily and replacing them with a cheap labour force.
In 2010, the tri-party (Ministry of Labour, trade unions and employers' organizations) started negotiations for a new collective agreement, but talks failed. The bosses ask for cuts which the unions opposed.
The bosses' fired 6,000 workers and then employed 10,000 workers from across Europe, on lower pay and working for longer hours. At first, the bosses tried to justify sacking thousands of Cypriot workers by claiming that the volume of construction work decreased. But according to statistics, the total number of workers in the construction sector was 46,200 in 2008 and now it is 46,000. This shows that Cypriot workers were fired to allow bosses to exploit foreign cheap labor instead.
On 24 January, all the construction workers' unions – the Pancyprian Labour Federation (PEO), the Cyprus Workers' Confederation (SEK) and the Democratic labour Federation of Cyprus (DEOK) – called a strike. At a unions' general assembly, on 25 January, workers were told that the employers were not backing down. Workers then voted to go on an indefinite strike. The industrial action is hitting all construction sites and particularly damaging the big construction companies.
According to press reports, workers demanded the establishment of a committee to oversee whether the bosses follow collective agreements; they called for their trade to be registered and they demanded the implementation of the collective agreement for all construction workers, both Cypriot and foreign.
Bosses use scab labour
It is important to emphasis that unions and strikers are not opposing foreign workers. In the unions, Cypriot and other workers (from Bulgaria, Russia etc,) are organized together. The workers demand for the bosses not to use cheap labour is a demand for equal rights and pay for all workers.
The strike is in its 13th day and is now coming under severe pressure. In Paphos, the bosses are using scab labour, mainly from across Europe. On 5 February, the bosses brought in a bus full of scabs to a construction site but the strikers did not let them pass. The police attacked the strikers with teargas and beating them, and arrested three strikers.
The construction workers have received support from other workers in Cyprus, many of whom understand the struggle is also part of their struggle in economic-crisis hit Cyprus.
The strikers demand that the construction industry employers stop their attacks and renew collective agreements, which they demand to be in practice for all, Cypriot and foreign workers.
We urge our readers and union/workers' organisations internationally to send messages of solidarity to the striking construction workers in Cyprus, to the following addresses:
PEO (Pancyprian Federation of Labour): peo@peo.org.cy
PEO, Secretary of International Relations: pieris.pieri@peo.org.cy