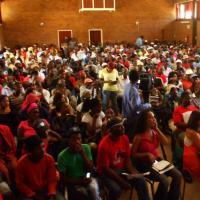 El lanzamiento superó todas las expectativas y mostró sin duda que el WASP esta tocando la fibra de la clase trabajadora
El 21 de marzo más que 500 trabajadores de Tashwane, delegados de los mineros, sindicatos y activistas locales llenaron el salón comunitario Lucas Van Den Bergh en Pretoria para lanzar del Partido Socialista y de los Trabajadores (WASP en sus siglas en inglés). La sala no podía dar espacio a todos los participantes y muchos tuvieron que asistir desde el campo al lado de la sala.
El lanzamiento superó todas las expectativas y mostró sin duda que el WASP esta tocando la fibra de la clase trabajadora. El éxito de hoy habrá preocupado a la clase dominante, al igual que al gobierno del Congreso Nacional Africano, los líderes de Cosatu y las grande empresas. La clase trabajadora esta organizándose y está dispuesta a desafiar el statu quo, hay un nuevo poder emergente y las ideas del socialismo están siendo adoptadas por ellos.
La reunión fue moderada por Weizmann Hamilton, el secretario general de Movimiento Democrático Socialista (DSM), CIT en Sudáfrica. Los oradores principales incluyeron Mametlewe Sebei (dirigente del WASP y miembro ejecutivo del DSM), Elías Juba (presidente del Comité Nacional de los Mineros), Elmond Magedi (Movimiento de los Jóvenes Socialistas), Liv Shange (DSM) y Joe Higgins (Miembro de Parlamento Irlandés para el Partido Socialista).
Otros oradores de organizaciones de apoyo incluyeron delegados de trabajadores de varios minas como Klerksdorp Unranium, Kumba Iron Ore en Northern Cape, Bokoni Platinum, Gold Fields KDC, Harmony Gold, Mpumalanga Minas y Anglo Gold Ashanti entre otros.
WASP subrayó los siguientes puntos y principios del manifiesto:
Echar a los peces gordos. Nacionalización de las minas, las granjas, los bancos y las grandes empresas bajo control democrático de los trabajadores y comunidades de la clase trabajadora. Planificación democrática de producción para las necesidades sociales y no para ganancia.
Un fin del desempleo y creación de trabajo con utilidad social. Lucha por un salario digno de 12.500 rand por mes (unos 1350 dólares).
Basta de cortes de luz y desalojos de vivienda – por una inversión masiva en viviendas, electricidad, agua, alcantarillado, transporte público y servicios sociales.
Educación financiada con fondos públicos de calidad desde la infancia.
Servicios de salud gratuitos y accesible para todos financiados con fondos públicos.
Las Principios del WASP
Rechazamos totalmente los políticos corruptos y sus partidos.
Todos los candidatos del WASP para cargos públicos, ya sean concejales, miembros del parlamento federal o local, son elegidos con derecho a revocación inmediata.
Los salarios de todos los representantes de los trabajadores no son más altos que un salario promedio y el resto será donado al partido.
Ahora el WASP esta preparando su próximo fase de desarrollo y anunciará la fecha de una conferencia para estabilizar las estructuras democráticas del partido, elegir un comité de líderes y ampliar su manifiesto. Además hay muchas otras frentes y asuntos en los que trabajar como una campaña para revocar los concejales corruptos, la intermediación laboral, la recogida de un millón de firmas en apoyo del WASP y la preparación para una huelga general si los patrones de las minas y el gobierno intentan realizar despedidos masivos en el sector minero.
Special financial appeal to all readers of socialistworld.net

Support building alternative socialist media

---

Socialistworld.net provides a unique analysis and perspective of world events. Socialistworld.net also plays a crucial role in building the struggle for socialism across all continents. Capitalism has failed! Assist us to build the fight-back and prepare for the stormy period of class struggles ahead. Please make a donation to help us reach more readers and to widen our socialist campaigning work across the world.

Donate via Paypal

CWI- Please inform us if you are reproducing any material from this site.