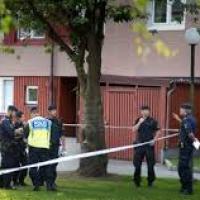 Need for struggle against cuts and unemployment
September was a dark month for Gothenburg, with lethal violence again plaguing its suburbs. On 2 September there was a shooting at Biskopsgården. Two days later, two young men, 17 and 28 years old, were killed with automatic rifles in an execution style.
On 6 September a man was shot in the leg on the square in Hammarkullen and only by luck no one else was hurt. On the 8th another man was shot in Lundby and, immediately afterwards, unknown assailants opened fire at an estate in Biskopsgarden, and on the 17th, in the same area, someone shot at a community building. On the 24 September, two more shootings happened – one of them outside a primary school.
Parents have lost their sons, friends have lost their friends, siblings their brothers and a child will never see his father.
This has yet again created understandable concern and unrest. So far in 2013, forty-five shootings have occurred in Gothenburg with 22 injured and 7 killed. There is at least one shooting per week. The shots have been in public areas such as squares, streets, in staircases and sometimes aimed at apartments and buildings.
The youngest victim was only 16 years old. The suburbs that have suffered the worst are Bergsjön, Biskopsgården, Hammarkullen and Tynnered – all working class areas which suffer the hardest of cutbacks, high rates of unemployment and big housing problems, with many families living in apartments that are too small.
Unite against violence
This level of violence has also given birth to an anger and a feeling of the need to unite against the violence. But what is the cause behind the shootings and what is the political answer? The response people living in these areas has been to hold several demonstrations and mass meetings to organise safety looking after each other.
Rättvisepartiet Socialisterna (RS) has, since the middle of May, shown how to answer the violence. At that time, a shooting had occurred between two groups amongst children playing near a schoolyard in Hammarkullen – a stronghold for our party. RS called for a demonstration and, with just one day of mobilising, 250 people came together in a protest against violence, demanding an end to cuts and more resources for public services.
A week later, 200 people gathered at a big meeting used our demands to pressurise the politicians responsible for schools, employment and housing. Another week later, 150 people came to an RS meeting at "The Peoples House" with the same demands.
Into action!
When the latest shootings began, these meetings served as an example for an immediate response with demonstrations being organised against the violence with a call for weapons to be handed in and political demands on fighting poverty and cuts.
Four hundred people gathered at a mass meeting in Biskopsgården, where residents criticised the politicians and their lack of action on the issues of work and housing.
Rättvisepartiet Socialisterna's response on the issue made a big impact. In the wake of cutbacks and the crisis we can see how violence is increasing. The struggle against violence, drugs and crime is a struggle against class society. The shootings in Gothenburg are not happening by accident.
The violence of the recent period shows a tougher climate in society. When more youth respond to insecurity by arming themselves, it is vital that these signs are taken seriously. When teenage men go to school wearing bulletproof vests out of fear, it is time for us to stand up and conduct a political and practical fight against violence.
Lost hope
There are youth in the working class suburbs that have lost hope in a better future because of the lack of opportunities to make a living and get an apartment. What is happening is a result of class divisions in society.
Even though the immediate guilt rests on those involved in the violence, there is the political guilt of the state, the city councils and the regional councils. RS has for a long time warned about this kind of development and has been fighting cutbacks on education and dismantlement of the welfare state.
What this mostly shows is the class hatred and the frustration in the suburbs today engendered by a society that has turned its back on them.
What is burning is the rage of the youth about their situation – having faced decades of austerity, closed youth centres, redundancies of teachers, unemployment and the lack of housing. In addition there is the increasing pressure in society on who you should be, which brand of clothes you should wear, what you should own and what you should look like. Unfortunately, criminal gangs offer a 'solution' for these youth, and offer an income through selling drugs when society has betrayed them.
Shootings have become a political alarm bell instead of being simply a police issue. What Hammarkullen and other workingclass suburbs need is education, work and housing.
Youth unemployment
The right wing Swedish government constantly speaks of its so-called "job policies" but today 448,000 people are unemployed. Fresh figures from March show that about 182,000 young people between 15 and 24 are unemployed.
Those hit worst are those in the suburbs, where the unemployment rate is reaching new highs. The bourgeois politicians' talking about alienation seems as if they are trying to hide the real reasons behind these problems. The politicians are not worried about the welfare of the youth in the suburbs but the potential of the youth to organise and stand up with demands against those in power. That's why they blame them for the violence and the burning.
Rättvisepartiet Socialisterna fights for more resources to go into schools and education, smaller classes and increasing numbers of teachers. Nine out of ten pre-school teachers say they have so much to do that they cannot fulfill their formal duties. When RS fights against cutbacks and for more resources to the suburbs, the politicians claim there is no money. However cutbacks do not to save money. In 2012 after the shootings in Malmö, the extra cost of the police was 50 million SEK (4.5 million euros) without counting the police salaries.
Rättvisepartiet Socialisterna campaigning
RS puts the jobs issue first. Work for everyone is more than possible with a struggle for jobs and a political programme. Gothenburg is a divided city and is at the top of the league for housing needs in the whole country. Public housing is privatised and less and less reaches the people in the queue for renting. The housing crisis is linked to racism and economic segregation.
Today over 22,600 youth, do not have a flat in the city of Gothenburg. RS fights daily to improve the working class suburbs of our cities and the living situation of the youth. We have a long tradition of struggle and protest in Hammarkullen, Biskopsgården, Bergsjön and other suburbs around the country.
RS fights on different fronts – from the small issues to the big ones. At the beginning of the year we named 2013 as "the year of the suburbs". Besides demonstrations and big meetings we have also organised people to patrol our areas, especially at night.
The politicians have been approached with petitions with up to 2,500 signatures on demanding more resources, jobs, education and housing. During the summer the party organised activities and trips with children, such as swimming and fishing trips.
RS has been responsible for such things as restoring a basket-ball court, organising food delivery to refugees and, together with others, organising a series of musical events and local festivals. This is not enough to turn the situation round, but has been a way of calming things down during the summer. A broader political struggle is needed.
Now RS is mobilising to stop new cuts planned for local gym and swimming pool facilities in Hammarkullen and to organise a suburbs committee, rooted in different associations and workplaces of the people living in the area. We are expecting to gather hundreds of people at a mass meeting to elect representatives from all ethnic groups in the suburb.