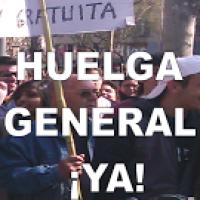 Defendamos las pensiones, huelga general ¡ya!
Descarga La Brecha Otoño 2013 aqui
Lamentablemente, el último periodo de la lucha de clases viene marcado por la falta de grandes movilizaciones unitarias. Como en anteriores ocasiones hemos señalado, los principales responsables de esta situación son las direcciones de los dos sindicatos mayoritarios de ámbito estatal. La principal consecuencia de su política es el hecho que después de seis meses en los cuales el gobierno ha perdido toda legitimidad en la consciencia popular debido al 'caso Bárcenas', increíblemente, el mismo parece estar aguantando sin mucho esfuerzo, cuando una campaña seria de movilizaciones durante este periodo podría haber acabado con él.
Cada vez se evidencia más claramente el lastre que estas direcciones sindicales suponen para el movimiento obrero. Son numerosas las oportunidades que han tenido de hacer avanzar la lucha, pero su falta de perspectiva política y su derrotismo han contribuido a crear una sensación de falta de lucha que por otro lado no se corresponde con la realidad. Hay una gran contradicción entre la actitud de estas direcciones y la mostrada por sectores cada vez más amplios de la clase trabajadora, la cual da como resultado que los trabajadores, no solamente tengan que luchar contra el gobierno por la defensa de su puesto de trabajo o por los servicios públicos más básicos sino que además, en muchos ámbitos, los trabajadores más combativos tengan que enfrentarse a las direcciones de sus propios sindicatos, que muchas veces hacen de cortafuegos de las movilizaciones.
Pero a pesar de la falta de convocatorias de grandes movilizaciones estatales (en lo que va de 2013 no ha habido ningún intento serio de convocarlas, salvo la huelga educativa del 9-M), la clase trabajadora siempre encuentra el camino para dar expresión a sus luchas y ante la actual situación, éstas se están llevando a cabo en ámbitos territoriales o sectoriales más reducidos y en muchas ocasiones buscando fórmulas para pasar por encima de la pasividad sindical (asambleas de trabajadores, plataformas amplias,…). En algunos lugares estas luchas están llegando a un nivel de intensidad y determinación no visto anteriormente, lo que demuestra que esa sensación de bajada de la intensidad de la lucha no tiene base real. El ejemplo más claro es la huelga indefinida del sector educativo en las Islas Baleares, que está teniendo un seguimiento masivo y que junto con un enorme apoyo popular está poniendo en jaque al gobierno autonómico y puede servir de palanca para lanzar una movilización mayor a nivel estatal.
Las protestas en educación se presumen como uno de los campos calientes en el próximo período y las huelgas anunciadas para octubre se prevén masivas y pueden tener un gran impacto dentro de la conciencia de capas cada vez más amplias de trabajadores y jóvenes.
Pero este ejemplo no es algo aislado. Son muchísimos los conflictos abiertos tanto en el sector público como privado, y la huelga indefinida es una herramienta de lucha que no había sido usada con tal intensidad desde el inicio de la crisis. Estos ejemplos particulares son una anticipación de la escala e intensidad de las explosiones generalizadas de la lucha de clases que se avecinan a nivel estatal.
Pero sin duda alguna, la lucha que está llamada a ser el nuevo punto de inflexión es la que va a tener lugar en defensa del sistema de pensiones. El ataque, iniciado por el gobierno de Zapatero y continuado por el de Rajoy, es uno de los más salvajes desde el inicio de las políticas de austeridad y va a tener tal impacto sobre capas tan amplias de la población que las direcciones sindicales no van a poder seguir mirando para otro lado y van a tener que convocar movilizaciones aunque sólo sea para hacer ver que ellos lo han intentado. De la respuesta que den los trabajadores a esas convocatorias y de la presión que ejerzan las bases va a depender la convocatoria de una nueva huelga general, un paso muy necesario para volver a plantear el tema de un plan de lucha militante y sostenido sobre la mesa.
Después de tres huelgas generales, los trabajadores van sacando sus propias conclusiones y no deben dejarse engañar con una convocatoria que parta de una posición derrotista que invite a la desmovilización posterior.
Ha quedado demostrado que con una huelga general que no vaya más allá de una simple pataleta no se va a revertir la situación y que lo que hace falta es un verdadero plan de lucha, que vaya intensificando gradualmente su intensidad y que ponga seriamente al borde del abismo a un gobierno realmente muy debilitado por todos los casos de corrupción, por su falta de apoyo popular, por sus tensiones internas y el fracaso de su política económica.
Esta nueva huelga general no puede ser como las anteriores, y debe arrancar de un plan de lucha sostenido poniendo como objetivo a corto plazo el fin de las políticas de austeridad y la caída del gobierno de Rajoy.
No parece estar en la voluntad de las direcciones sindicales poner sobre la mesa un plan de lucha con estas características, ya que su estrategia sigue pasando por la movilización contenida como paso previo a una negociación que ya se inicia con una actitud derrotista. Por ello, la clase trabajadora tiene que tomar la iniciativa para diseñar y llevar a cabo un plan de lucha, obligando a los líderes sindicales a adoptar la posición correcta y luchando para disputarles el liderazgo sindical a dichas cúpulas. En este sentido, las organizaciones políticas de izquierda, las bases sindicales y los movimientos sociales son el vehículo adecuado que debe permitir el diseño y puesta en marcha de ese plan.
Desde SR demandamos:
La retirada inmediata de la reformas de pensiones de Rajoy y Zapatero. Por unas pensiones dignas vinculadas al IPC. Por la jubilación a los 60 años para el reparto del trabajo.
La retirada de la LOMCE a nivel estatal y de la TIL en Baleares. Anulación de todos los recortes.
La convocatoria de una huelga general de 24 horas como primer paso dentro de un plan sostenido de lucha hasta hacer caer al gobierno.
La dimisión del gobierno de Rajoy y la convocatoria de elecciones generales.
Por un frente único de la izquierda, los movimientos sociales y el movimiento obrero para luchar por un gobierno de los trabajadores que nos saque de la crisis con políticas socialistas.
Special financial appeal to all readers of socialistworld.net

Support building alternative socialist media

---

Socialistworld.net provides a unique analysis and perspective of world events. Socialistworld.net also plays a crucial role in building the struggle for socialism across all continents. Capitalism has failed! Assist us to build the fight-back and prepare for the stormy period of class struggles ahead. Please make a donation to help us reach more readers and to widen our socialist campaigning work across the world.

Donate via Paypal

CWI- Please inform us if you are reproducing any material from this site.