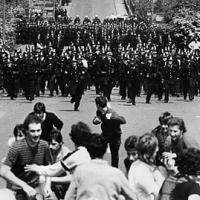 1984 state-organised riot against striking miners
The Battle of Orgreave on 18 June, 1984, saw the establishment carry out a mighty state-organised riot, a conspiracy to trap striking miners and unleash brutality on a scale never experienced before in an industrial dispute in Britain.
It was a key stage in the bitter year-long miners' strike. During the mass picketing of Orgreave coking works near Sheffield, between 23 May and 18 June 1984, Margaret Thatcher and her ruling-class cohort openly carried out their undeclared civil war on what she was to describe a few weeks later as the "enemy within". This statement revealed the military and political dimension she attached to the miners' strike.
Thirty years on and two main issues still reverberate from the battle. Firstly, the struggle of the Orgreave Truth and Justice Campaign following the exposure of the massive police and media conspiracy to cover up the paramilitary thuggery and victimisation carried out in June 1984. The campaign calls for a public inquiry into the police frame-ups and lies by South Yorkshire and other police forces. This started at Orgreave and was continued at Hillsborough in 1989, with a cover-up of the police operation which caused the deaths of 96 supporters of Liverpool Football Club – the campaign also demands the prosecution of the police officers who orchestrated that assault.
Secondly, the continuing debate about why the mass picketing at Orgreave did not succeed, and why the leadership of the National Union of Miners (NUM) placed so much emphasis on shutting down coal supplies to the coking works. The battle of Orgreave dominated the strike for those four crucial weeks and saturated nightly news programmes. The BBC bulletin of 18 June became infamous for swapping round the sequence of events and attempting to show miners attacking police, when all participants knew, and a subsequent inquiry revealed, that it was the other way round. Despite the incredible odds stacked against the miners, particularly on 6 and 18 June, the brutality they suffered sent shockwaves around the world and increased public sympathy for them.
Ruling class brutality
Even at the time, many miners and supporters wondered why it had been so easy to get to Orgreave on the days of mass picketing. This was particularly noticeable following the imposition of near martial law by the police to stop picketing in parts of Nottinghamshire and the Midlands. Whereas striking miners had previously faced roadblocks, harassment and arrests, on certain days at Orgreave the police ushered coachloads of them from the M1 motorway to the site.
However, this carefully orchestrated plan to lure the miners into a trap came perilously close to unravelling. Peter Wright, South Yorkshire's chief police constable at Orgreave, later conceded that, had mass picketing continued after 18 June, the police would have had difficulty keeping the coking plant open.
On the most momentous days of battle, around 10,000 miners were confronted by 4,000 to 5,000 police – most of them equipped for paramilitary style conflict. Alongside them were hundreds of mounted police and dozens of dogs that were unleashed by their handlers. Daily news bulletins showed miners with blood streaming down their faces. One famous picture shows Lesley Boulton, from a women's support group, about to be viciously truncheoned by a police outrider. Wright outlined what was at stake: "Whatever resources were needed would be provided. I decided that Orgreave should stay open. I was well aware that if the pickets pulled it off at Orgreave they would move on and try it elsewhere".
Orgreave was engineered to break the momentum the strike was developing. The aim was to give the miners a beating, and show that any attempt to repeat the tactics of Saltley would fail. In 1972, the closure of the Saltley coking depot in Birmingham by Arthur Scargill's Yorkshire NUM flying pickets proved decisive, leading the miners to a clear victory.
The memory of Saltley and the workers' power it displayed was a major element in the Tories' plans for 1984. They drew up the Ridley report, a ruling-class strategy to avenge the defeats they suffered at the hands of the miners in 1972 and 1974. All the proposals in this notorious report came into play at Orgreave.
Mass pickets and the steel blockade
Although the tactic of mass picketing had proved successful in previous strikes, different factors were involved in 1984. A number of mistakes by the NUM leadership, at area and national level, complicated matters further. The aggressive picketing of Nottinghamshire and the Midlands in the early days of the strike – rather than discussing and attempting to win miners over – was seen in some areas as being mistaken. It was felt that the inexperience of some pickets had made it more difficult to ensure that a majority of miners in those coalfields did not cross the picket lines.
Nonetheless, whatever picketing tactics had been in place, the police made sure, through roadblocks and mass arrests, that it would be impossible for striking miners to get anywhere near the coalfield communities in those areas or the pits where miners were being ferried into work. This then saw those coalfields providing substantial amounts of coal to power stations and steelworks, two areas where supplies needed to be rapidly limited if the strike was to have an impact.
From the start, there had been a lack of clarity among NUM area leaderships about the supply of coking coal to steel plants. Coal was needed at certain steel plants for 'care and maintenance' to stop blast furnaces cracking and being decommissioned. Supplies had been maintained during the 1972 and 1974 strikes, although in a completely different context, when the solid strikes saw miners effectively exercise workers' control over coal movements.
This control was enforced by flying pickets at key coal depots, such as Saltley, along with wider working-class solidarity through secondary industrial action. In 1984, the NUM did not have the same level of control. Although there had been agreement from the end of March 1984 to pinpoint supplies going into steelworks, compromise deals by NUM area leaders had undermined the prospect of it having any significant effect.
NUM leaders like the Communist Party leading light in Scotland Mick McGahey had campaigned alongside the Scottish Tories and Church of Scotland for years in a broad, cross-class alliance. They claimed it was in Scotland's 'national' interest, rather than the interests of the Scottish working class, to keep Ravenscraig steelworks near Motherwell open.
By the end of April, the two trainloads a day McGahey had agreed to 'allow' into Ravenscraig had been lengthened by management to such an extent that extra locomotives were needed to pull them. Then, the NUM and National Union of Railworkers announced they would only allow one trainload a day. British Steel reacted by escalating dramatically the tonnage of coal driven in by cowboy operators. McGahey's response was to allow two trains a week, hauling 18,000 tonnes – three times the minimum needed to keep the furnaces alight!
Digging in for a long war
In May, amid growing frustration, Arthur Scargill, now national NUM president (elected in 1981), decided it was time to seal up the steel plants through mass picketing, believing there was an opportunity for another Saltley at Orgreave. It was not wrong to look for such an opportunity, particularly to boost morale in what was shaping up to be a long war. Nevertheless, many miners were not convinced this was the right place, or time, to make that decisive breakthrough. Electricity rather than steel had become the biggest customer for coal in 1984, burning 81.8 million tonnes in 1983. Steel, in contrast, only consumed 4.3 million tonnes for its blast furnaces in 1983/84.
Earlier in the strike attempts had been made at Port Talbot steelworks – serviced by its own port – to stop coal supplies getting through to Llanwern steelworks, near Newport. In May, non-union haulage firms were enlisted in huge numbers to drive lorries carrying coal through mass picket lines at Port Talbot aided by a heavy police presence. A week of pitched battles ensued. There were also other tactics being deployed, such as slow-moving convoys of miners' cars trying to block the lorries on the M4 motorway.
Yet, it was clear that such action was not going to stop coal supplies getting through immediately. Many thousands more pickets were needed. Even then there was no guarantee of success given the brutality of the police. Militant miners and supporters in South Wales participated in the explosive mass pickets at Port Talbot and in similar bitter struggles outside Ravenscraig as the temperature of the strike matched the increasingly hot weather.
A plant that was not that well served by a local port was Scunthorpe in Lincolnshire. This was supplied with coking coal from Orgreave, 40 miles further inland. It was also much more dependent on domestic rather than imported coal than Port Talbot, Llanwern or Ravenscraig. Management at Scunthorpe used a problem with one of the blast furnaces as a pretext to try to extract more concessions from the NUM. The union refused.
At first, pickets had some success in blockading Scunthorpe. Soon cowboy drivers brought in new supplies from Flixborough on the river Trent. Then policing was intensified at Orgreave and Scunthorpe to allow convoys of lorries to get through. Although the police presence was stepped up, there were times when pickets had them on the hop.
Also, 300 transport union members in Scunthorpe were furious at the use of non-union labour and tried to mount their own picket line, which was viciously broken up by police. By the end of May, Arthur Scargill had become personally involved. He argued that closing the Orgreave plant would succeed because no force could prevent a determined, well-organised mass picket from shutting down a designated factory or workplace. Unfortunately, given the forces stacked against the miners at Orgreave, despite their incredible bravery, Scargill's optimism was misplaced.
Through the pages of the Militant newspaper and within the NUM, we supported the blockade of Orgreave. We also argued that building links with power workers to aid effective picketing of power stations needed to be developed alongside the mass picket. We did not believe it was correct to put all the eggs in the Orgreave basket.
Despite Scargill's correct description of the scenes at Orgreave as being reminiscent of the police dictatorships of Latin America, he did not call for the wider union movement to defend the miners against such state brutality. Had he called for a 24-hour general strike of supporting unions – with or without the backing of the TUC – and named the day for a mass picket of 100,000 or more in solidarity with the miners, matters could have taken a different turn.
Police frame-up
Orgreave was the first time the police worked a mass frame-up. Ninety-three miners were arrested, 79 charged with riot and unlawful assembly, a charge that could have carried a life sentence if convicted. To this day, not one police officer has been arrested or charged for their actions on 18 June 1984.
All the miners were acquitted in the notorious Orgreave 'riot' trials. The police case collapsed when South Yorkshire assistant chief constable, Tony Clements, unwittingly revealed the existence of a previously undisclosed public order manual. The police did not proceed with the case because they did not want to admit that this manual had been developed in secret precisely with a view to conducting a brutal assault against the miners. This was only revealed later on.
Although the miners were acquitted, the stink of the police's actions did not go away. The police evidence in the Orgreave trial was fabricated in a conspiracy of almost identical frame-ups to ensure they would get the verdicts they wanted. This method was repeated by South Yorkshire Police following the Hillsborough disaster, as documented in the revelations of BBC Yorkshire's Inside Out programme, in 2012.
The savage beatings inflicted on the miners and their supporters in May and June 1984 provoked uproar. Their treatment made most of them more determined than ever not to give in. However, right-wing union and Labour Party leaders' support for the strike – always equivocal at best – began to get more critical, echoing Tory propaganda, in particular questioning the tactic of mass picketing.
South Wales NUM research officer, Kim Howells (later, a Blairite government minister), led the charge. He proclaimed: "Challenging lines of single-minded and well-equipped policemen… had already been tried in most spectacular fashion at Orgreave… it never succeeded in stopping a single lorry nor a scab and taught us in South Wales a good deal about what to do to win friends and influence people during industrial disputes".
Howells was running up the white flag, rather than putting forward a serious alternative strategy to win the strike. This led him to encourage other forms of 'direct action' that were fundamentally alien to the labour movement. Ultimately, they would have tragic consequences in the death of a South Wales taxi driver.
Searching for a new strategy
The setback at Orgreave emboldened the government to step up its attacks on the miners. Yet, it did not mean the strike was set for defeat. The miners' steadfast refusal to buckle, and their willingness to defend their jobs and union at all costs, allowed other opportunities for victory. The three-week dockers' strike against handling imported coal, the 82.5% vote for strike action by Nacods technical and supervisory staff in the pits (headed off by concessions from the NCB), and a growing shortage of coal for the power industry, made Thatcher's government wobble in the autumn.
Nevertheless, the defeat at Orgreave put the idea of winning the strike solely through picketing on the back foot. NCB area managers began the drive to get a small section of demoralised strikers back to work to tie up pickets in their own home areas, and to stop them being deployed to picket power stations or raise funds and build wider solidarity.
A new strategy was needed. Militant miners had been building links with rank-and-file power workers and argued that this should be developed, with the aim of closing the electricity generating stations. However, the national NUM leadership countered that huge coal stocks at power stations and a mild spring and early summer meant that this would not be effective until later in the year.
Arthur Scargill and the national NUM leadership were correctly wary about relying on the right-wing power workers' union leaders. Yet, for the power stations to be closed, steady work in communities near the plants needed to start immediately to undermine the arguments of these right-wing leaders who were actively working to see Scargill and the strike defeated. Tragically, NUM national and area leaderships never properly realised a strategy of building pressure on the union leaders from below.
Had that been done, the opportunities for victory that came later in the dispute – particularly around the threatened Nacods strike – could have led to Thatcher's defeat, and a victory that would have enormously strengthened the working-class movement in Britain and internationally.