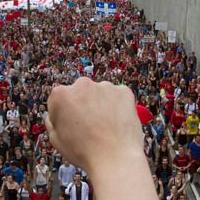 Thanks for installing the Top of every post plugin by Corey Salzano. Contact me if you need custom WordPress plugins or website design.
Los estudiantes entran en huelga contra la austeridad
Más de 35.000 estudiantes están actualmente en huelga en Quebec, y 75.000 salieron a las calles el 02 de abril para protestar contra las medidas de austeridad del gobierno liberal. Aunque estas cifras son impresionantes, palidecen frente a la " Primavera Maple " movilización estudiantil de 2012. La represión por parte del gobierno, la policía y hasta la administración de la universidad ha sido feroz: 10 estudiantes se enfrentan a la expulsión por su participación en acciones políticas, y la policía ha sido admitida al campus para hacer cumplir una orden judicial obligando a retornar a clases.
En la primavera de 2012, Québec registró el mayor movimiento estudiantil de masas en la historia de Canadá. En su mejor momento, más de 300.000 estudiantes estaban en huelga en las instituciones post-secundarias de toda la provincia, y el 22 de marzo de 2012, más de 200.000 estudiantes y trabajadores se reunieron para protestar contra el aumento de la matrícula propuesto por el gobierno liberal Charest. Si la huelga fue o no victoriosa es un tema de debate; Sin embargo, hay dos resultados claros del movimiento. El gobierno PQ elegido en el otoño canceló la subida de la tarifa, y el nivel de conciencia política de toda una generación de estudiantes se elevó significativamente.
A lo largo de 2012-2014, los estudiantes han buscado salidas para su energía política. Esto llevó Alternativa Socialista (CIT en Quebec) a fundar un comité amplio de estudiantes de la UQAM, el centro de activismo estudiantil en Montreal, "Étudiant-e-s socialistes UQAM". Con la misión de unir a los socialistas y marxistas de la universidad, alentar a los miembros a hablar durante sus asambleas generales sindicales estudiantiles y presentar demandas que defiendan a los estudiantes y los intereses de los trabajadores.
El grupo "Comité Printemps 2015" (Comité Primavera 2015) se ha convertido en líder de la revuelta estudiantil actual. El grupo reunió a activistas estudiantiles que ya estaban fuertemente radicalizaron e hicieron pocos esfuerzos para alentar a la población estudiantil en general a unirse a su movimiento. Los tres sindicatos nacionales de estudiantes, incluyendo la federación sindical estudiante militante Asse, invirtieron muchos años de trabajo preliminar en la huelga de 2012 con el fin de crear el impulso necesario, mientras que en la primavera 2015 las huelgas se construyeron a lo largo de unos meses, a veces pasan sólo por unos pocos votos. Además, ASSÉ tiene una estructura fuerte, democrática, con los líderes electos que rindan cuentas a sus miembros en todo momento. "Comité Printemps 2015" cuenta con una estructura horizontal, sin líderes: no hay campañas o exigencias específicas salvo la de una huelga general contra la austeridad, y todas las decisiones son tomadas por los subcomités no electos que no tienen que rendir cuentas.
A pesar de la falta de liderazgo democrático en el movimiento actual, y el desdén que muchos estudiantes parecen mostrar por cualquiera que no se moviliza, este movimiento ilustra no obstante, que una capa importante de estudiantes están dispuestos a luchar. Muchos más lo harían si el movimiento estuviera dotado de objetivos más claros, y con cuerpos de acción democráticos que permitan a toda la población estudiantil aunar esfuerzos en favor del movimiento, para jugar un papel activo en el proceso de toma de decisiones, en la elaboración de las demandas y acciones futuras, etc.
La represión de las autoridades estatales y universitarias muestra que la clase dominante teme al movimiento estudiantil, y al fantasma de la lucha desde hace 3 años. Pero para que los estudiantes obtengan ganancias reales, deben establecer fuertes vínculos con la clase obrera organizada, que es a su vez se levanta contra la austeridad. La indignación de la clase trabajadora se está profundizando en Quebec en el momento, como consecuencia de los recortes en salarios, pensiones y prestaciones que ya han provocado manifestaciones masivas y huelgas de trabajadores, en muchos sectores en los próximos meses. Un día de paralización de masas y huelgas en toda la provincia, en la forma de una huelga general de 24 horas, seguida de acciones escaladas, sería un buen paso hacia adelante con el fin de unir a los trabajadores y estudiantes en la construcción de la lucha de masas para acabar con este gobierno de austeridad.
The CWI relies on the donations from working class people around the world to fund our campaigns.Please donate towards building the CWI.