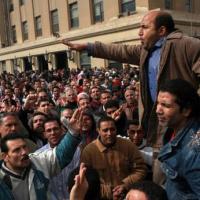 Farcical election underlines need to build a mass workers' party
A new strike by textile workers at the Misr Spinning and Weaving Company in Mahalla, Egypt, has been the biggest workers' challenge President Abdel Fattah Al-Sisi has faced.
Starting on 21 October, workers demanded payment of a 10% annual bonus in line with that paid to workers of other state-owned industries. They also called for extra food payments, the reopening of closed production lines, managers to be made accountable for losses and reinstatement of workers previously sacked for union activities.
Around 14,000 of the 17,000 employees came out on strike. On the second day it was reported that Egyptian Trade Union Federation (ETUF ) leaders had reached an agreement to end it. However, the workers stayed out another eight days. On the fifth day 7,000 workers at Kafr al-Dawwar Textile Company also walked out.
The Egyptian Trade Union Federation union "remains silent and is not taking any concrete action to resolve our grievances or to realise our rights," said Kamal al-Fayoumy, an independent union organiser who was sacked in April for leading strikes at Mahalla. (www.madamasr.com/).
The ETUF website made no mention of the Mahalla and Kafr al-Dawar strikes. Its leaders are appointed by the Ministry of Manpower. In May, President Sisi extended their term of office for another year.
Inflation went up to 9.2% in September, while textile workers only got a 7%, so the bonus and extra food payments are vital.
Gamal Sorour, Minister of Manpower, threatened to sack all strikers. A court ruling in May gave power to sack any striker for damaging "public interest". Ministers and the pro-capitalist media said striking "would allow terrorists to capitalise."
However, workers refused to be intimidated and return to work until they had written guarantees that the bonus would be paid. On 1 November Sorour promised to resolve the workers' problems within 48 hours of resumption of work. This appears to be a significant victory. The Mahalla and Kafr al-Dawar workers returned to work after ten and six days out,, respectively. Workers at Vestia textile accompany in Alexandria started an indefinite strike over unpaid wages and bonuses the same day.
The Mahalla workers have a tradition of heroic strikes and are looked to by workers across the country. Their strike in 2006 and planned strike and street protests in 2008 played a key part in the downfall of former president Hosni Mubarak.
Farcical election
During the recent strike, the first round run-off for parliamentary elections was also taking place. Turnout was only 21.7%, less than the 23% during the rigged 2005 election under Mubarak. The Muslim Brotherhood and most left parties boycotted the election. In 2011 turnout was 54%.
The Free Egyptians Party, founded by billionaire businessman, Naguib Sawiris, won 41 seats, so far. It contested the election as part of a coalition of ten parties, 'For the Love of Egypt', led by Sameh Seif Al-Yazal, a former intelligence officer. This is a further step by the state to re-establish its hold on power after the huge challenge it faced in 2011.
Unrepresented in parliament, workers will be increasingly forced to turn to industrial action to defend and improve their living standards. Building democratic independent trade unions will be part of that struggle.
Building a mass workers' party that can unite workers around a programme for jobs with decent pay, housing, education and health care, as well as democratic rights, is a key task for socialists and union activists.