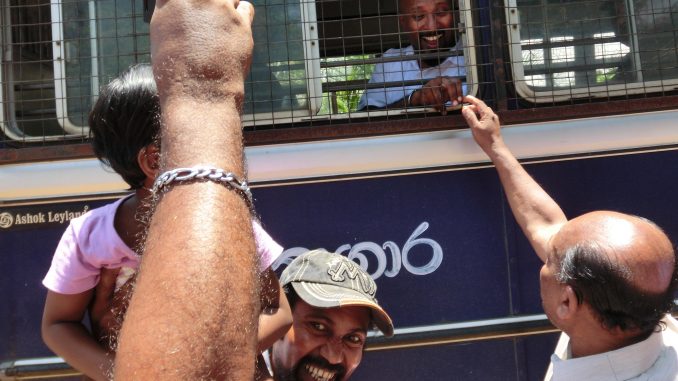 Socialists demand immediate release
Kumar Gunarathnam, leader of the Frontline Socialist Party in Sri Lanka, was arrested in November last year on charges of violating the country's immigration law. He was held on remand and has now been sentenced to imprisonment for one year and a fine of Rs 50,000 (around £250 sterling).
When Kumar Gunarathnam's case was heard at the Kegalle law courts on 30 March, he told the court that he was born in Sri Lanka, studied there and had also engaged in active politics in the country. He had only gone abroad due to threats made on his life in Sri Lanka. He was appealing to the court to give him permission to live once again in Sri Lanka – the country he was born in – and to take part once again in active politics.
The United Socialist Party believes that Kumar's imprisonment is clearly politically motivated. There were many similar cases before, and a number of other people have been allowed to return to the country and engage openly in politics.
The former JVP leader, Somawansa Amarasingha, for example, who was forced to flee the country illegally during the '89 – '90, came back to Sri Lanka without any charges against him and engaged in political work.
The USP demands that the Sri Lankan government grant Kumar Gunarathnam full citizenship rights and allow him to engage in political activity in Sri Lanka. The USP is looking to work together with the FSP on an international campaign to highlight the political victimisation of Kumar and to demand his immediate release.