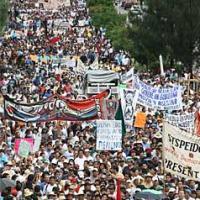 Los trabajadores en México necesitan sindicatos de lucha, un partido independiente de izquierda y el socialismo
Decenas de miles de maestros en México han estado en huelga desde el 16 de mayo dirigidos por el Comité Nacional de Coordinación de Trabajadores de la Educación (CNTE), en oposición a una ley de reforma educativa que abriría la puerta a despidos masivos de maestros, debilitaría a los sindicatos del sector público, y allanaría el camino para la privatización de la educación pública.
El gobierno neoliberal de Enrique Peña Nieto tomó un enfoque de línea dura hacia la huelga de maestros desde el principio, se niega a negociar con la CNTE, despidiendo más de 4.000 profesores para faltar al trabajo para participar en las huelgas, y detuvo a los principales líderes de la CNTE con cargos inventados. La represión dio un giro violento el 19 de junio cuando, como informó Telesur, las "autoridades desplegaron decenas de miles de policías antidisturbios." Al menos 10 personas murieron en las horas que siguieron, la mayoría de los cuales eran de la ciudad de Oaxaca de Nochixtlán.
A raíz de esta tragedia, la CNTE se ha comprometido a continuar su oposición a las reformas de la educación, recibiendo considerable apoyo de la comunidad. En la Ciudad de México, Andrés Manuel López Obrador y el Movimiento Nacional Revolucionario (Morena) llevó a cabo una enorme manifestación con hasta 250.000 personas, según algunas estimaciones, en apoyo de los maestros. También ha habido una enorme cantidad de apoyo internacional. La Concejal de la ciudad de Seattle Kshama Sawant expresó su solidaridad con los maestros de la CNTE en huelga, en nombre de Alternativa Socialista y el Comité por una Internacional de Trabajadores (CIT), en una carta y vídeo.
El gobierno de Peña Nieto, por su parte, se ha negado a dar marcha atrás y el ministro de Educación, Aurelio Nuño, reiteró planes para implementar las reformas educativas neoliberales.
Los maestros frente de la lucha contra la agenda neoliberal de Peña Nieto y la clase dominante mexicana
La CNTE se opone a la ley de reforma de la educación por un número de razones. De manera prominente, permitiría que el gobierno neoliberal administrara las pruebas estandarizadas y los utilizan para evaluar a los maestros, abriéndolos a ataques arbitrarios. Asimismo, se reduciría el control de los sindicatos sobre la contratación de maestros y limitaría el número de trabajadores sindicalizados que el Estado puede emplear. En general, la ley sería un paso hacia la privatización de la educación pública en México.
Pero esta lucha va más allá de las reformas educativas. Los maestros y los sindicatos del sector público han estado en la vanguardia de la oposición a la agenda neoliberal de la clase dominante mexicana, y el gobierno de Peña Nieto espera debilitar la oposición. René González Pizarro, un maestro oaxaqueño y miembro del Local 22 de la CNTE, resumió esto en una entrevista reciente, "Se trata de otro ataque gobierno neoliberal sobre los sindicatos que demuestren cualquier tipo de oposición." (Https: // www. jacobinmag.com)
La incapacidad del gobierno para lograr este objetivo, a pesar de que ha reprimido severamente a la CNTE y los profesores, revela la debilidad fundamental de la clase dominante mexicana. El capitalismo ha sido un completo fracaso para la gente común en México. No sólo no puede garantizar puestos de trabajo con salarios y condiciones de vida dignos para la mayoría; Ni siquiera puede garantizar la seguridad básica.
Casi el 50% de la población mexicana vive en la pobreza, incluyendo 40 millones de niños, mientras que los individuos súper ricos como Carlos Slim, cuya fortuna personal es de más de $ 75 mil millones, acumulan enormes fortunas. A partir de 2007 – 2014, más de 164.000 personas fueron asesinadas y 100 alcaldes y 1.000 funcionarios municipales electos fueron asesinados en la última década, en gran parte debido a las guerras de la droga, y la corrupción y la inestabilidad que crea.
El capitalismo en México, sin embargo, no se caerá por sí solo. Más trabajadores tendrán que seguir el ejemplo de los maestros de la CNTE y librar una lucha organizada contra la ley de reforma de la educación, así como otros intentos por parte del gobierno para imponer su agenda neoliberal. Los trabajadores también necesitan con urgencia una fuerza política capaz de proporcionar una visión alternativa al sistema en quiebra del capitalismo. El desarrollo de una fuerza independiente izquierda como Morena es alentador, y podría proporcionar un espacio importante para la gente para construir la lucha obrera, a la vez que encontrar las mejores maneras de luchar contra el capitalismo para construir un mundo socialista donde la gente está antes que los beneficios económicos.
Special financial appeal to all readers of socialistworld.net

Support building alternative socialist media

---

Socialistworld.net provides a unique analysis and perspective of world events. Socialistworld.net also plays a crucial role in building the struggle for socialism across all continents. Capitalism has failed! Assist us to build the fight-back and prepare for the stormy period of class struggles ahead. Please make a donation to help us reach more readers and to widen our socialist campaigning work across the world.

Donate via Paypal

CWI- Please inform us if you are reproducing any material from this site.