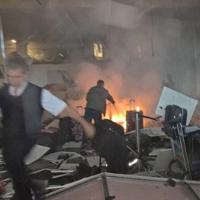 No a la guerra y el terrorismo! Sí a la unidad y la solidaridad de los trabajadores!
Un ataque terrorista, presuntamente llevado a cabo por el llamado Estado Islámico de Irak y Siria (ISIS), mató al menos a 43 personas e hirió a otras 239 en el aeropuerto Atatürk de Estambul a última hora del 28 de junio. Tres atacantes suicidas abrieron fuego contra los pasajeros y personal de seguridad con fusiles automáticos antes de volarse por los aires en el control de la seguridad en la entrada del edificio del aeropuerto. El modus operandi y el momento del ataque, que tiene lugar cuando ISIS se enfrenta a importantes reveses militares en la región, sugiere que la infame organización yihadista está detrás de este nuevo baño de sangre terrorista ya que trata de mostrar su capacidad destructiva operativa.
El aeropuerto Atatürk de Estambul tiene estándares de seguridad relativamente altos en comparación con otros aeropuertos europeos, y tiene también controles de seguridad en la entrada del edificio del aeropuerto. Sin embargo, estas medidas no crearon una "isla de seguridad" o "zona libre de terroristas '. El ataque reciente muestra los límites de un enfoque basado exclusivamente en el fortalecimiento de un aparato de seguridad cada vez mayor, mientras no se tratan las causas subyacentes del terrorismo. ¿Cómo luchar contra el terrorismo se ha convertido en una cuestión de la mayor importancia en un país sacudido por 10 atentados terroristas contra la población civil en los últimos 11 meses, en los que murieron más de 250 civiles.
Sosyalist Alternatif (CIT en Turquía) se opone por completo a los ataques terroristas contra la población civil, cualquiera sea la ideología de la organización que lleva a cabo. Cada uno de los recientes ataques terroristas se ha utilizado para reprimir los derechos democráticos y reforzar los poderes del presidente Erdogan y de la máquina de estados. Tras el ataque el martes, el gobierno bloqueó temporalmente las redes sociales, como lo hizo después de cada incidente de este tipo, y cualquier investigación de los medios de cmunicación se ha impedido o censurado.
Es importante destacar que es necesario examinar y luchar contra la atmósfera política que se ha creado el terreno para este tipo de ataques terroristas. El gobierno del AKP en Turquía declaró un día de luto nacional después del ataque el aeropuerto de Estambul, pero esto es hipocresía pura y simple. De hecho, el ataque de ISIS a objetivos turcos es como el perro que muerde la mano que la alimenta. El gobierno AKP (Partido de Justicia y Desarrollo) apoyó rebeldes armados de oposición supuestamente "moderados" en Siria desde hace años; en la práctica, Turquía se ha convertido en una "autopista yihadista" y un área de apoyo para ISIS detrás de las líneas del frente. Irónicamente, el aeropuerto Atatürk de Estambul, es un aeropuerto a través del cual un número considerable de combatientes yihadistas y reclutas extranjeros de ISIS han transitado en su camino hacia el llamado Califato del ISIS. Es sólo recientemente que las medidas se han endurecido para evitar este flujo de yihadistas, probablemente una de las razones por las que ISIS ha comenzado a volverse contra el Estado turco. Pero abrumadoramente es la gente común la que está pagando el precio de este juego cínico.
En el último par de años, los grupos terroristas islamistas radicales desarrollaron una red de células terroristas en toda Turquía. La inestabilidad causada por la guerras de Irak y Siria, y el suministro de las potencias imperialistas y regionales de armamento en estos países, el aumento de la accesibilidad a las armas pesadas y automáticas y explosivos por toda la región. La represión del gobierno del AKP contra los oponentes políticos, incluída contra el partido pro-kurdo HDP (Partido Popular), junto con la destrucción de las ciudades kurdas y la matanza de civiles bajo el nombre de "operaciones militares contra el PKK", ha alimentado la inestabilidad política y creciente polarización en la sociedad, creando un terreno más fértil para el terrorismo.
Responsabilidad del gobierno
El crecimiento del terrorismo que estamos presenciando en Turquía es en gran parte un resultado de la política del gobierno turco. Es obvio que no se puede confiar en un gobierno responsable de desatar el terror de estado para hacer frente a los problemas de seguridad. Para empezar, una investigación independiente debe llevarse a cabo en los 28 eventos de junio, con la participación de los sindicatos y los representantes de los trabajadores del aeropuerto, muchos de los cuales perecieron en el ataque.
Pero más importante, hay necesidad de un cambio político y económico radical en Turquía, que no vendrá desde arriba. El movimiento sindical, la HDP y la izquierda, tienen que unirse y movilizarse para una lucha de masas unida de los trabajadores y los jóvenes contra el terrorismo, por la justicia social y los derechos políticos y en contra de la devastación militar patrocinada por el estado que se está llevando a cabo en contra de los kurdos en el sureste de Turquía. Como resultado de esta lucha se puede forjar una alternativa política independiente, socialista de la clase obrera, vinculado a una agenda de transformación socialista en todo el Oriente Medio.
Special financial appeal to all readers of socialistworld.net

Support building alternative socialist media

---

Socialistworld.net provides a unique analysis and perspective of world events. Socialistworld.net also plays a crucial role in building the struggle for socialism across all continents. Capitalism has failed! Assist us to build the fight-back and prepare for the stormy period of class struggles ahead. Please make a donation to help us reach more readers and to widen our socialist campaigning work across the world.

Donate via Paypal

CWI- Please inform us if you are reproducing any material from this site.