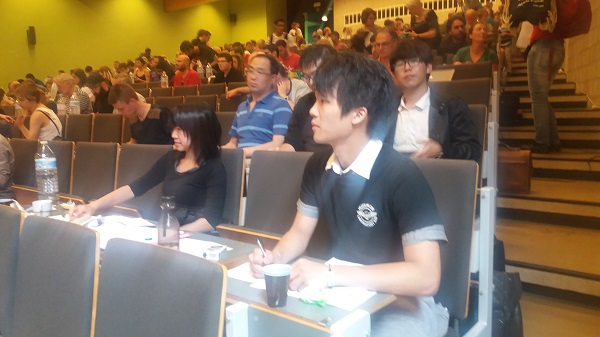 Chinese methods against Marxists copied by Belgian authorities
At this moment there is an international summer school organized by the Active Left Students in Leuven, Belgium. Socialists from all over Europe and from outside Europe meet for a week of political discussion, education and exchange of experiences. Amongst those present is a delegation from Hong Kong with activists fighting for democratic rights in Hong Kong and China. One of the invited guests at this summer school, Jaco, underwent brutal repression at the airport in Brussels. Political material including T-shirts and USB-sticks he had, were taken by the custody services. When Jaco started to ask too many questions, the police came for a round of intimidation including a full body search. We spoke to Jaco.
"I came from Hong Kong through Istanbul to attend the summer school of the Active Left Students. At Brussels Airport custody services stopped me and asked to show all my luggage. They immediately saw t-shirts with in big letters 'socialistworld.net' on them and USB-sticks with a quote from Marx. They told me I came to sell this material as a sort of business, while I off course came as a political activist to attend a political meeting where we do exchange a lot of our material.
"Because I asked too many questions the police was brought in. I immediately had to hand over my mobile phone. I tried to switch it off, but they said this meant I was 'resisting' and therefore the intimidation was strengthened. They handcuffed me and took me to a different room where I had to take off all my clothes for a full body search.
'After this followed an extensive interrogation on the organization I belong to and its political ideas. With socialist t-shirts and USB-sticks having a quote from Marx on it, these political ideas where not difficult to guess. The police said they suspected me to be a member of an extremist organization. I told them about our involvement in the pro-democracy movement in Hong Kong and said that there also seems to be a problem with that in Belgium. The police said that this was not about democratic rights but illegal trade. They added that if I didn't agree, I should better go back to Hong Kong.
"They kept me for two hours without any access to contact my Belgian comrades. They didn't make an official declaration or at least didn't give it to me despite asking for it. Finally they gave me a paper saying what had been taken from me. I had to sign this document despite not knowing even if it was in French or Dutch. They told me I could get the material back after paying a tax of over 500 euro. For some 30 T-shirts and some USB-sticks that is a totally absurd tax. It is even more than the actual value of the material.
"The economic ties between Belgium and the Chinese dictatorship obviously have an impact on democratic rights as well. Instead of putting pressure on China to recognize democratic rights, the Chinese methods against Marxists are copied by the Belgian authorities. Off course I want my material back to share it with my comrades and friends at the summer school. The authorities also should apologize for their behavior of political repression."