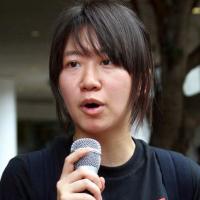 Political motives behind 'David versus Goliath' trial
CWI member Sally Tang Mei-ching will appear in court on 1 September in a case brought by the MTR, Hong Kong's seventh largest corporation by market value. She is charged with two offences that carry the maximum penalty of six month's imprisonment and a HK$7,000 (800 euro equivalent) fine. This is clearly a case of political persecution against a spokeswoman for a well-known anti-big business and anti-establishment political organisation. Many similar incidents are overlooked by the MTR but in this case it is taking a hard line and is determined to bring the issue to court.
MTR is Hong Kong's rail and metro corporation and also one of the biggest property developers. Its allegations against Sally are that she 1) brought 'oversized luggage' onto the metro system, and 2) failed to show ID and personal information to MTR company staff. The case has aroused considerable publicity in Hong Kong due to Sally's relatively high profile as an anti-government activist and because MTR is heavily criticised on a range of issues from excessive fare increases to its involvement in billion dollar white elephant projects.
Not guilty
Sally entered a not guilty plea and is determined to fight the case to challenge the MTR's high-handed policies. The ban on 'oversize luggage' is a highly controversial policy in Hong Kong, especially when the company launched a crackdown on the issue, which provoked protests by musicians and other groups. This rule especially hits working class families who don't own a car and need to move large but not dangerous articles by metro.
Sally was stopped by MTR staff inside Kowloon Tong station in September 2015 for carrying a banner pole, made of lightweight plastic and under 160 cm in length. The Hong Kong MTR imposed a ban on objects over 130 cm in length, while more generous rules apply on other train systems operated by the company internationally (in Stockholm, for example, the MTR-run metro system permits items up to 200 cm in length). Therefore, from a safety perspective, these rules do not make much sense. Furthermore, under the pressure of public criticism, MTR recently modified its rules in Hong Kong allowing some items of luggage up to 145 cm in length.
When asked by MTR staff to produce her ID, Sally insisted that she would show her ID only to a police officer and asked for the police to be called. There is a reaction in Hong Kong among young people especially to the power of big corporations and concerns over individual privacy, against a background of more repressive government policies and attacks on democratic rights. Because MTR also has extensive financial interests through its electronic card system 'Octopus', it has been widely criticised over cases where travellers' personal information has been sold to other businesses.
Privatisation
MTR is a big multinational corporation, which was privatised in 2000. It is a major property developer and landlord in Hong Kong. It also invests in railways in different parts in the world, and has obtained contracts to operate rapid transit systems in London, Stockholm, Melbourne, and Sydney. The company's CEO Lincoln Leong Kwok-kuen takes HK$14 million a year in salary! While making huge profits (over HK$10 billion every year or 1.15 billion euro), it has still increased train fares every year, with a trend of increasing accidents and worsening maintenance standards, which has made it extremely unpopular within society.
Sally Tang Mei-ching is defending herself in court, while the MTR has hired a team of barristers and lawyers against her, again raising questions about how they use public money.
"This case is a bit like David versus Goliath!" says Sally. "But I have got a lot of support from youth and grassroots working people who are really angry about the way MTR is run today. This case is about challenging the unchecked power of big corporations."
Socialist Action are demanding:
• Drop the charges against Sally Tang Mei-ching!
• Defend personal privacy rights!
• For a public and fully transparent review of MTR's 'oversized luggage' policy, open to representatives of the public, unions and passengers to create fairer rules.
• For democratic public control and ownership of public transport – kick out the profiteers!
Let MTR know your view on this matter. Write to https://www.facebook.com/mtrhk on facebook or to MTR Corporation Limited, GPO Box 9916, Hong Kong.