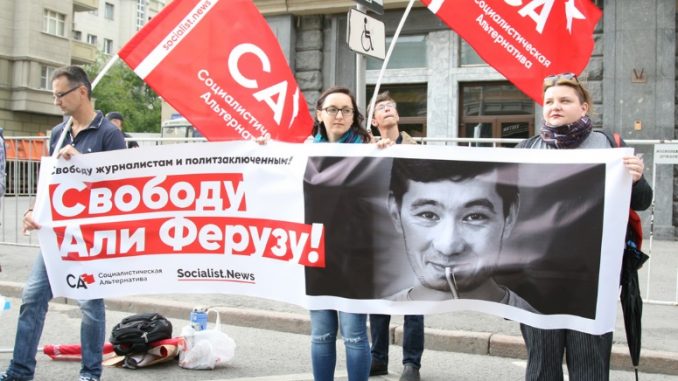 El 26 de septiembre Ali Feruz regresará a un tribunal de Moscú donde se revisará la decisión de su deportación. Este nuevo juicio llega después de la anterior decisión de suspender la deportación de Ali a Uzbekistán, donde probablemente se enfrente al arresto y la cárcel.
Ali Feruz inicialmente fue condenado por un tribunal nocturno a ser deportado a Uzbekistán. Nacido en ese país, Ali creció en Rusia, sus padres y todos sus hermanos son ciudadanos rusos. Fue a estudiar a Uzbekistán y mientras informaba de la naturaleza autoritaria del entonces régimen Karimov. Fue detenido, torturado y presionado para convertirse en un agente de los servicios de seguridad del país, a lo que se negó. Huyó a Rusia, pidió el asilo pero fue rechazado.
Desde que ha regresado a Rusia, Ali trabajó como periodista en un periódico de la oposición, Novaya Gazeta. Como periodista, aparte de ser abiertamente gay, ha luchado contra cualquier ataque a los derechos humanos y democráticos, ha ayudado a revelar el acoso a los soldados y cómo el ejército encubre las muertes de soldados. Trabajó estrechamente con los miembros de Socialist Alternative en el establecimiento del Sindicato Independiente de Periodistas, que también jugó un papel destacado en denunciar los brutales ataques contra la comunidad LGTB en Chechenia.
La decisión de suspender la deportación fue una victoria pequeña pero significativa de la campaña pública internacional de solidaridad con Ali. Es poco habitual que los tribunales rusos retrocedan de esta manera y está claro que la intensa y determinada campaña política ha tenido un efecto. Pero hay aún personas dentro del régimen que están decididas a seguir tomando medidas contra Ali.
Esto se demostró la semana pasada en Moscú, durante una protesta contra el aumento de las restricciones en internet. El gobierno está restringiendo el acceso a los medios sociales, intentando controlar los servicios de mensajería privada y paralizar el uso de VPNs seguros. Incluso aunque la protesta fuera legal, los seguidores de la campaña "Manos Fuera de Ali" y de Socialist Alternative (CIT · Rusia) han sufrido el continuo acoso de la policía y la extrema derecha. Al atravesar los "escáneres de seguridad" por los que todos los participantes deben pasar, la FSB (policía política) intentó confiscar la pancarta de Manos Fuera de Ali porque "no se os permitirá hablar aquí de este pedófilo uzbeko".
Sin embargo, conseguimos poner nuestro stand. La extrema derecha acosó a los participantes LGTB que estaban en la protesta. De repente nuestro stand fue rodeado por la policía antidisturbios, se llevaron nuestra pancarta de Socialist Alternative, el nuevo periódico y nos montaron en autobús para llevarnos a la comisaría. La mayoría de los detenidos fueron liberados, sin cargos, ya por la tarde demostramos que la policía no tenía bases legales para sus acciones. Algunos activistas LGBT fueron acusados de "quebrantar las leyes de protesta" (¡por corear reivindicaciones que no se habían acordado con la policía!). La policía, con sus acciones, en lugar de impedir que se difundiera la información de la campaña nos ha ayudado, el vídeo de sus acciones contra los seguidores de Ali Feruz ya lo han visto 15.000 personas.
Este acoso no disminuye nuestra determinación. Al contrario, demuestra que nuestro ataque y la campaña internacional están teniendo un efecto. El sufrimiento de Ali Feruz se denunció en muchos de los desfiles internacionales del Pride (desfiles del día del Orgullo Gay), incluido en Suecia, donde los activistas del CIT han hecho una gran intervención, y como la semana pasada en Newry, Irlanda del Norte, donde, como en Rusia, la comunidad LGTB está luchando por sus derechos básicos. También ha sido bien recibida por diferentes sindicatos, especialmente los de periodistas. Más de 65.000 personas firmaron la petición online que exige la liberación de Ali.
La decisión de suspender la deportación de Ali no se habría tomado sin la consulta y aprobación de la administración presidencial, ellos quieren evitar que este caso se convierta en una nueva causa de problemas en las relaciones con Europa. Por ahora, Ali está en Suvsig, una nueva prisión a las afueras de Moscú especial para extranjeros, en unas condiciones muy malas. Podría estar allí meses, incluso años, debido a la lentitud de los procesos legales. Ali corre el riesgo de sufrir daños físicos y problemas mentales si continua mucho tiempo en Suvsig por un "crimen" que no ha cometido.
Ataques al director del teatro
El ataque a Ali no es un caso aislado. Incluso los teatros rusos sufren ataques. Un director de teatro muy conocido, Kirill Serebrennikov, fue sustituido y puesto bajo arresto domiciliario supuestamente por mal uso de las subvenciones públicas. La realidad es que algunas de sus obras no son del gusto de la Iglesia Ortodoxa rusa ni del gobierno Putin. Recientemente se ha "pospuesto" la nueva obra de ballet, Nureyev, que dirige Serebrennikov y que debía estrenarse en el Teatro Bolshoi.
La única manera de luchar contra estos ataques a la libertad de expresión es garantizar la mayor distribución posible de la información y la movilización de la opinión pública. La campaña Manos Fuera de Ali está organizando un concierto y pidiendo el máximo apoyo para Ali, ya que debe presentarse ante los tribunales el próximo 26 de septiembre.
Pedimos que continúe la campaña internacional, con piquetes en las embajadas rusas y donde sea posible, enviar mensajes de protesta a las embajadas rusas antes de la semana del 26 de septiembre. Por favor, llevad el caso de Ali a los sindicatos y grupos LGBT. Enviar mensaje de apoyo y solidaridad a alisolidarity12@gmail.com
Exigimos:
Liberación inmediata de Ali de la prisión de deportación
Paralización de la deportación de Ali y garantizar su asilo político
Libertad para todos los periodistas, trabajadores de medios de comunicación y prisioneros políticos.
Embajada Rusa en Madrid
C/ Velázquez, 155
Madrid, 28002
Tel/Fax: (34)-91-562-22-64/97-12
email embrues@mid.ru
Special financial appeal to all readers of socialistworld.net

Support building alternative socialist media

---

Socialistworld.net provides a unique analysis and perspective of world events. Socialistworld.net also plays a crucial role in building the struggle for socialism across all continents. Capitalism has failed! Assist us to build the fight-back and prepare for the stormy period of class struggles ahead. Please make a donation to help us reach more readers and to widen our socialist campaigning work across the world.

Donate via Paypal

CWI- Please inform us if you are reproducing any material from this site.