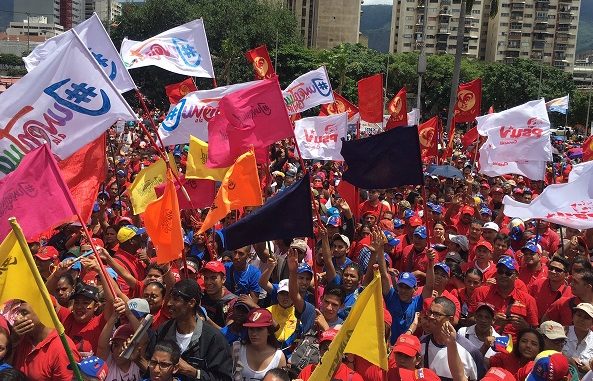 Sólo la toma del poder por los trabajadores, con un programa socialista y antiburocrático, puede derrotarles
El pasado 30 de julio Venezuela celebraba elecciones a la Asamblea Nacional Constituyente (ANC), y aunque el imperialismo estadounidense y la derecha y extrema derecha venezolana —agrupadas en la MUD— han hecho todo lo posible por impedir que se celebrasen, estas elecciones han abierto una nueva fase en la lucha de clases.
La entrada en acción de las masas frustra temporalmente los planes golpistas de la derecha
La MUD no sólo se negó a participar, sino que intensificó su brutal escalada de violencia callejera y terrorismo durante la campaña y la jornada electoral, una ofensiva que desde marzo ha causado ya más de 100 muertos. Los medios de comunicación burgueses de todo el mundo presentan estas acciones como "protestas pacíficas de jóvenes indignados contra la dictadura totalitaria de Maduro", pero se trata de ataques planificados y para nada pacíficos: cócteles molotov, granadas y bombas incendiarias han sido lanzadas contra centros de trabajo y edificios públicos; se han linchado y se han intentado quemar vivas a muchas personas por el simple hecho de declararse chavistas, de izquierdas o negarse a participar en las acciones de la derecha… Todos estos ataques terroristas son ejecutados por grupos de choque de la ultraderecha y bandas de delincuentes contratados como mercenarios.
Durante la jornada electoral estas bandas fascistas destruyeron varios centros de votación, impidieron el paso a otros y en zonas que domina la MUD amenazaron con tomar represalias contra quienes votasen. Paralelamente, distintos gobiernos imperialistas y proimperialistas anunciaban que no reconocerían a la ANC y amenazaban con sanciones. Donald Trump no sólo amenazó con represalias (que ya ha empezado a aplicar), también afirmó que no descartaba "la utilización de la fuerza militar" ni otras opciones, como un bloqueo económico similar al sufrido por Cuba durante décadas.
El objetivo inmediato de toda esta escalada era impedir la elección de la Constituyente, pero el fin esencial es abrir una brecha en la cúpula militar que fuerce un golpe de estado, el derrocamiento del gobierno bolivariano y su sustitución por uno de la MUD que aplique medidas de ajuste salvaje similares a las de Temer en Brasil o Macri en Argentina. Sin embargo, la ofensiva contrarrevolucionaria tuvo el efecto contrario al buscado. Millones de personas, incluso muchas desmoralizadas por la grave situación económica y descontentas con las medidas que está aplicando el gobierno, se movilizaron y votaron, desafiando los planes del imperialismo y la derecha.
Tras fracasar estrepitosamente tanto la huelga general del 26 y 27 de julio convocada por la MUD como su llamamiento a tomar las calles e impedir las elecciones, la mayoría de sus dirigentes ha llamado a abandonar, al menos por el momento, las acciones de violencia callejera y ha aceptado concurrir a las elecciones a gobernadores previstas para diciembre y que el gobierno finalmente ha adelantado a octubre. Pero esto no significa que estén derrotados, tal como plantean los dirigentes del PSUV y el gobierno. Sólo han aplazado un poco más sus planes.
Derrotar al imperialismo y a la derecha con medidas socialistas, no capitalistas y burocráticas
La MUD y el imperialismo siguen sin reconocer a la ANC y denunciando a Venezuela como una dictadura. Su táctica se centra ahora en asfixiar la economía con medidas como la anunciada esta misma semana por Trump: prohibir a ciudadanos y empresas que realicen actividades económicas en EEUU comprar deuda a más de 90 días del Estado venezolano y de la petrolera estatal PDVSA. Con ello pretenden provocar una crisis en la financiación de Venezuela que agudice a su vez la crisis alimentaria y pueda generar malestar, saqueos y desestabilización en las zonas obreras y populares, donde la derecha no ha conseguido llegar con sus acciones violentas.
Desde 2012 el valor de las exportaciones venezolanas se ha reducido espectacularmente por la caída de los precios del petróleo. También las reservas en divisas han caído y crecido el endeudamiento del Estado. Sin embargo, como parte de su política de buscar un acuerdo con sectores de la burguesía y convencerles de que puede gestionar la crisis del capitalismo mejor que la MUD, el gobierno de Maduro ha priorizado pagar puntualmente los intereses de la deuda, aunque ello significase reducir las importaciones de alimentos para enfrentar el desabastecimiento. Estas se han reducido un 76%. La renta per cápita ha caído un 34% y los sectores agrícola, industrial e incluso servicios experimentan contracciones entre el 30 y el 40%.
Para impedir el estrangulamiento de la economía hay que tomar medidas socialistas como nacionalizar la banca y las grandes empresas –que siguen obteniendo beneficios escandalosos especulando con las divisas que les concede el propio gobierno– y decretar el monopolio estatal de las exportaciones e importaciones (comercio exterior). Pero esto sólo funcionará si la economía y el Estado están bajo el control y la gestión directa y democrática de los trabajadores y el pueblo, no de burócratas o empresarios como ocurre actualmente.
A pesar de todo lo acontecido la política del gobierno va en dirección contraria. Quieren seguir haciendo concesiones a los empresarios y acelerar el desarrollo de las "zonas económicas especiales" y las "empresas mixtas" para consolidar un régimen de capitalismo de Estado. Esto significa socavar las conquistas alcanzadas por la clase obrera y el pueblo durante los gobiernos de Chávez y provocará un enfrentamiento directo con la clase obrera y las bases bolivarianas. En las condiciones concretas de Venezuela, estas políticas capitalistas significan una vía abierta para que avance la contrarrevolución.
¡Por un frente único de las corrientes chavistas de izquierda, con un programa auténticamente socialista!
En las elecciones a la ANC, por primera vez, centenares de miles de activistas y militantes de base del chavismo se movilizaron contra la derecha pero expresando al mismo tiempo sus críticas al gobierno y su malestar con la burocracia. Durante la campaña se presentaron más de 54.000 precandidatos alternativos a los propuestos por la dirección del PSUV. Esta recurrió a todo tipo de maniobras y excluyó a muchos, pero en circuitos y sectores clave de Caracas y otras grandes ciudades hubo hasta 8 o 9 candidaturas alternativas.
Según diferentes estimaciones, y aunque las votaciones recibidas por muchos candidatos siguen sin ser publicadas, en Caracas las listas críticas agruparon cerca de 300.000 votos frente a 400.000 y pico de la oficial. Sólo las maniobras y presiones de la burocracia y la falta de unidad de acción y coordinación de estos sectores críticos impidieron una presencia significativa de candidatos surgidos de la base en la ANC. Estas candidaturas representaban a partidos identificados con la revolución bolivariana pero críticos con el gobierno: PCV, PPT o REDES, militantes de base o dirigentes locales del PSUV descontentos, candidaturas surgidas de procesos asamblearios en centros de trabajo y barrios, frentes que agrupan a colectivos vecinales, movimientos de inquilinos y pobladores, grupos feministas, ecologistas, LGTBI, como el llamado "chavismo bravío", etc.
Varias candidaturas críticas han denunciado cómo, en lugar de recurrir a la presentación de alternativas para resolver los graves problemas que sufre la población y movilizar a las bases, la burocracia ha utilizado recursos públicos y métodos inaceptables como amenazas de despido a funcionarios públicos o beneficiarios de los planes sociales para que votasen y lo hiciesen por la lista de la burocracia. Este tipo de métodos sólo favorece a la derecha. Lo único que puede evitar que ésta se recupere y pase nuevamente a la ofensiva es la unidad de las distintas corrientes de izquierda del chavismo en torno a un programa auténticamente socialista y antiburocrático, que ponga todo el poder en manos de los trabajadores y el pueblo para expropiar a los capitalistas y acabar con la burocracia, erradicando lacras como la pobreza, la desigualdad o la corrupción. Un programa así llenaría de confianza a los oprimidos y renovaría la solidaridad internacional con la revolución en Venezuela frente a la ofensiva del imperialismo y la derecha.
Special financial appeal to all readers of socialistworld.net

Support building alternative socialist media

---

Socialistworld.net provides a unique analysis and perspective of world events. Socialistworld.net also plays a crucial role in building the struggle for socialism across all continents. Capitalism has failed! Assist us to build the fight-back and prepare for the stormy period of class struggles ahead. Please make a donation to help us reach more readers and to widen our socialist campaigning work across the world.

Donate via Paypal

CWI- Please inform us if you are reproducing any material from this site.