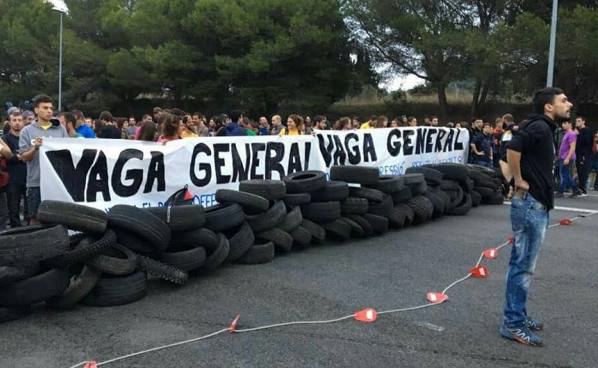 The following eyewitness report from Catalonia is by Mick Barry, Solidarity TD (member of Irish Parliament) and a member of the Socialist Party (CWI Ireland). Mick was invited to monitor the referendum in Catalonia as an international observer.
Socialistworld.net
Sunday, 1 October was the date that saw the worst police repression witnessed in a Western European country in decades, as Spanish state police clamped down hard on the Catalan independence referendum.
Memories of the Franco era were stirred up as Spanish police went on the rampage, injuring more than 800 people, firing plastic and rubber bullets and drawing batons on peaceful people who only wanted to vote.
If the intention was to intimidate the people of Catalonia, it has failed and actually served the opposite purpose. In some areas, local people banded together and pushed back against police preventing them from entering the stations. Barcelona firefighters acted as stewards to repel police intervention. A general strike will now take place on Tuesday, 3 October to protest "the grave violation of rights and freedoms".
Barcelona Mayor Ada Colau told me that nearly 70 schools in that city alone had been occupied by local communities in advance of the vote, in order to protect the right to vote and block Spanish state interference.
I visited a school in Barcelon, Sarri Sant Gervasi, at 8am on Sunday morning, an hour before polling was due to start. Already, there were more than 500 local people gathered to defend the school/polling station. It was gatherings such as this that were attacked with indiscriminate violence by Spanish state police.
The Spanish state police also entered schools and seized ballot papers and deployed sabotage to disable communications systems at polling stations.
But, Sunday 1 October, was also the date when the people of Catalonia defied repression and asserted their right to vote.
I visited the northern village of Subirat on Sunday afternoon and by 4pm 70% of those entitled had already cast their ballot.
All of the polling stations I visited had large crowds outside protecting the station and queues of people lining up to vote.
Working class key to resolving issues
More than 2.2 million people from a total of 5.3 million eligible voters defied police repression and had their vote counted. Large numbers of others cast their vote and had it confiscated by the Spanish state. The majority of those opposed to independence chose not to vote in this referendum. Ninety percent of those whose votes could be counted voted for independence.
The silence from the governments of Europe at this State violence is shameful. They need to be put under pressure on this issue.
But the key to resolving the issues lie at the feet of the Catalan and the Spanish working classes.
The Catalan workers will hold a general strike on 3 October. They need to inscribe the slogan of the Catalonian Socialist Republic on their banner.
But the Spanish working class too need to make a stand. In that sense the Spanish anti-repression protests on Sunday night mark a start. Prime Minister Rajoy and this right wing PP government is their enemy too. They too have faced repression. They need to support the right of the Catalans to decide their future and join with Catalan workers in fighting for a socialist federation, with all national and social rights guaranteed.