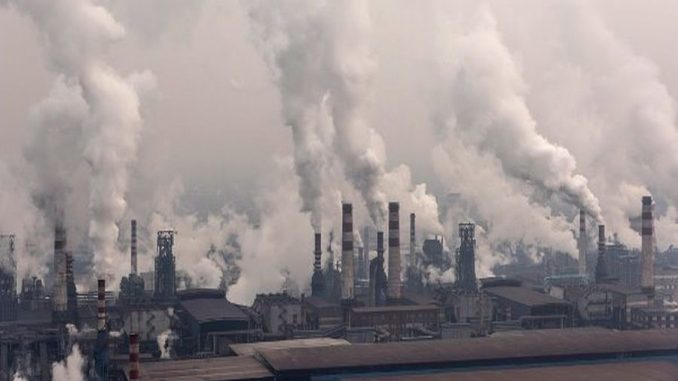 La expresión "medio ambiente" fue citada 89 veces por Xi Jinping en su informe al 19° Congreso del Partido "Comunista" Chino, incluso más que la palabra "economía". Se han enviado equipos de investigación del gobierno central a las provincias para verificar el progreso de las medidas acordadas contra la contaminación, y diversos informes señalan que más de 12.000 funcionarios y 18.000 empresas han sido imputados por esta causa.
Los medios de comunicación señalan que se trata de la campaña de protección del medio ambiente más importante en la historia de China. Xi aparece como un ardiente defensor del medio ambiente, pero de hecho se ve obligado a actuar como consecuencia de las protestas contra la contaminación surgidas desde abajo, así como consecuencia de las enormes pérdidas económicas fruto de la destrucción del medio ambiente. Sin embargo, las presiones económicas empresariales y un boicot no oficial por parte de los gobiernos locales apuntan a que las políticas de Xi no lograrán resultados significativos.
En octubre la revista médica The Lancet publicó un estudio que informaba que más de 1.8 millones de chinos murieron a causa de la contaminación en 2015, una quinta parte de todas las muertes en China. Un informe anterior publicado por la Universidad de Nanjing revelaba que entre las 74 ciudades principales de China, un tercio de las muertes se puede atribuir a la contaminación de las PM2.5 (partículas en suspensión de menos de 2,5 micras).
Por otro lado, la disminución de los niveles de las PM2.5 en el delta del Río de las Perlas y en algunas otras regiones ha generado un nuevo problema, un rápido aumento del ozono troposférico (a nivel del suelo). El ozono se genera por otros contaminantes en su exposición a la luz solar, y se asocia con accidentes cerebrovasculares y enfermedades cardíacas habiendo provocado ya más de 36.000 muertes prematuras en China en los últimos tres años. La política dominante de la "economía primero" ha extendido ampliamente la contaminación, y ha llevado a que el régimen del PCCh "atienda a una sola cosa y pierda la perspectiva respecto a la otra".
La cada vez mayor y más grave contaminación, así como la creciente preocupación pública por los efectos de la misma en la salud, han generado protestas masivas contra la contaminación en todo el país. En noviembre miles de personas en Zhaoqing en la provincia de Guangdong salieron a las calles para protestar ante el tercer intento del gobierno local de construir una incineradora de basura, proyecto que ya fue suspendido dos veces anteriormente como consecuencia de las protestas.
La incapacidad para resolver los problemas relacionados con la contaminación ha empañado la autoridad del régimen del PCCh y por eso se ve obligado a responder. Sin embargo esta campaña contra la contaminación añadirá más presión a la ya frágil situación de la economía, lo que hace muy improbable que Xi la lleve a la práctica hasta sus últimas consecuencias.
Ya en la primera mitad de 2016 el gobierno suavizó aún más las leyes de protección ambiental para estimular una economía cada vez más debilitada, lo que ha supuesto la reactivación de muchas industrias altamente contaminantes como el acero, agravándose el problema de la contaminación atmosférica.
Una gran nube de contaminación de 1,88 millones de kilómetros cuadrados apareció en más de 90 ciudades en diciembre de ese año. En los primeros tres trimestres de 2017, las lecturas de las PM2.5 en la región Beijing-Tianjin-Hebei aumentaron en un 10% en comparación con el año anterior. Los efectos se han sentido a nivel mundial aumentando significativamente las emisiones de gases de efecto invernadero en 2017, tras dos años en que se mantuvieron estables, fruto del repunte de la industria pesada en China. Société Générale estima que las medidas de protección ambiental le costarán a China un 0,25 % de su PIB anual, por lo que, cuando existan nuevos riesgos de desaceleración económica, es probable que Xi relaje nuevamente los controles medioambientales.
Medidas burocráticas que conducen al caos
Al mismo tiempo, Xi Jinping también se enfrenta a la resistencia de los gobiernos locales, como se demuestra por el hecho de que se vea obligado a enviar equipos de investigación a nivel local, y dicha intervención directa del gobierno central ha terminado generando situaciones de caos. Muchos funcionarios tratan de evitar ser castigados cerrando todas las fábricas antes de la llegada de dichos equipos de investigación, independientemente de si las fábricas cumplen o no con los estándares ambientales exigidos, lo que ha obligado al Ministerio de Protección Ambiental a intervenir y tratar de detener dicha sobrerreacción.
Para resolver el grave problema del smog invernal el gobierno prohibió la quema de carbón en Beijing y sus alrededores. Sin embargo, esta política se llevo adelante apresuradamente careciendo muchas regiones de un suministro estable de gas natural, y dejando a decenas de miles de familias sin calefacción durante el duro invierno.
La lucha contra la contaminación requiere campañas masivas de protección ambiental y el control democrático por parte de los trabajadores de una industria limpia y ecológica sobre bases socialistas. Los intentos de Xi de resolver la crisis medioambiental con una mezcla de medidas burocráticas y de "mercado" no permitirán obtener resultados sustanciales ni duraderos y generarán más rabia entre las masas.
Incremento de las políticas proteccionistas
En junio el nuevo presidente de los Estados Unidos Donald Trump anunció que los Estados Unidos se retirarían del Acuerdo de París y los medios de comunicación a nivel mundial señalaron a China como el nuevo líder internacional en la lucha contra el cambio climático. Sin embargo, el régimen chino es uno de los mayores obstáculos para combatir dicho cambio climático. Desde el lanzamiento del proyecto "Una Franja, Una Ruta", China ha estado construyendo numerosas plantas de carbón en todo el mundo y ha superado a Japón como el mayor exportador de equipos de generación de energía mediante carbón a nivel mundial. Uno de los mayores productores de equipos eléctricos de China, Shanghai Electric, ha anunciado sus planes para construir centrales eléctricas de 6.285MW en Egipto, Pakistán e Irán, diez veces los planes de construcción previstos a nivel nacional en la propia China.
El régimen del PCCh espera poder utilizar los mercados extranjeros como vía de escape para poder aliviar la presión consecuencia de las medidas exigidas de cara a reducir sus emisiones de carbono en sus propias industrias eléctricas y del carbón. Estas nuevas centrales eléctricas significan que los objetivos establecidos en el Acuerdo de París serán misión imposible. El propio Banco Mundial ha criticado a China por utilizar países más pobres con leyes más laxas de protección ambiental como paraísos fiscales medioambientales, aunque al mismo tiempo el Banco Mundial también ha limitado las normativas medioambientales de cara a poder competir con China. Una carrera de fondo a expensas del clima y la salud de las masas.
Los socialistas desafiamos a una clase capitalista que únicamente busca obtener beneficios a costa de destruir el medio ambiente y la salud de las masas, y también nos levantamos contra unas potencias imperialistas que exportan sus problemas de contaminación a otros países más pobres.
La única solución frente a la crisis climática mundial y la contaminación es construir un movimiento internacional de la clase trabajadora que se oponga al sistema capitalista. Necesitamos nacionalizar los bancos y las grandes multinacionales colocándolas bajo el control y la gestión democrática de los trabajadores, impulsando un sistema de producción ecológico y limpio bajo una planificación democrática, e invirtiendo más capital y recursos en el desarrollo de energías limpia y tecnologías verdes.
Fenómeno de contaminación consecuencia de que las partículas contaminantes en invierno se desplazan más allá de su fuente de origen como consecuencia de la existencia de menos luz solar.
Special financial appeal to all readers of socialistworld.net

Support building alternative socialist media

---

Socialistworld.net provides a unique analysis and perspective of world events. Socialistworld.net also plays a crucial role in building the struggle for socialism across all continents. Capitalism has failed! Assist us to build the fight-back and prepare for the stormy period of class struggles ahead. Please make a donation to help us reach more readers and to widen our socialist campaigning work across the world.

Donate via Paypal

CWI- Please inform us if you are reproducing any material from this site.