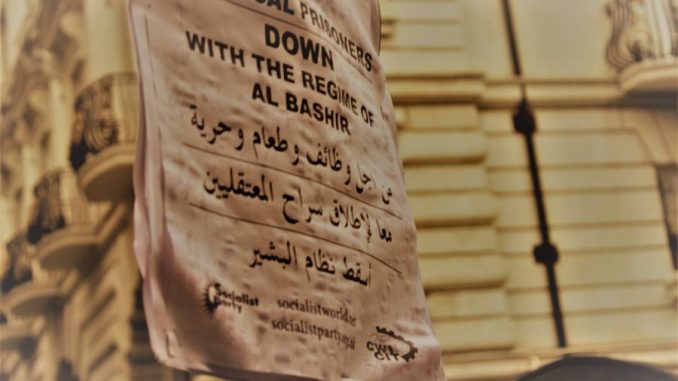 Una ola de protestas contra el brutal incremento de los precios y contra las medidas de austeridad impulsadas por el gobierno se ha extendido por Sudán durante el transcurso de las últimas dos semanas.
Asustado de que estas protestas puedan convertirse en un movimiento más amplio, el régimen dictatorial de Omar Al-Bashir ha respondido con una fuerte represión. Decenas de manifestantes, periodistas, defensores de los derechos humanos y activistas políticos han sido atacados, intimidados y arrestados sin contemplaciones, y la policía se ha desplegado para silenciar las protestas en la calle. Ayer miércoles 17 de enero a primera hora de la mañana la policía detuvo al principal dirigente del Partido Comunista de Sudán en su casa. Este arresto se produce un día después de que una manifestación organizada por el PC contra las medidas de austeridad del gobierno reuniera a miles de personas en el centro de Jartum cantando consignas como "¡No al hambre! ¡No al incremento de los precios!". Fue la protesta más grande hasta el momento desde que comenzó la reciente ola de luchas, y fue brutalmente reprimida por las fuerzas policiales con gases lacrimógenos, cargas violentas y numerosas detenciones. El miércoles por la tarde, en otra protesta organizada por la oposición, se produjo una nueva oleada de arrestos y detenciones arbitrarias. Un testigo presencial nos comunicó justo antes de la protesta que la policía política había desplegado enormes cantidades de efectivos, y nos explicó que el Gobierno había llenado la plaza donde se realizaría la manifestación con numerosos tanques de agua, para tratar de evitar que se convierta en un punto de referencia para el movimiento donde poder expresar el malestar contra el régimen y sus políticas contra los más pobres. Este tipo de medidas muestran que parte de la corrupta élite gobernante sudanesa esta atemorizada ante las revueltas de masas que estallarán en el próximo período.
El CIT desea expresar su total solidaridad con el pueblo de Sudán, que está desafiando la despiadada maquinaria represiva del régimen de al-Bashir luchando por un futuro digno. Exigimos la liberación inmediata e incondicional de todos los activistas, manifestantes, críticos y disidentes políticos que han sido arrestados durante los últimos días.
Hacemos un llamamiento a enviar cartas de protesta al ministro del Interior sudanés, Ibrahim Mahmoud Hamid, a la siguiente dirección de e-mail, mut@isoc.sd, y con copia a cwi@worldsoc.co.uk. Una posible redacción podría ser la siguiente:
"Nos ha indignado enormemente conocer sobre la violenta represión que las autoridades sudanesas han desatado contra los manifestantes pacíficos que solo ejercen sus derechos democráticos más básicos. Este es un intento inaceptable para obligar al pueblo sudanés a guardar silencio sobre las políticas de austeridad impulsadas por el gobierno a pesar de la oposición generalizada de la población, y de las pésimas consecuencias que estas medidas tendrán en la vida de la mayoría de sudaneses. Exigimos la liberación inmediata e incondicional de todos los manifestantes y activistas que han sido detenidos en los últimos días, y la retirada de todos los cargos que se les imputan. En caso de que esto no suceda, nos aseguraremos de que esta represión salvaje y vergonzosa, y el tratamiento brutal que está sufriendo la oposición sudanesa, sean ampliamente expuestos internacionalmente."
Special financial appeal to all readers of socialistworld.net

Support building alternative socialist media

---

Socialistworld.net provides a unique analysis and perspective of world events. Socialistworld.net also plays a crucial role in building the struggle for socialism across all continents. Capitalism has failed! Assist us to build the fight-back and prepare for the stormy period of class struggles ahead. Please make a donation to help us reach more readers and to widen our socialist campaigning work across the world.

Donate via Paypal

CWI- Please inform us if you are reproducing any material from this site.