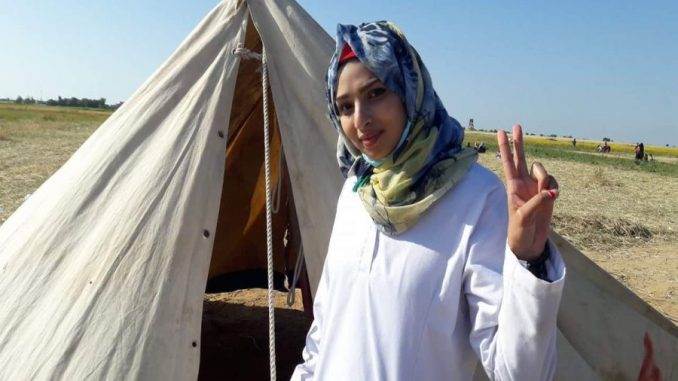 Young Palestinian medic shot dead while giving first aid to wounded protesters
Razan al-Najjar, a 21-year-old volunteer for a medical team in Gaza, was shot dead during a protest near Khan Yunis on Friday 1st June. She was killed while trying to give first aid to the wounded protesters during the now weekly March of Return. Her horrific cold-blooded killing brings the death toll of Palestinians killed since the beginning of the protests on 30th March to over 120, with thousands more wounded by live fire.
MR, a press photographer from Gaza spoke the following day with Socialist Struggle Movement in Israel-Palestine (part of the CWI – Committee for a Workers' International). He knew Razan and was present at the protest during her killing: "Razan was killed in front of my eyes".
MR was born and grew up in Gaza. "I am one of the refugees living in one of the camps. I have been suffering the consequences of being a refugee since my birth. I worked in journalism for seven years but now I work on documentaries. For some time, me and my colleagues have been documenting the events of the Great March of Return in Gaza.
"I met Razan at the March of Return camp in Khan Younis. She was one of the first volunteers to help the wounded. When we talk about volunteering here in Gaza, this means working without any money. She gave her life to aid the peaceful wounded who took part in the return marches. She was present daily from early morning until the end of the confrontations in the evening. She has given her life to teach the world that there are people who are fighting for their just and peaceful cause".
MR describes the horrific situation on the ground: "Yesterday me and my colleagues were at the March of Return camp in Khan Younis on the border. We did our job as usual. The soldiers were targeting everyone, whether with 'nerve gas' (a mixture of tear gas and other poisonous gases that affect a person for weeks) or internationally banned exploding bullets."
"One of the young men was injured, and the paramedics went to help him, and the heroic Razan was part of the crew. Then the soldiers deliberately shot her knowing that she was wearing the white uniform of a nurse. She was sniped with a bullet in her chest. The bullet ripped her chest and caused a large wound. I was very shocked and could not go on with my work as a photographer".
"Razan did not carry a weapon or anything that could be an excuse to target her or kill her, and she was focused on making every effort to aid the injured", MR says to us, and emphasised: "to make it clear, the Israeli soldiers can see very well who they shoot with binoculars with which they can see everything in front of them. They deliberately kill unarmed people, children, journalists and paramedics. They do not follow any laws".
"Razan, the beautiful girl, went without a return. Her death will not discourage our people from continuing their peaceful March of Return. They believe that killing people can intimidate others and prevent them from completing the return marches – but they are wrong. Killing innocents increases the enthusiasm of our people to demand their rights, the most basic rights guaranteed by international standards. We want to live freely – freedom of movement, travel and fishing – and to end the unjust siege on our oppressed people".