After the bombings – claimed by reactionary Islamic forces – Muslim workers and poor people right across Sri Lanka have felt under attack from all sides. Government and religious bigots have whipped up a scare campaign against them, with the wearing of scarves or burkhas forbidden. The USP has pledged to do all in its power to defend Muslim workers and poor people against attack.
There were eight media personnel at the USP May Day commemoration and coverage on the main TV channels. Representatives from the Committee for the Defence of Prisoners' Rights were in attendance and spoke about their campaign.
Below, Socialist World carries a second statement issued after the atrocities of the terror attacks by the United Socialist Party (CWI in Sri Lanka).
---
Don't allow state repression to be unleashed on the pretext of providing security to the people.
Three huge bombs exploded in three Christian churches on the morning of Sunday 21 April in Kochchikade in Colombo, in Negombo and in Batticaloa while Easter Masses were being conducted. At the same time three other explosions took place at the Shangri-La, Cinnamon Grand and Kingsbury hotels. Due to these barbaric terrorist attacks the death toll was more than 300 and more than 500 people have been wounded.
The government is duty bound to disclose to the people what their investigations indicate are the political reasons and necessity behind this chain of terrorist activities which have been planned in a very shrewd manner. We have to question very seriously why the authorities did not act promptly to inform people and take the necessary preventive action even when the state intelligence services received information in advance that religious places and important economic centres would be subjected to suicide bomb attacks.
Against this background we state strongly that the government, headed by the President and Prime Minister, should bear full responsibility for this Easter Sunday tragedy. We condemn the undignified attempts by them to pass the buck to each other for their own face-saving game.
The international Islamic extremist organization, IS claimed responsibility for these deadly attacks. The authorities have stated that a group called National Thowheed Jamath, – the local organization having links with IS – has carried out these attacks. Nevertheless the investigations should not be drawn in just one single direction. All the other possibilities for this kind of attack should also be explored fully. Commentators have expressed doubts about IS' claims of responsibility for these attacks because previously the IS has claimed responsibility for this kind of terror attacks in some other countries and claimed responsibility so that they could get credit for it. It is the utmost responsibility of the rulers of the country to inform the public after a thorough investigation of who was responsible for this great destruction.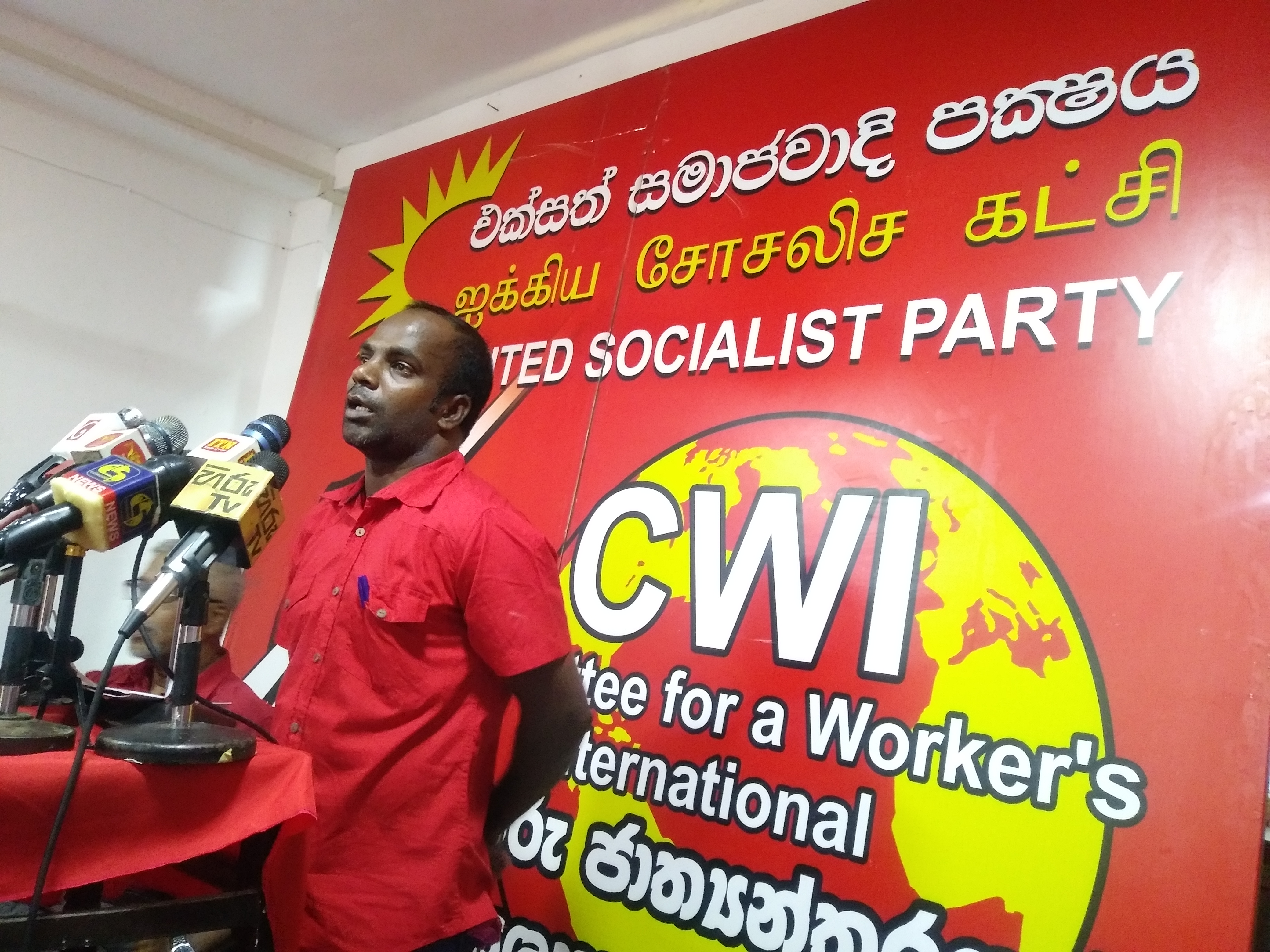 Sri Lankan society which has been left with the terrible legacy from the experience of a 30 year long civil war is well aware of the negative effects of individual terrorist methods and its barbaric nature. We have to stress with sadness that people in this country have a clear understanding that no liberation for any section of the people can be achieved through individual terrorist methods.
It is the working class and the ordinary people who have to pay for the consequences of inhuman attacks of this type. All the people belonging to the Sinhala, Tamil and Muslim communities should understand this and that it is necessary that they should join hands together and act as a human shield in the face of such attacks. No room should be given to communalist extremist groups to take advantage of this situation and sow division among communities. We are strongly committed against any sort of threats and attacks on ordinary Muslim people and the government should do everything possible to avert anything like a repeat of last year's incidents in Ampara and Digana. We condemn all attempts and statements by various sections against the right of Muslim people to conduct their cultural activities and traditions without fear or hindrance from outside forces.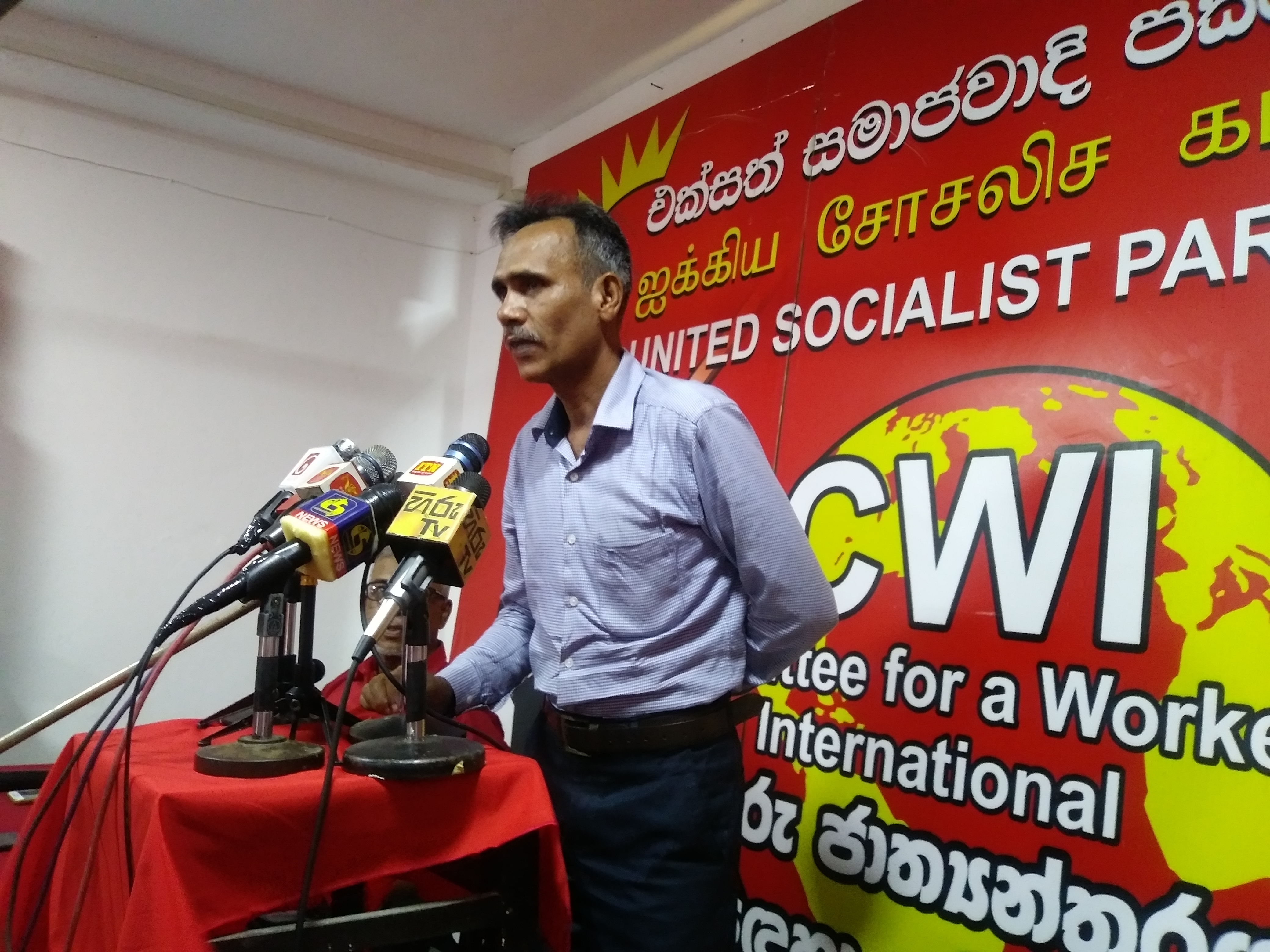 Ruling classes are very clever at using this type of occasion to their advantage by channelling people's anger in directions away from themselves. They endeavour to curb people's freedoms in order to strengthen their grip on power. The government clamped down on social media networks, which are popular among the general public, and went on to declare a State of Emergency. They moved to pass a Counter Terrorism Bill which would take away some of the basic human rights of people, including the right to protest collectively. Government has imposed these controls under the pretext of protecting people.
The emergency regulations which were pushed through were very severe. Under them, the Army and other defense forces have been empowered to arrest anybody without a warrant and detain them for long periods , to take over any property and many other powers. The government seems to be utilizing this situation to create a military police state and suppress the growing anti-government sentiments. The working class, oppressed peasants, students and youth have all been engaged in continuous struggles to win their demands in the last period. While shedding crocodile tears about the death and destruction on Easter Sunday, the Opposition led by Mahinda Rajapaksha and the pseudo leftist Janatha Vimukthi Peramuna also supported these repressive measures in Parliament as did the Tamil National Alliance.
In the meantime some of those who support Mahinda Rajapaksha have begun to campaign for the military officers who have been held in prison for serious offences, including murders, abductions and disappearances, should be released. The situation that has developed in the last few years points to Sri Lanka heading in the direction of creating a government like that in Pakistan where a nominal civilian government exists but the real power is wielded by the military. This development is indicated in the emergence of Gotabhaya Rajapaksha and confirms the terrible idea spread by Sinhala Buddhist chauvinist elements that the country needs a strong dictator to resolve all the crises it faces.
The United Socialist Party emphasizes that all left, democratic and progressive forces and trade unions should come together and endeavour to defeat these dangerous views. It is only through a united struggle of the working class and oppressed people of the Sinhala, Tamil and Muslim communities that this country can be emancipated from the massive unfolding social, economic and political problems it faces. The USP urges all the oppressed masses to join hands, putting aside racial and religious divides on an anti-capitalist program for the survival and progress of the people and society.
Sirithunga Jayasuriya
General Secretary
United Socialist Party