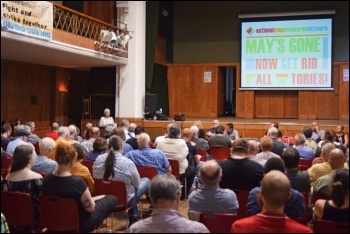 The hall was again packed for the 2019 annual conference of the National Shop Stewards Network (NSSN), the rank-and-file trade union organisation set up initially by the RMT transport union and its late, and missed, general secretary Bob Crow in 2006.
Particularly welcoming was the amount of new faces. From workers currently in struggle to those who might soon be entering it, those looking for support and solidarity, as well as trade union organisers wanting to share experiences in mobilising working-class people in 21st century austerity Britain.
Indeed, it is this networking which trade unionists, anti-cuts campaigners and socialists find most invigorating about the event – either by discussing individually with each other or in the official workshops organised as part of the conference. Two of these workshops – on fighting the cuts and organising workers for climate change strike and protest action in September – were so well-attended, they were, in effect, mini-conferences!
Delegates also got to listen to calls for action from well-known names in the trade union movement. The NSSN now has ten national trade union affiliates, and general union Unite, the RMT and the Communication Workers Union all sent their general secretaries or another senior officer to speak. Amy Murphy, president of shop workers' union Usdaw and Socialist Party member was also a platform speaker.
Glasgow equal pay striker Lyn Marie O'Hara at the NSSN conference, 6.7.19, photo by Mary Finch (Click to enlarge)
Real picture
These are difficult times for trade union activists, not only in Britain but internationally. It can seem that the whole of the union movement is in decline and there's unanimity among leaders about retreating in the face of onslaught. But this is a false picture.
Obviously, there are some union leaders who have completely capitulated to capitalist governments and big business, often because they fear the drive for socialism more. But it is bodies like the NSSN which can unite and strengthen the workers' movement from bottom to top.
Socialist Party members have had many disagreements and run-ins with union leaders in the past – and there will continue to be those in the future as well! But it would be a mistake of huge proportions to turn our back on the movement.
Those workers facing low pay, job loss, speed-ups, the whole gig economy as well as an increase in bullying and harassment at work, in the drive for increased profits for the few, would never forgive socialists who turned aside and left them to their fate, while they fruitlessly sought alternative routes to system change.
Our job is to combine and assist the various strands of opposition to capitalism and big business not to abandon one and hunt for non-existent short cuts.
As Karl Marx said 150 years ago, it is the working class which is in the unique position of being able to overthrow capitalism and start to construct a new society. This position is because the working class, at the centre of the production and distribution of goods and services, has the overwhelming majority in big towns and cities, which makes it specially qualified to take over the running of society.
Its struggles inevitably become political struggles.
And, in a very small way, this NSSN conference demonstrated that position. The workers who spoke of their own strikes and battles did so empowered by their own actions and the support given by the local general public.
Whether it was an indefinite stoppage of library workers in Bromley, or firefighters in Worcestershire, the Mitie strikers at Southampton General Hospital or the hugely significant strike of council workers in Glasgow for equal pay.
Indeed, the latter demonstrates that – victorious – great shifts can even be achieved under the most appalling conditions capitalism throws at us today. Conference gave a huge welcome (and a standing ovation) to Lyn Marie O'Hara, one of Glasgow Unison's historic equal pay strikers.
This dispute transferred over £600 million to the pockets of working-class people, where it belonged! Socialists support every move that seeks to end gender or other inequality, but here is another example that real material gains for women in Scotland were won by ordinary workers taking united action.
Youth climate strikers addressing the NSSN conference, 6.7.19, photo by Mary Finch (Click to enlarge)
Pole of attraction
The NSSN is not only here to stay, it continues to build influence and act as a pole of attraction for workers beginning to see the necessity of entering in to struggle to fight for a better life for all.
First-time attendee – Neil from the Fire Brigades Union said afterwards: "The conference was a great opportunity to speak with other union officials about their successes and the obstacles they are yet to overcome. For me, it renewed my determination to continue the fight against the deterioration of my members' terms and conditions."
One of the most immediate tasks is to build up support and link workers' organisations around the call for the 'earth strike' on 20 September. The conference welcomed school and college students from Guildford, Leicester and London who spoke about walkouts at their schools and the need to build the fightback against climate change.
The workshop on climate change heard former PCS union assistant general secretary Chris Baugh deliver an impassioned but practical appeal for workers to get involved, to include strike action for those able to deliver. But the NSSN will also be reaching out to unorganised workplaces in towns and cities throughout Britain, assisting with meetings, demonstrations and even 'pickets' in workers' lunch or rest breaks.
We don't want any worker to feel they can't participate because they aren't yet organised in a trade union. In fact, we will be using this as another means of building the union movement.
NSSN conference stood in solidarity with a victimised Asda worker who spoke on the day about proposed contract changes the company is making. Following the conference Hull Trade Union Council organised solidarity leafleting outside Asda at Mount Pleasant Hull and got a fantastic response from shoppers and passers-by alike. The solidarity protest on 15 July was the first day of what will be a rolling programme of solidarity at other Asda branches in the Hull area.
Part of the conference floor at the NSSN conference, 6.7.19, photo by Mary Finch (Click to enlarge)