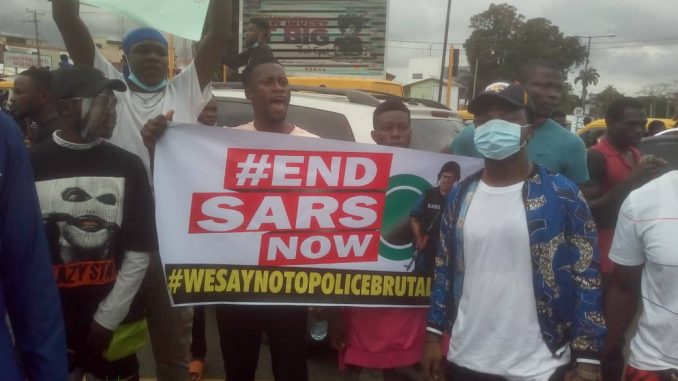 Anger at replacement of hated SARS police unit by Special Weapons and Tactics (Swat) units

A renewed tidal wave of anger swept Nigeria after the police chief, Mohammed Adamu, announced that the now disbanded brutal, murderous and corrupt Special Anti-Robbery Squad (SARS) would be replaced by the formation of Special Weapons and Tactics (Swat) units.
While, after days of mounting protest, SARS was officially disbanded on 11 October, all SARS members remain in the police. Adamu said all ex-SARS members will undergo a psychological and medical examination before further training and redeployment. But there was no mention at all of any investigation of the crimes, which increasingly are videoed, that SARS members have carried out for years.
Within an hour of Adamu's statement, #EndSWAT was trending in Nigeria, and his announcement has reinforced the continuing protests.
Despite the disbandment of SARS and the granting of a few other concessions, there is still huge anger, especially amongst young people. The army has joined the police in confronting the protests and brutality that demonstrators often face has spurred on the protests; Amnesty International estimates that 10 people were killed over the weekend.
There is a widespread anger in Nigeria at the failure of government, the widespread poverty, mass unemployment, failed infrastructure and wanton looting of the country's oil income. Just a few days ago NECA, a Nigerian employers' organisation, reported that 102 million Nigerians, nearly half the country's 205 million population, live in "extreme poverty". The added burden of recent increases in fuel and electricity prices became a focal point of demands for action, which eventually forced the trade union leaders to call an indefinite general strike.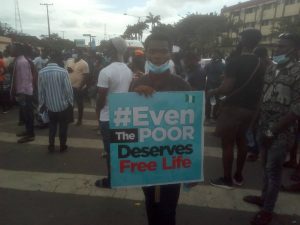 But hours before the strike was due to begin, the trade union leaders not only "suspended" the strike but signed a document agreeing with the government's argument that there was no alternative but to increase the fuel price. This action was widely seen as a betrayal, and provoked a widespread discussion amongst trade unionists and in the media about the future of the trade unions.
In this situation, the online publication of a video of SARS operatives dragging two men out of a Lagos hotel and then shooting one of them dead in the street sparked off what has become a mighty movement, lasting 7 days so far, that spread throughout the country. Below is the video::
Members and supporters of the Democratic Socialist Movement (CWI in Nigeria) have, of course, been active in these protests.
Significantly, following the example of the worldwide reaction to the killing of George Floyd, the #EndSARS protests have spread internationally. For a time #EndSARS was trending internationally; there have been solidarity protests in the US and Britain.
Below we republish a leaflet produced on October 14 by the Youth Rights Campaign, a platform launched by DSM. The Youth Rights Campaign, YRC, asks for international solidarity messages for this struggle, which it also hopes will serve as a further example of how mass action can defeat oppression and win victories.
Email the YRC – youth_rights@yahoo.com
Leaflet issued by YRC on October 14
#EndSARS – YRC WELCOMES FG MEETING 5 KEY DEMANDS BUT THERE MUST BE EVIDENCE OF IMPLEMENTATION
• NO RENAMING OF SARS. WE REJECT SPECIAL WEAPONS AND TACTICS (SWAT) SQUAD #EndSWAT
• FOR A 48 HOUR GENERAL STRIKE AND MASS PROTEST OF WORKERS IN SOLIDARITY WITH PROTESTING YOUTH
• No Tricks, No Rotten Deals, Struggle for a Real Change, End This Corrupt System
The Youth Rights Campaign (YRC) welcomes the decision of the Federal Government to meet the 5 key demands of the #EndSARS movement.
However, we strongly condemn the decision of the same government to create a Special Weapons and Tactics (SWAT) squad as a replacement for the now defunct SARS. This would most likely be a more brutal and lethal force with military and semi-military grade weaponry, as we have seen with similar elite police units in the more advanced capitalist countries.
This shows the mindset of the ruling elite that, even though it has been forced to make concessions by the #EndSARS movement, it is not prepared to change the character of the police as an instrument of state repression instead of the protector of lives and properties, as mandated by the constitution.
What we need is not another SARS under a new name but a civil police, armed where necessary, under the direct control of the ranks and communities with officers elected and recallable.
The YRC therefore calls on the #EndSARS movement to reject the SWAT and organise more nationwide demonstrations over the next few days to compel the government to shelve this idea. This is the only way to ensure that SARS does not continue under a new name.
The 5 key demands that have been reportedly met include: (1) Immediate release of all arrested protesters; (2) Justice for deceased victims of police brutality and appropriate compensation for their families; (3) Setting up an independent body to oversee the investigation and prosecution of all reports of police misconduct (within 10 days); (4) In line with new Police Act, psychological evaluation and retraining (to be confirmed by an independent body) of all disbanded SARS officers before they can be redeployed; and (5) Increase police salary so that they are adequately compensated for protecting lives and properties of citizens.
Undeniably, meeting these 5 key demands is a significant victory for the movement. However, in the opinion of the YRC, there is absolutely nothing yet to be cheerful about, neither is there any justifiable reason for the nationwide protests to be suspended for the following reasons:
Firstly, the Buhari capitalist government cannot be trusted. It habitually breaks agreements with all organisations of the oppressed masses. A reason why universities are still shut is because this government, just like its predecessors, has refused to implement an agreement on funding and staff welfare reached with ASUU since 2009. Over a year ago, it passed a law increasing the minimum wage, but that has still to be fully implemented. Unless actual evidence is seen in the course of the following days that the movement's demands are being implemented, it would be a mistake to suspend the ongoing nationwide protests.
Secondly, items 2 and 3 of the 5 key demands cannot be seen to have been justifiably implemented without immediate removal of the Commissioners of Police in Oyo and Lagos States, as well as the Inspector General of Police under whose watch some protesters have been killed and several injured, arrested and detained over the past seven days. Victims of police brutality during the protest also include journalists.
Thirdly, all of the concessions granted since Sunday 11 October 2020, though significant, are still scratching the surface of the problem. Fundamental questions about how the police are controlled and run have not yet been answered. The disbandment of SARS, and promises of psychological evaluation and respect for human rights notwithstanding, so far the running and control of the police remains as it is, then police brutality and state repression will continue, and neither will the police be accountable to the public. This is why the YRC demands democratic control of the police by the rank and file and communities, election of its officers who must be recallable and accountable to the public they are to serve and protect, as well as recognition of the right of the police to have a union.
The #EndSARS movement is powerful and has won significant concessions. However the YRC feels it can win far more if it is well organised and develops a clear programme to struggle for. We therefore challenge the movement to now expand its demands to include the end of unemployment, for decent jobs or N30,000 monthly unemployment benefit, a slash in the salary of political office holders, payment of a living wage, an end to education underfunding and commercialisation, an end to electricity tariff and fuel price hikes, an end to deregulation and privatisation, and the end of all anti-poor policies. This is the only way to ensure that this powerful movement leads to some improvements in the living conditions of young people and other oppressed sections of the population.
It is vital that the #EndSARS youth protest movement connects with the working class, otherwise it will either be defeated or regress at some point. The working class, though currently held down by a bureaucratic and pro-state leadership, is the only class capable of leading a revolutionary struggle to transform society, with the youth playing an auxiliary role.
We therefore challenge Nigerian workers to join the protesting youth at the barricades by calling for a 48-hours solidarity general strike and mass protest as a next step. If the bureaucratic trade union leaders do not take action, we challenge rank-and-file activists to take this step by mobilising and organising the ranks. This is the only way to support young people who have put their lives on the line for over seven days now, and to also ensure that this struggle, which has cost precious lives, leads to the enthronement of an equitable, safe and democratic socialist society where everyone, old or young, can live and go about their daily legitimate activities without fear of molestation, illegal arrest and detention, extortion and extrajudicial killing.
Adaramoye Michael
Pro tem Coordinator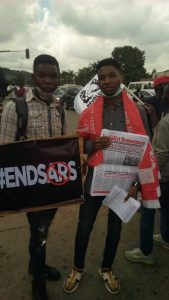 Special financial appeal to all readers of socialistworld.net

Support building alternative socialist media

---

Socialistworld.net provides a unique analysis and perspective of world events. Socialistworld.net also plays a crucial role in building the struggle for socialism across all continents. Capitalism has failed! Assist us to build the fight-back and prepare for the stormy period of class struggles ahead. Please make a donation to help us reach more readers and to widen our socialist campaigning work across the world.

Donate via Paypal

CWI- Please inform us if you are reproducing any material from this site.