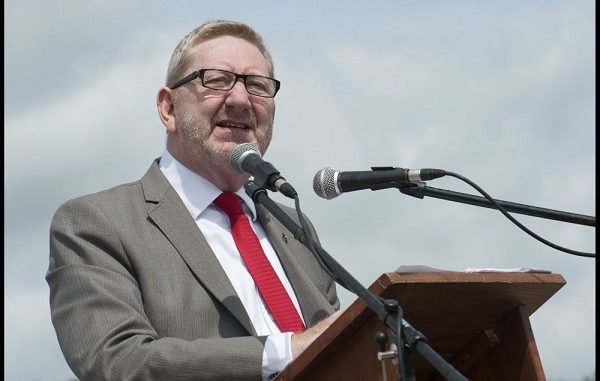 Unite the union's executive council has voted to cut its affiliation fee to the Sir Keir Starmer-led Labour Party by 10% – the equivalent of 55,000 affiliated members. It is reported that the BFAWU (bakers' union) is also considering such a move. This represents an important step in how Unite and the wider trade union movement is reacting to the defeat of Corbynism in Labour. But it should also be the starting point of a necessary broader debate about how workers are politically represented in this crisis-torn period when Starmer's victory is more and more blocking off political channels.
Under Len McCluskey, Unite was the main backer of Jeremy Corbyn's leadership of Labour, acting to stiffen the left against the constant attacks of the party's right-wing, particularly in fending off the unsuccessful coup against Corbyn in 2016. However, that bridgehead wasn't consolidated through reversing the Blairite counter-revolution that had stripped away trade union power and mandatory reselection and control of MPs and councillors.
As a result, Starmer's election was a decisive blow against the Corbyn left. The political consequences are becoming ever clearer. As millions of workers fight to protect themselves from Tory Covid incompetence, and the bosses' redundancies and 'fire and rehire' attacks on pay, terms and conditions, the Labour leadership is entwined in national unity partnership.
As Starmer said last month, he will support "whatever measures the government takes" because "in the end this is not about party politics. This is about getting the nation through this virus, so if the government takes action I will support that, we will support it and I will support their message."
But workers precisely need alternative policies that ensure that they don't pay the price for the pandemic and the economic fall-out. Unite's decision must be followed up by a discussion on how such a programme can be put forward to working-class people, as Starmer moves to consolidate his grip on Labour.
Len says that he wants "the transforming (of) our country into a better place for working people". But under Starmer's leadership, Labour won't be "the party of change and ideas, of redistribution and fairness" that he refers to. Incorrectly, he suggests that Starmer can be influenced by being the "angel in his ear". But Starmer's election was the victory of the capitalist establishment in once again securing a reliable tool that can be utilised to replace the Tories in office, when necessary, for their class interests.
Programme
However, Len McCluskey has already talked about the need for a "major gathering" of trade unionists and the left this autumn to resist Starmer moving even further to the right. The Unite executive decision should be a recognition that the struggle against the Blairites shouldn't be confined to within Labour.
It is paramount that the programme that Unite-supported council candidates stand on contrasts with the service and job-cutting Labour councillors who are one of the bedrocks of Starmer. The Labour council in Tower Hamlets provoked a strike this summer through using the 'fire and rehire' methods on its workforce. Unite must fight for councillors that commit to voting against Tory cuts.
A number of Labour mayors are demanding that Tory Chancellor Sunak U-turns on ending the furlough scheme in the north of England, as Covid cases rise there. It is possible that, given the situation, he may retreat. But imagine if they and the Labour councils refused en bloc to pass on Tory cuts! It would pose the downfall of the government.
But if Labour candidates support austerity, Unite branches must be enabled to either support anti-cuts candidates or stand their own. We believe that these are the "talented thinkers and energetic organisations out there who could do with our assistance" who McCluskey has referred to. The 10% saved from the Labour affiliation fee would be welcomed by those workers who are determined to challenge right-wing Labour councillors.
In light of Starmer's election as Labour leader, the RMT (transport workers' union) national executive committee voted to support the Trade Unionist and Socialist Coalition resuming standing candidates again, "in the new conditions of a Starmer leadership and the continued implementation of austerity cuts by many Labour-led authorities".
A concrete next step that Unite could take would be to approach the RMT, together with other unions affiliated and unaffiliated to Labour, to begin discussions on how to develop an anti-cuts electoral challenge next May. Such an alliance on an anti-austerity socialist programme would begin to raise the sights of workers as they look to fight for their lives and livelihoods.
If the Unite leadership does not take this path, there will be many Unite members, alongside other workers and young people, who will be prepared to do so – determined to find a means to fight for a socialist programme at the ballot box.