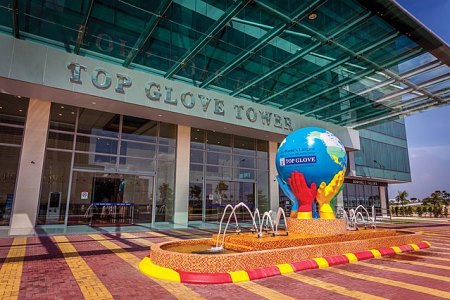 News of the spread of Covid-19 in factory hostels across Malaysia has come at a time when Malaysians are facing the highest number of infections since the start of the pandemic in early March this year.
The latest and most threatening Covid-19 infection cluster that originated from the Top Glove factory migrant workers' dormitory in Meru, has now reached 5,000 cases and continues to increase every day.
As in Singapore in April this year, when thousands of migrant workers also contracted Covid-19, the current situation in Malaysia has exposed the poor living and working conditions of migrant workers throughout South East Asia.
Top Glove, the largest glove manufacturer in the world, gained tremendous profits when the Covid-19 pandemic increased global demand for latex gloves and PPE. Consequently, Top Glove – with 43 companies and a nearly 30% share of world markets – along with other giant companies such as Hartalega and Kossan Rubbers, increased its profits by more than four times this year. Furthermore, with the second and third wave of Covid-19 spreading worldwide, these companies are expected to continue to generate very high profits for the next few years.
Despite being able to make a lucrative profit each year, large companies like Top Glove have reportedly treated migrant workers like 'slave labour', with excessive working hours, low pay, and poor protection against Covid.
These companies also constantly relinquish their responsibilities and allegedly use their influence within the government to violate any existing employee protection regulations. Not only Top Glove, but most of the factories in Malaysia are indeed oppressing migrant workers without any supervision from the authorities or the government.
The Malaysian government and politicians, including the Human Resources Ministry, have repeatedly defended Top Glove on many occasions and downplayed all allegations against it.
Multiple documented cases of migrant worker mistreatment have led to the US authorities banning imports of Top Glove products. This forced Top Glove to agree to repay 53 million Malaysian ringgit (over $US13 million) to workers who were forced to pay recruitment fees to secure their jobs (i.e. what amounts to debt bondage).
However, despite the UK government saying it is committed to tackling "modern slavery in supply chains", Top Glove medical supplies have been stockpiled by the department of health.
Top Glove owner, Lim Wee Chai, has never pleaded guilty or apologised, despite all the evidence made public regarding the mistreatment of workers in his factories. Instead, Lim was quoted as saying that the workers had been "allowed" to work beyond the time limit at the urging of the workers themselves and that their passports were confiscated as a "safeguarding" measure!
Although the United States imposes restrictions on Top Glove, there is a sea of other factories in South East Asia which are practicing blatant human slavery, many far worse than Top Glove.
Top Glove
Exposures regarding the situation of migrant workers in hostels and workplaces in Malaysia also reveal the shortcomings of the free market system that prioritises investors and wealthy capitalists who often ignore the interests of their employees in order to protect their personal profits.
While the working class and the common people are working hard on the front line to deal with the pandemic, the ruling class and capitalist politicians are preoccupied with rising profit rates and share market value.
To this day, both employers and the government have not come up with any solution to find better accommodation for the millions of migrant workers who have to spend their lives in small, overcrowded rooms lacking basic facilities.
Top Glove migrant workers are now confined to crowded dormitories as the government has imposed a lockdown on their movements. Workers from several hostels were reportedly forced to climb the perimeter fence to get out of the factory premises, in secret, to buy necessities.
The working class, community organisations, and trade unions should stand in solidarity with the migrant workers and demand a better solution from the government. At the same time, the guilty employers must be strictly punished. Giant companies like Top Glove should be taken into public ownership and run under democratic workers' control and management.
The working class needs to organise workers into a fightback against the capitalist system as the only way to tackle all the problems that society is facing in this crisis period. A socialist agenda involves conducting struggles in the factories, strengthening working-class leadership, and establishing solidarity with all working people and oppressed internationally.