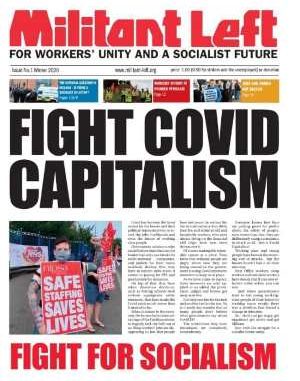 The recent Revolutionary Internationalist Socialist and Environmentalist (RISE) and People Before Profit (PBP) merger in Ireland attracted media attention. People Before Profit now has four TDs [members of Dail – the Irish parliament], one Member of the Legislative Assembly at Stormont Buildings, Belfast, and eleven councillors, concentrated mainly in Dublin and Belfast. This places People Before Profit as the highest-profile Left formation in Ireland.
Given this, a section of youth, the working class and middle class will ask if PBP is the way forward to building the Left. This is in the context of many commentators predicting that Sinn Fein will emerge as the largest party in the next general elections, and People Before Profit's call on Sinn Fein to form a 'Left government'.
These are important issues for socialists to discuss. For Militant Left (CWI Ireland), the need to build a new mass party of the working class with strong roots in the working class and a socialist programme with the aim of fundamentally changing society is an urgent task. The need for such a party of the working class – one that is prepared to struggle for socialist change – is posed ever more urgently as immense class battles loom coming out of the COVID-19 pandemic.
In the course of developments towards the creation of a viable party of the working class, Militant Left will continue to work with others on the Left, including PBP activists, as well as with working class militants and youth activists on various issues. There can be many campaigns, collaborations and alliances on the Left and wider afield, involving community, trade union, student, anti-racist and environmental and other activists. Militant Left will aim to engage in these processes, always calling for fully democratic decision making, while openly presenting our ideas and programme.
To read the rest of the article, visit the links below :
Part One
http://militant-left.org/rise-and-people-before-profit-merger-programme-reformism-and-marxism/?fbclid=IwAR3tZNHSwf6KziiG-6RIUu4Tk2qN-MkKHyft6X8M36Rg5lebi9pv418d3Mc
Part Two
http://militant-left.org/rise-and-people-before-profit-merger-programme-reformism-and-marxism-p2/
Special financial appeal to all readers of socialistworld.net

Support building alternative socialist media

---

Socialistworld.net provides a unique analysis and perspective of world events. Socialistworld.net also plays a crucial role in building the struggle for socialism across all continents. Capitalism has failed! Assist us to build the fight-back and prepare for the stormy period of class struggles ahead. Please make a donation to help us reach more readers and to widen our socialist campaigning work across the world.

Donate via Paypal

CWI- Please inform us if you are reproducing any material from this site.