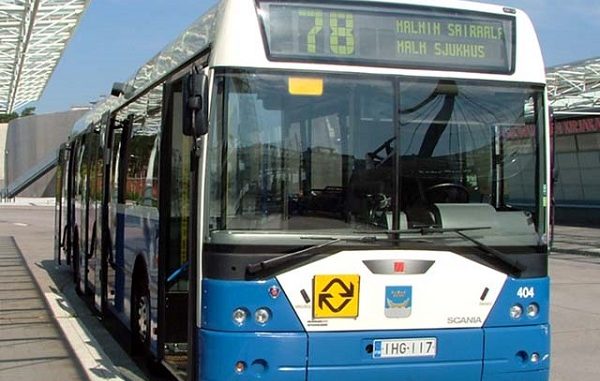 Two days of strike action were taken on Thursday 16 and Friday 17 September by drivers for Helsinki City Public Transport (HKL Helsingin kaupungin liikennelaitos) in protest against a city council proposal to spin the service off into an arms-length company. Drivers see the move as putting jobs at risk and opening a route for the service to be sold off to the private sector or forced to compete in lowest-bidder markets for contracts.
The strike shut down all tram and metro services for 48 hours, with only buses running in the capital region until the early hours of Saturday morning.
The drivers belong to the Public and Welfare Sectors Union (Julkisten ja hyvinvointialojen liitto JHL). They highlighted that incorporation of the metro and trams would reduce transparency in the operation of the system and take decision-making out of the hands of elected representatives and shop stewards. The decision process has been so non-transparent that JHL only became aware that the metro would be included in the deal three weeks before it is due to be voted on.
The union also refuted claims by the city that spinning the system off was necessary to bring neighboring city Vantaa into the system's governance. "Regional co-operation with neighboring municipalities can indeed be done even with the current organization," JHL stated in a press release. "Only willpower on both sides is required."
Nonetheless, Social Democrats, Greens and conservatives united on the City Council's board to advance the plan. A full city council vote is scheduled for September 22nd. However, even the conservative leaning newspaper, Helsingin Sanomat, has admitted: "Concerns about the preservation of working conditions are real because drivers have seen with their own eyes what has happened to the working conditions of bus drivers under the pressure of tenders".
Major expansion of Helsinki's tram system is already underway to accommodate the city's rapid growth. This expansion has already shown the perils of the private sector. The metro's first major expansion – the western extension or Länsimetro project – was founded as a joint project between Helsinki and the city of Espoo. Its first phase was years late. Construction and the first year of operation were plagued by safety failures, construction faults and inadequate communication between municipal authorities, the company and its subcontractors.
No to privatization!
Metro and tram users have been quick to see the implications of privatization too. Members of the Students' Union at the Helsinki International School made the following statement:
"The Students' Union of the International School of Helsinki supports the workers behind the Helsinki Regional Transport strikes. The potential privatization of our public transport risks both the quality and safety of the commuters and more importantly, the working contracts of those currently employed. Regrettably, the privatization of public transport has partially been acting as the frontline for the push towards a more unequal society in the Nordic countries. With Stockholm's Local Transit system (Storstockholms Lokaltrafik, Greater Stockholm Local Transit) succumbing to increased privatization and HSL under threat, it is critical that we stand in strong solidarity with the workers who wish to defend the public sector."
We demand:
● No to privatization — Finland's public transportation should be publicly owned and operated
● Stop the tenders — bring Raide-Jokeri, city buses and other services back in house
● Democratic workers' management of HKL
● Escalate the strikes! JHL, SAK and other union federations should build for a general strike to
stop privatization
● Finland needs a mass workers' party to unite students and the working class in the fight against
capitalism